Hill, Davies send Brewers past Nationals
WASHINGTON -- Zach Davies got most of the outs, Will Smith got arguably the biggest out and Jeremy Jeffress the final outs as the rebuilding Brewers continued to pester the National League East-leading Nationals in a 5-2 win Tuesday at Nationals Park.
A pair of two-run homers proved to be the difference as the Brewers beat the Nationals for the fourth time in five tries this season. Tuesday was the first game this season between the teams decided by more than two runs.
"It's a challenge. Their 3-4-5 hitters are going to the All-Star Game," said Brewers manager Craig Counsell. "Really, we've pitched well against this team the five games we've played them. We'll go for one more game."
• Braun named Final Vote nominee
Hernan Perez homered off Nationals starter Gio Gonzalez in the sixth to break a 1-1 tie. The following inning, Aaron Hill homered off Blake Treinen to extend Milwaukee's lead to 5-1. Hill was 3-for-4 with walk and a double.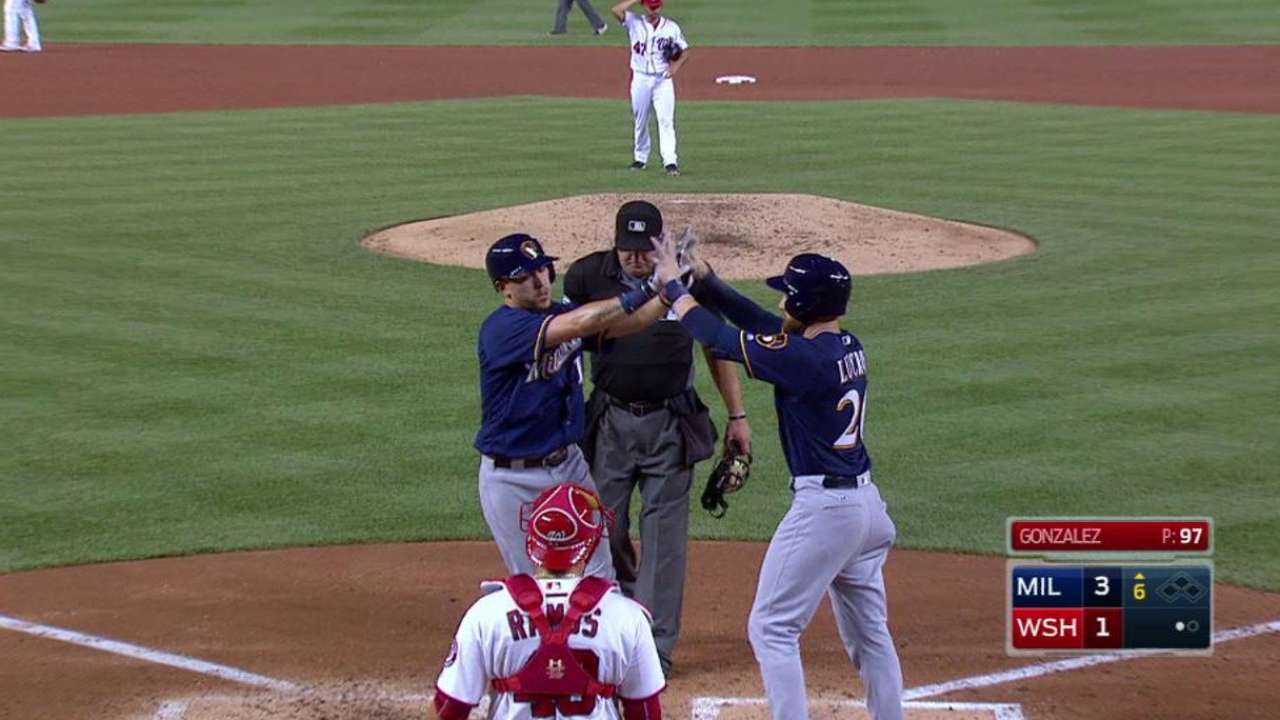 The Nationals' first run came in the second, when Anthony Rendon singled home All-Star Daniel Murphy. Washington did not score again until a Ben Revere RBI single in the seventh.
• Harper leads Nats' fantastic four into ASG
"We were flat today," Nationals manager Dusty Baker said. "We made some mistakes. Just didn't seem we had the life we usually have."
• Lucroy named to NL All-Star team
Davies allowed nine hits over 6 2/3 innings, but held Washington to two runs. Four Brewers relievers combined to hold the Nats scoreless over the final 2 1/3 innings, with Jeffress recording his 23rd save.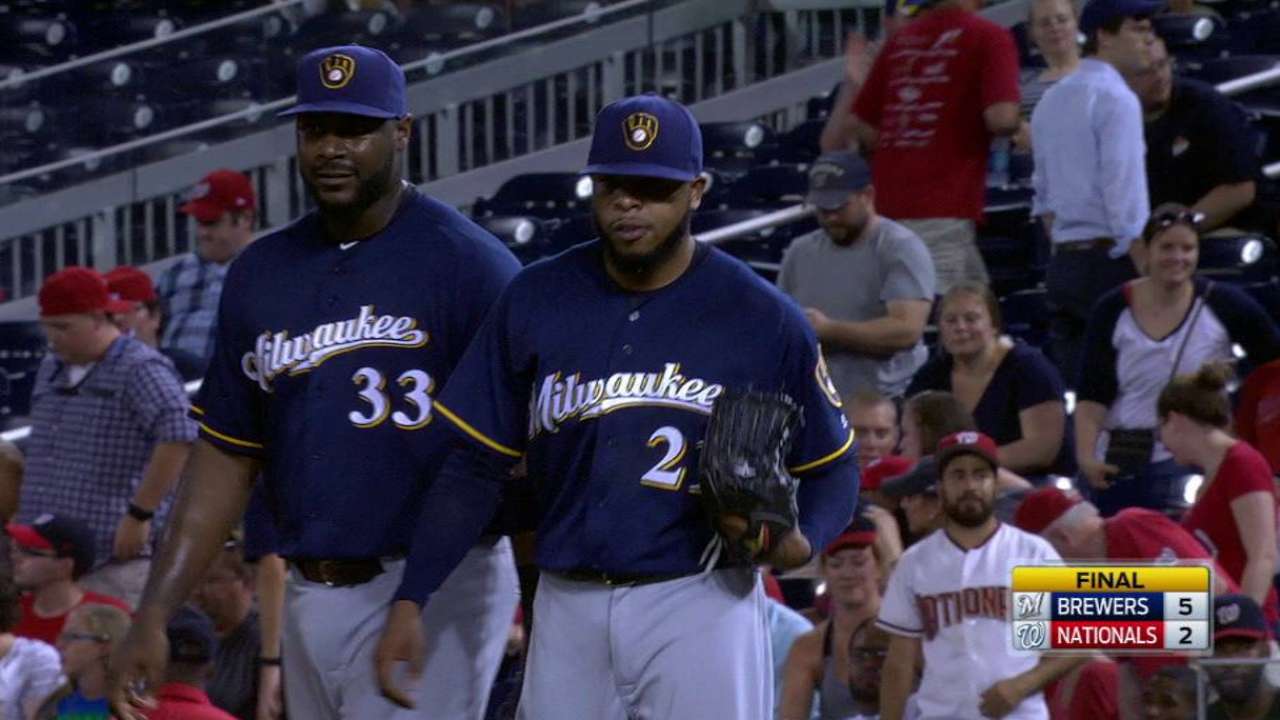 MOMENTS THAT MATTERED
Lefty on lefty: The Brewers found big trouble in the seventh, when three two-out singles chased Davies and pulled the Nationals within 5-2. Reliever Carlos Torres walked Jayson Werth to load the bases for All-Star starter Bryce Harper, who drew another pitching change to the lefty Smith. Pitcher beat hitter this time, with Smith freezing Harper on a 94-mph fastball on the outside corner for a called third strike. Harper dropped his bat and mulled the call from home-plate umpire Jeff Nelson while Smith yelled and pumped his fist. Left-handed batters are 4-for-25 (.160) against Smith this season.
"It makes you think, 'What did we do before Will Smith?' to be honest with you," Counsell said. "You can just tell by the way the other teams play the game that he's a weapon, for sure. You've always got a spot for him, and he's facing the best hitters on the other team. Obviously, Harper is one of the best. It doesn't get any bigger a spot than that."
"That's why we play the game, to go up against the best," said Smith.
Gio bends then breaks: For the first five innings, Gonzalez allowed his share of baserunners, giving up five hits and three walks, but held the Brewers to only one run. Then in the sixth he served up a Jonathan Lucroy single followed by the Perez home run, and once again his outing ended on a sour note. Gonzalez has now allowed at least three runs in nine consecutive outings.
"I've got to finish off that last inning," Gonzalez said. "It's a tough one. It's hard to look at the positives, but there were certain batters I pitched the way I wanted to pitch, and I ended up getting my results."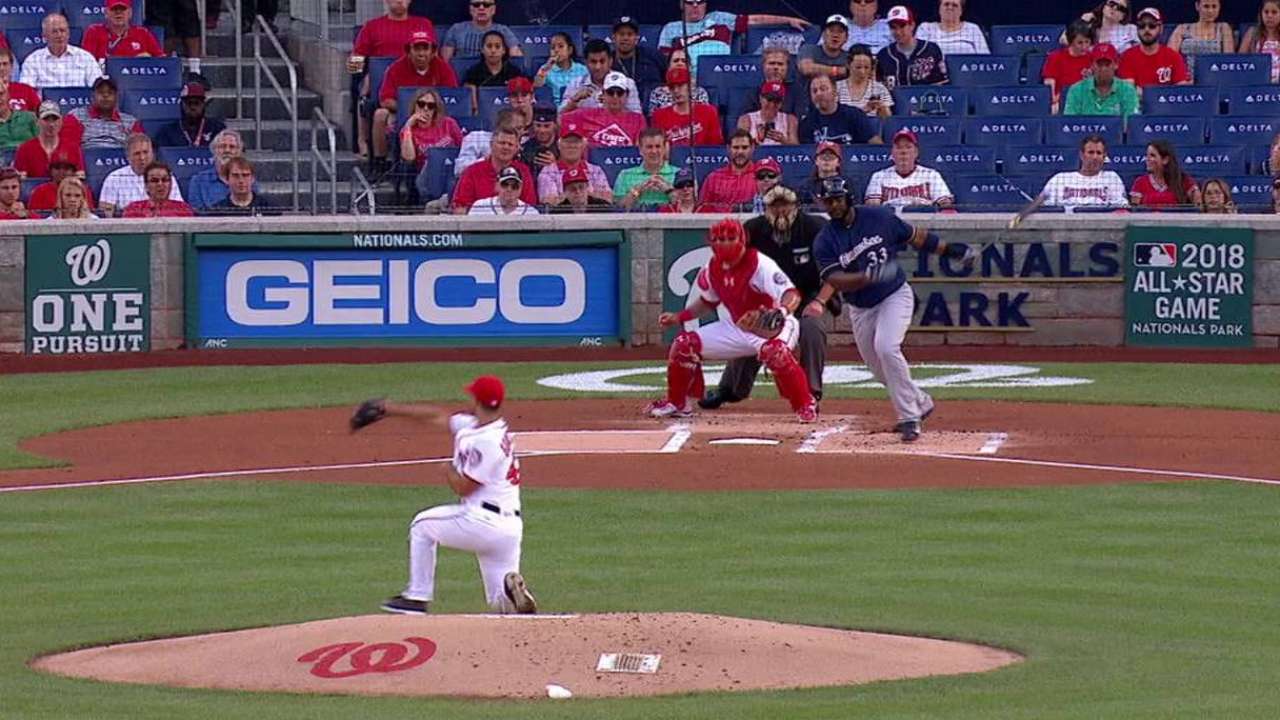 Two at a time: Perez and Hill gave the Brewers a pair of two-run home runs in as many innings, snapping a modest drought for each player. The sixth-inning long ball was Perez's first since May 8, snapping a streak of 38 games including 23 starts without one, and gave him his first multi-RBI game since May 27. Hill had homered as recently as June 16, but the shot in the seventh was his first home run with a runner on base since an extra-inning grand slam at Cincinnati on May 7.
"I think 'steady' is the right word," Counsell said of Hill. "I think that's what he's been for this team. He's been glue for this team, I think. That's a big compliment."
Baserunning errors hurt Nats: The Nationals have prided themselves on aggressive baserunning, but the pursuit of extra bases hurt them twice Tuesday. In the third, Revere was thrown out trying to steal second, only to have the next two batters walk and single. Washington did not score in the inning. Then, with the Nats down 5-2 in the eighth, Murphy hit a fly ball off the wall in right field, got a slow start out of the batter's box, hesitated at second and was thrown out at third. Again, the Nationals did not score in the inning.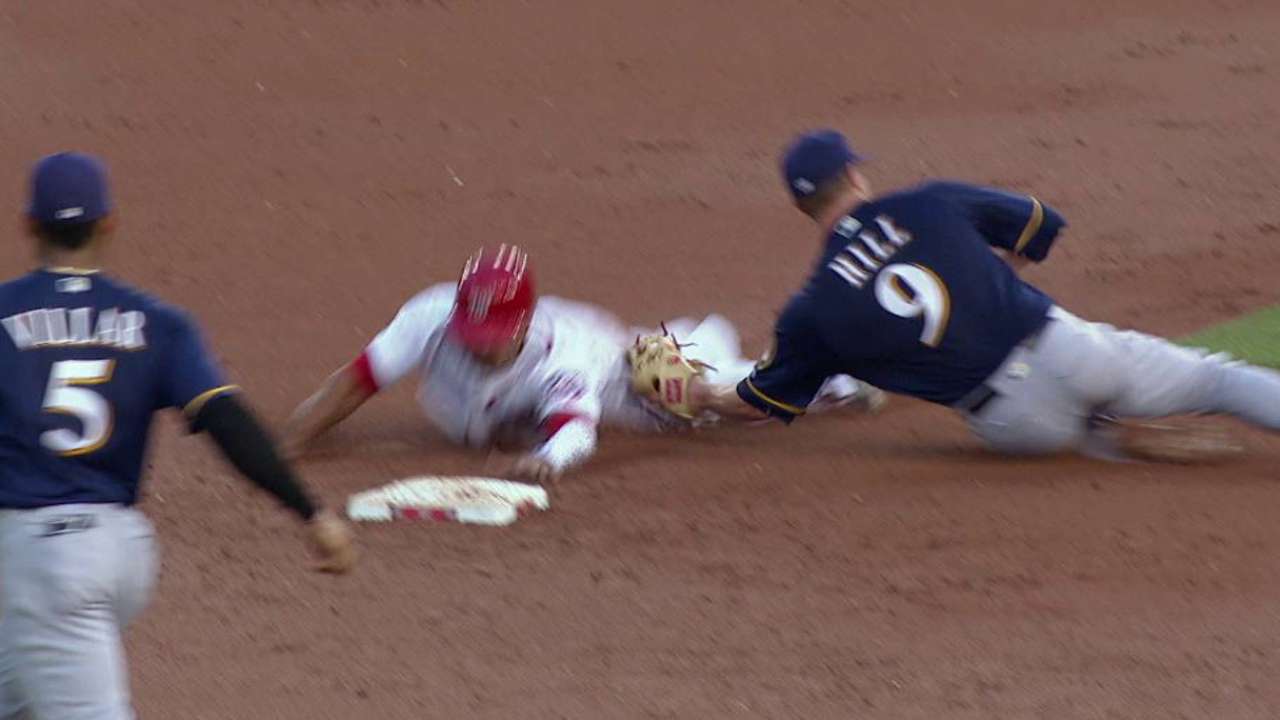 "That was a terrible play," Murphy said of his gaffe. "I didn't hustle out of the box, I didn't hustle to second, I tried to save it going to third. [Making] the first out at third base down three runs changes the whole complexion of the game."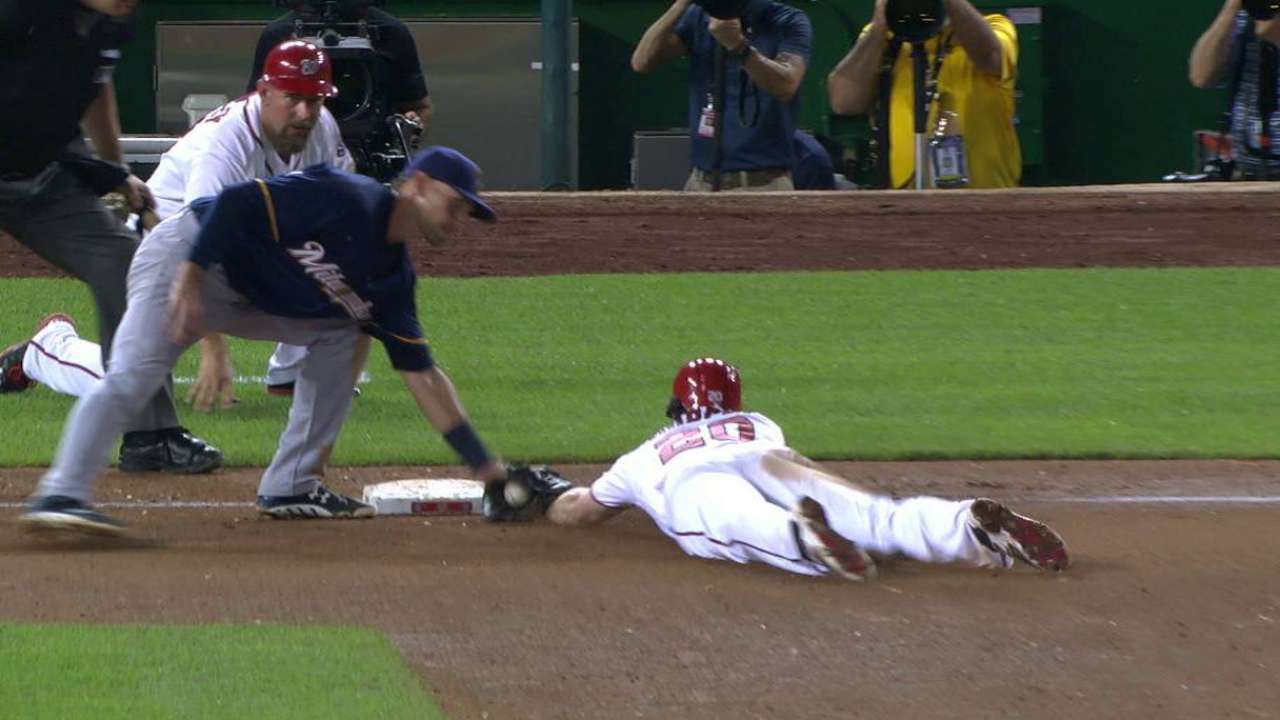 Baker said the play was uncharacteristic of Murphy.
"Murph knows because Murph is one of the best baserunners that we have," Baker said. "We talk about it all the time. You only have 27 outs. If you ask him, he'll tell you that that wasn't a characteristic play of Murph because he's an outstanding baserunner."
WHAT'S NEXT
Brewers: The Brewers will play their final road game before the All-Star break behind Matt Garza, who makes his fifth start in a 3:05 p.m. CT finale at Nationals Park. Opponents have hit .329 so far against Garza, who missed the first 2 1/2 months with a lat injury, but he has limited the damage to the tune of a 3.74 ERA.
Nationals: The Nationals send Tanner Roark to the mound to close out their series against Milwaukee at 4:05 p.m. ET. Roark, who threw seven scoreless innings against the Brewers on June 26, owns a 2.93 ERA, 16th best in the NL. He has thrown at least six innings in 14 of his 17 starts this season.
Watch every out-of-market regular-season game live on MLB.TV.
Adam McCalvy has covered the Brewers for MLB.com since 2001. Follow him on Twitter @AdamMcCalvy, like him on Facebook and listen to his podcast.

Alex Putterman is a reporter for MLB.com based in Washington.

This story was not subject to the approval of Major League Baseball or its clubs.