Brantley takes BP, first step in road to comeback
Outfielder takes first batting-practice session since mid-May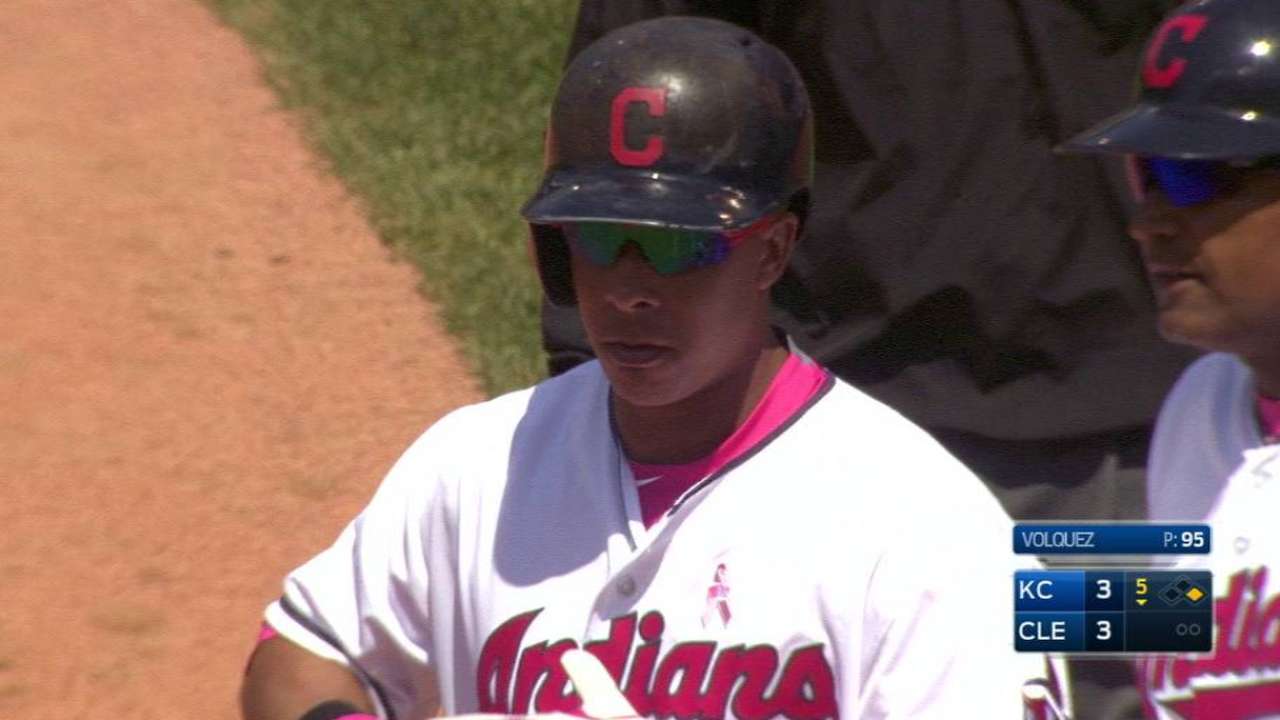 CLEVELAND -- Mickey Brantley stood off to the side, leaning on the railing of the Indians' dugout down the third-base line at Progressive Field. He watched each of his son Michael's swings from afar on Tuesday afternoon, studying every nuance of the Cleveland outfielder's path to the baseball.
Junior pulled a batting-practice pitch to the wall in right field.
"See that one?" Brantley Sr. said. "Look at that finish. He's feeling good. He's feeling strong."
Michael Brantley's first batting-practice session since mid-May continued to fuel the optimism that has been spreading of late. The Indians are becoming increasingly hopeful that the outfielder's comeback finally has an approaching finish line. A handful of teammates were on the field to watch the early round of BP. Team trainers watched from behind the cage. Front-office members were on hand to observe, too.
They watched Brantley -- still working his way back from the offseason surgery he had on his right shoulder -- spray line drives around the field. They saw a swing that included his usual finish, rather than one where he cut off his follow-through. More important for the team, Brantley conveyed that he is feeling as good as he has all season.
Brantley is taking BP right now. First BP session on field for him since mid May. pic.twitter.com/WWEkyf8Q1S

— Jordan Bastian (@MLBastian) July 5, 2016
"I clearly sense from talking to [Brantley] that he feels really good," said Chris Antonetti, the Indians' president of baseball operations. "He's feeling strong and -- some of the things we've talked about -- not only feeling healthy, but feeling strong and unrestricted. Michael's starting to feel that now and he's excited about where he is in the process."
Brantley used a word that will sound good to Indians fans.
"I feel normal," Brantley said. "For the last week or so, I've been swinging the bat great in the cage. I've been itching to get back out here, but with the same swing I'm taking in the cage every day, transition that out to the field and BP outside. That's all we're doing different. It's very exciting how I feel right now."
With Trade Deadline at end of month, how will Antonetti balance looking for help via trades with Brantley's return? pic.twitter.com/LraF0fYvRP

— Jordan Bastian (@MLBastian) July 5, 2016
Brantley opened the season on the DL and then was activated in late April, but he was shelved after 11 games to due lingering shoulder discomfort. The process since then has been gradual, and included a setback that was discovered to be biceps tendinitis. Once Brantley received that diagnosis two weeks ago, Cleveland's medical team could better tackle the problem with a specific plan.
Brantley has made rapid progress in his hitting program since that point.
"It's nice to have clarity," Brantley said. "I still couldn't get over that final hump and you didn't know why. We finally figured it out, I believe. I feel great. I was able to take BP pain-free, able to swing the bat like I normally do. It's a great feeling."
Brantley's dad, Mickey, is in town, too. For how long? "As long as it takes," said Senior. pic.twitter.com/vMCzmEIr8F

— Jordan Bastian (@MLBastian) July 5, 2016
The Indians will send Brantley out on a Minor League rehab assignment before he is activated, but Antonetti said the team will monitor how the outfielder bounces back over the next few days before creating any kind of firm schedule. Asked if he had plans for the All-Star break, Brantley hinted that he hopes to be cleared for games by that time.
"I had a long enough break," Brantley said. "I'm not going anywhere. Hopefully, I'll be working somewhere, maybe getting games in, maybe not. But, whatever I'm in at the time, I know I'll be getting some work done. No break for me. I had enough break."
Jordan Bastian has covered the Indians for MLB.com since 2011, and previously covered the Blue Jays from 2006-10. Read his blog, Major League Bastian, follow him on Twitter @MLBastian and listen to his podcast. This story was not subject to the approval of Major League Baseball or its clubs.