Maddon tossed for contesting called strike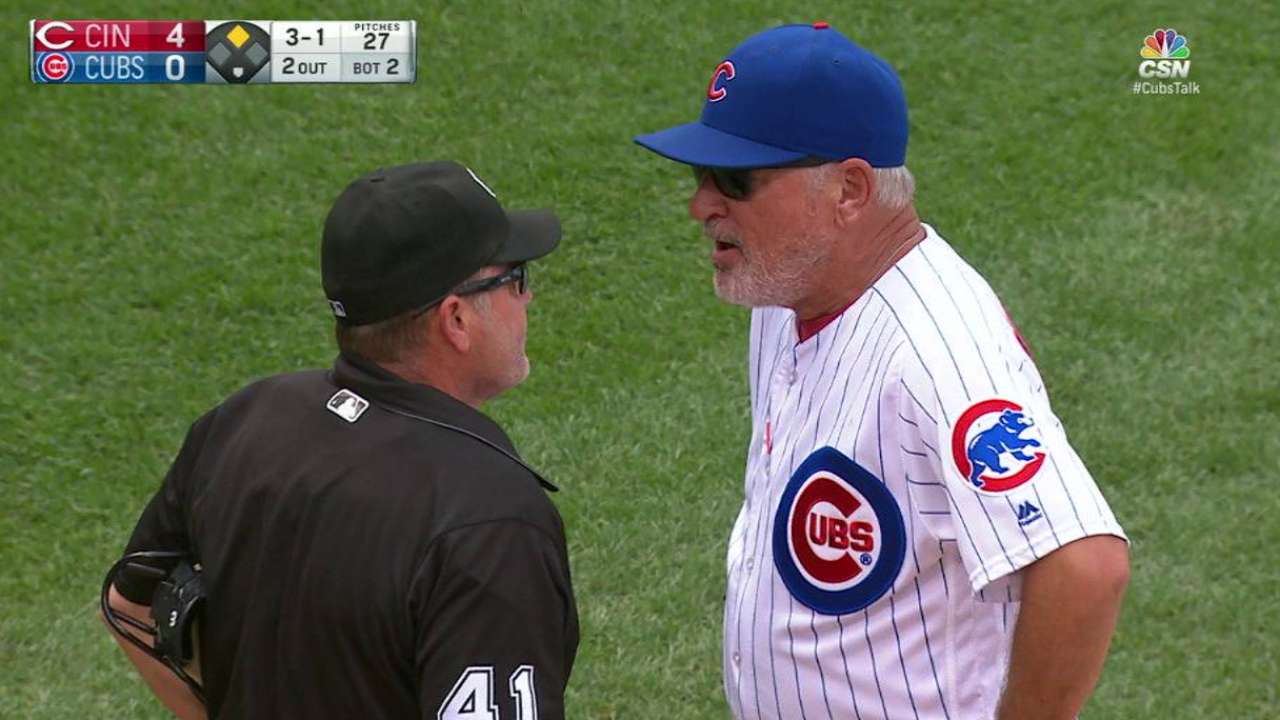 CHICAGO -- Cubs manager Joe Maddon was able to get a nice workout in, take a steam bath and eat some raisin bread with butter after he was ejected in the second inning of Tuesday's 9-5 loss to the Reds for questioning a called strike by home-plate umpire Jerry Meals.
"It was the culmination of calls that have gone against us recently at the plate, and it kind of boiled over in that particular moment," Maddon said. "I haven't had a day off in a while, so that was an appropriate time to do it."
David Ross was at the plate with two outs and a runner at second in the Chicago second, and was ahead, 3-0, in the count against the Reds' Brandon Finnegan. The next pitch was low, and Ross thought it was a ball, but Meals called it a strike. Maddon said something from the dugout, then came out to question the call and was tossed.
Maddon got his money's worth, continuing the argument with Meals at home plate. It was the second time he's been ejected this season.
"It's egregious," Maddon said. "All I wanted to tell him was that he blew it and walk away. We all make bad calls. If you say you did, then walk away."
The next pitch from Finnegan was a ball and Ross ended up walking, but he was forced at second when John Lackey grounded out.
Lackey wasn't too pleased with some of the calls, either.
"Guys miss calls, I miss pitches," Lackey said. "Nobody's perfect out there. The problem you run into is when guys are adamant and won't admit they missed it. We're all men out here. I made bad pitches and sometimes they miss them, too."
Carrie Muskat has covered the Cubs since 1987, and for MLB.com since 2001. She writes a blog, Muskat Ramblings. You can follow her on Twitter @CarrieMuskat and listen to her podcast. This story was not subject to the approval of Major League Baseball or its clubs.