Bryant 'lucky' to escape collision unscathed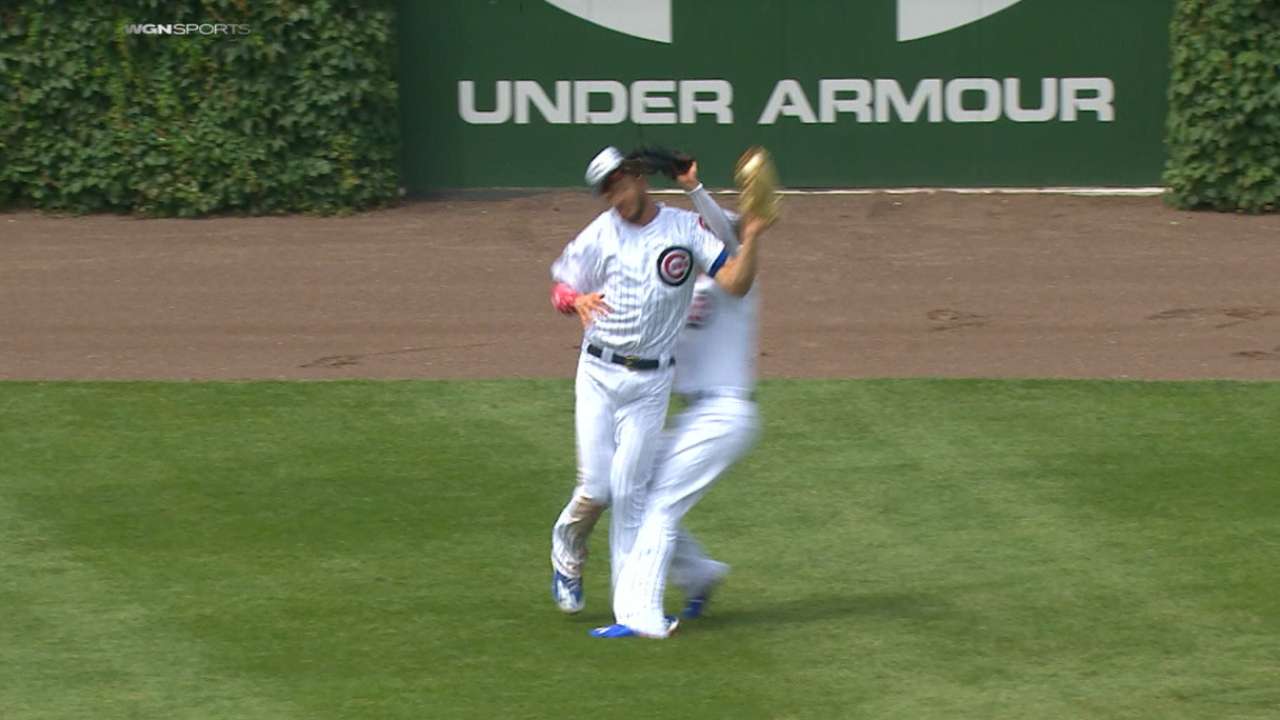 CHICAGO -- Kris Bryant's first thought after colliding with Cubs teammate Albert Almora Jr. in the outfield Monday was about Kyle Schwarber, who tore two ligaments in his left knee in a crash earlier this year.
"I think I got lucky," Bryant said on Tuesday. "Yesterday wasn't the best day in the outfield. Things could've been a lot worse."
Bryant was playing left field when he crashed into Almora chasing Reds pinch-hitter Brock Holt's fly ball in the fifth inning on Monday. Bryant caught the ball and finished the inning, but then was pulled because of a bruise on his left leg. If the game had been closer, he most likely would've continued to play. The Cubs won, 10-4.
"Right when I hit the ground, I was like, 'Oh, man, it's serious,'" Bryant said. "Any time it's with the knee and it goes a way it's not supposed to go, it's scary. I was sitting there on the ground looking at my leg and it looked straight to me, so I thought, 'Maybe it's not as bad as that.' That's the first thing that crossed my mind was what happened to Kyle."
Schwarber was injured in a collision with Dexter Fowler in left-center during the Cubs' third game of the season in Arizona.
"I was scared about my knee, that's what I felt first," Bryant said of Monday's crash.
The problem, Bryant said, was that both he and Almora were calling for the ball at the same time while trying to be heard over 41,293 fans at Wrigley Field.
"I think we learned that we have to be a little louder," Bryant said.
They also need to take a peek to see where the other outfielder is. Bryant and shortstop Addison Russell crashed chasing Eugenio Suarez's fly ball in the third.
"I probably wasn't calling for [Holt's ball] as loud as I could," Bryant said. "I was calling for it just because of what happened with me and Addison earlier in the game."
Bryant started Tuesday, but at third base, which Cubs manager Joe Maddon said had nothing to do with what happened on Monday.
Carrie Muskat has covered the Cubs since 1987, and for MLB.com since 2001. She writes a blog, Muskat Ramblings. You can follow her on Twitter @CarrieMuskat and listen to her podcast. This story was not subject to the approval of Major League Baseball or its clubs.