50 years later, the 1966 All-Stars still impress
Half a century ago, 19 future Hall of Famers dazzled during a heated Midsummer Classic
By the time Joe Torre arrived at the Sahara-like Busch Stadium in July 1966 to help the National League win its fourth straight All-Star Game, he had already played in two of the three Midsummer Classics to which he was named, caught for the great Warren Spahn and shared lineup space with Hank Aaron and Eddie Mathews. Not the easiest man to impress, one might surmise.
But then he entered the clubhouse. "Here I was, 25 years old, and when I walked into the locker room and looked at all the names over the lockers, it was pretty [darn] impressive," Torre says.
Torre scanned one side of the room and took note of the starting outfield: Aaron, Roberto Clemente and Willie Mays. He checked out the pitching staff he'd be handling, which included starter Sandy Koufax, Jim Bunning, Juan Marichal and Gaylord Perry, each a future Hall of Famer. (Bob Gibson was also on the roster, but couldn't play due to an injury.) In all, 13 eventual Cooperstown enshrinees were on the NL roster. Manager Walter Alston made it 14.
Throughout the 1960s, the National League began accumulating a tremendous stock of talent, as many teams had finally begun to embrace African-American and Latino players. The result was an outfield of the Aaron-Clemente-Mays caliber and a pitching staff that included some of the best ever, not just to that point. Put them all together, and you had something pretty special.
Even though Torre played in nine All-Star Games, was the 1971 NL MVP and won four World Series as the Yankees' skipper, he is still awestruck by the collection of talent on that team. "We took a lot of pride in playing together," Torre says. "There was always a sense of camaraderie, even though we were on different teams. We still wanted to go out and kick [the American League's butt]."
But a romp wasn't to be had in the brutal Missouri heat that overpowered the 1966 Midsummer Classic. It took a Maury Wills RBI single in the bottom of the 10th for the NL to eke out a 2-1 victory.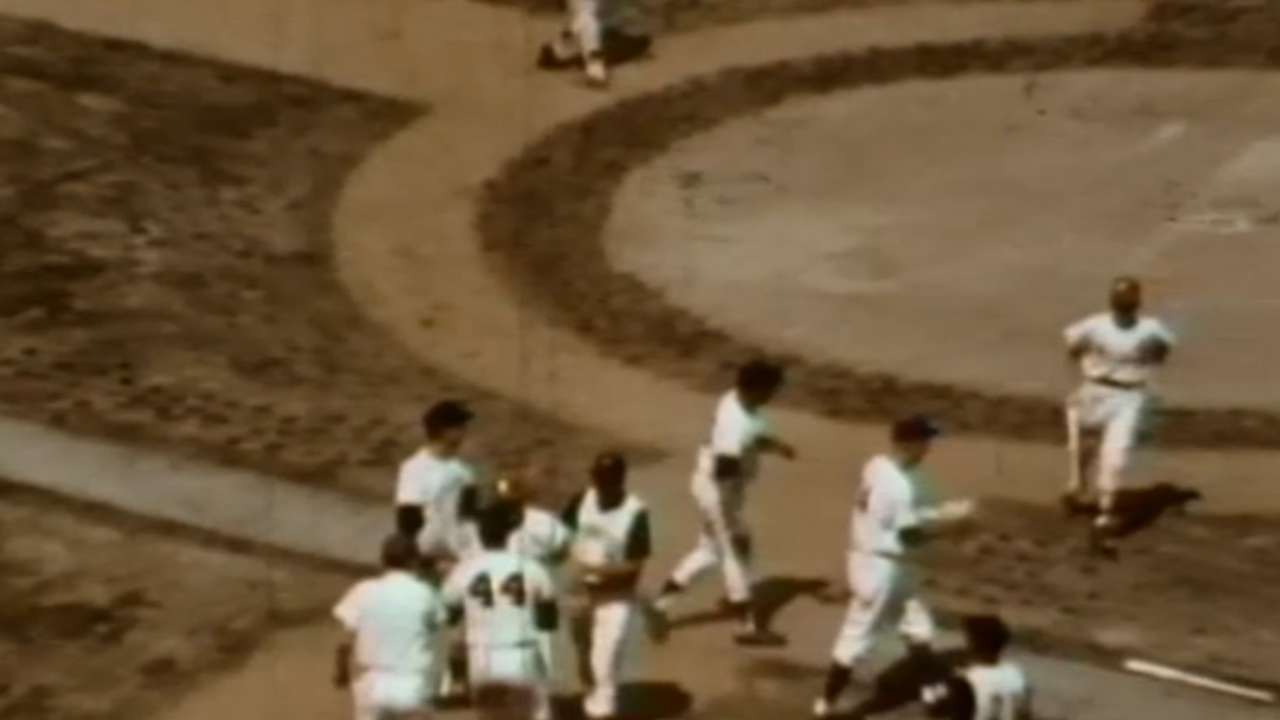 Even though the American League contingent didn't quite match up to the collection of legends that joined Torre, it wasn't exactly lacking in star power. There were six future Hall of Famers on the roster -- Catfish Hunter, Al Kaline, Harmon Killebrew, Brooks Robinson, Frank Robinson and Carl Yastrzemski -- not to mention standouts in Norm Cash, Rocky Colavito, Jim Kaat, Tony Oliva and Denny McLain, the last pitcher to win 30 games in a season. Like Torre and his Senior Circuit contingent, the AL players were eager to join forces and see their counterparts in action.
"From a player's standpoint, what was so unique was that we didn't have cable TV and there was no Interleague," says Kaat, an eventual 283-game winner who was in his sixth full season with Minnesota. "We were starstruck. It was like, 'Wow, we get to see Clemente.'
"We saw a little of Clemente and Aaron during Spring Training, but to be on the same field with them was intimidating."
No matter how excited the players were to compete, the most formidable foe was the weather. Temperatures hit 105 degrees, but fortunately the playing surface was grass, as Busch Stadium didn't install artificial turf, which holds more heat, until 1970. As was the case with many big games played at that time, the Classic was held in the afternoon, which made it tough to concentrate on, or enjoy, the proceedings given the stifling climes. When asked what he thought of the Cardinals' new $24-million home, Casey Stengel, the honorary National League coach, quipped, "It holds the heat well."
"It was so hot that when you swung and missed, you lost your breath," says Torre, who was behind the plate for seven innings.
After the game, Torre showered, put on his coat and tie, grabbed his gear -- "Back in those days, you carried your own stuff," he says -- and headed out to the car that would take him to the airport. But instead of turning right and taking a few steps to his waiting ride, Torre went left and ended up circling the stadium before reaching his vehicle. "By that point, I was drenched again," he says, laughing.
Unlike today's All-Star Game, during which it's strange to see starters on the field for more than a handful of innings, All-Stars in the '60s often went the distance. Baltimore third baseman Brooks Robinson spent the whole game at the (very) hot corner and collected three of his team's six hits, earning MVP honors despite the AL's loss. Aaron, Clemente and Mays played all 10 innings, as did future Hall of Famer Ron Santo. Although the iron men probably would have liked a break, they wanted to win the game, even though World Series home-field advantage was not yet riding on the outcome.
"There was a big rivalry between the two league presidents, Warren [Giles] and [Joe] Cronin," says Kaat. "They were in competition to see who had the stronger league."
Early on, it seemed as if the AL's Cronin would be smiling. Brooks Robinson tripled in the second and scored when Koufax uncorked a wild pitch. That hit and subsequent run were the only blemishes on an otherwise perfect three-inning showing by the Dodgers ace. Torre, who had also caught Koufax in the '65 All-Star Game, remembers how easily the southpaw was able to spot his pitches: "He had great control. It was a far cry from when he got to the Big Leagues. When he had his best control, he was the type of pitcher who would beat you, 1-0, but it felt like you were losing 10-0. He had such great command of his stuff and great confidence."
While Koufax was working to keep the damage to one run, Detroit's McLain was perfect against the NL. In three innings, McLain struck out as many and showcased the talent that made him one of the Junior Circuit's best from 1965-69. Although most remember him for his 31-6 campaign in 1968, when he completed a league-leading 28 games for the world champs, McLain won 108 games during that five-season stretch and earned Cy Young Awards in 1968 and '69.
The imposing NL outfield helped tie the game in the fourth against Kaat, who had come on in relief of McLain. Mays led off with a line-drive single to left and advanced when Clemente singled to center. After Aaron popped out to first and Giants first baseman Willie McCovey sent Mays to third with a fielder's choice that erased Clemente, Santo singled just past third base to plate Mays and knot the score at one. It was what Alston had been hoping for when he stacked the dangerous trio at the top of the order.
"Could you imagine if in those days we had iPhones, iPads, cameras and videos?" asks Kaat, marveling to this day at the 1966 NL outfield triumvirate. "That would have been some spectacle, if you could see Aaron, Mays and Clemente on the same field."
The only other scoring threat in regulation came in the sixth, when Clemente doubled and McCovey got a free pass. But with two on and two out, Santo grounded out to end the rally. The rest of the NL's Hall-of-Fame staff followed Koufax's three innings with seven frames of five-hit ball. Bunning (2 IP), Marichal (3) and Perry (2) allowed just two AL batters to reach second base. Torre, who caught all three of Marichal's frames during the 1965 game and another two in '66, still marvels at the hurler's repertoire.
"He had a fastball, slider, curveball and screwball, and he could throw them overhand and sidearm, too," Torre says of the right-hander with the massive leg kick. "That essentially doubled the number of pitches he threw and was enough to discourage anybody who faced him."
On that sweltering day, no one wanted to face Marichal or any of the aces longer than they had to, so it's a good thing the NL ended the proceedings in the home half of the 10th. Cardinals backstop Tim McCarver, who had taken over for Torre in the eighth, led off the inning with a single to right and advanced to second on a sacrifice bunt. Dodgers shortstop Wills then singled to right, as well, plating McCarver with the winning run.
It was a dramatic ending to another NL victory, which despite the heat took just two hours and 19 minutes, an extremely quick game by today's standards. His circuitous route around the stadium aside, Torre was a happy man after the victory. "We always played to win," he says definitively.
With a roster like the National League had 50 years ago, it was hard to imagine any other outcome.
This article appears in the MLB Official All-Star Game Program. Click here to purchase a copy, and read more features on allstargame.com.
Michael Bradley is a freelance writer based in Philadelphia. This story was not subject to the approval of Major League Baseball or its clubs.