MLB.com Columnist
Barry M. Bloom
Dodgers' worst might be behind them
Starting pitchers beginning to return as LA passes halfway mark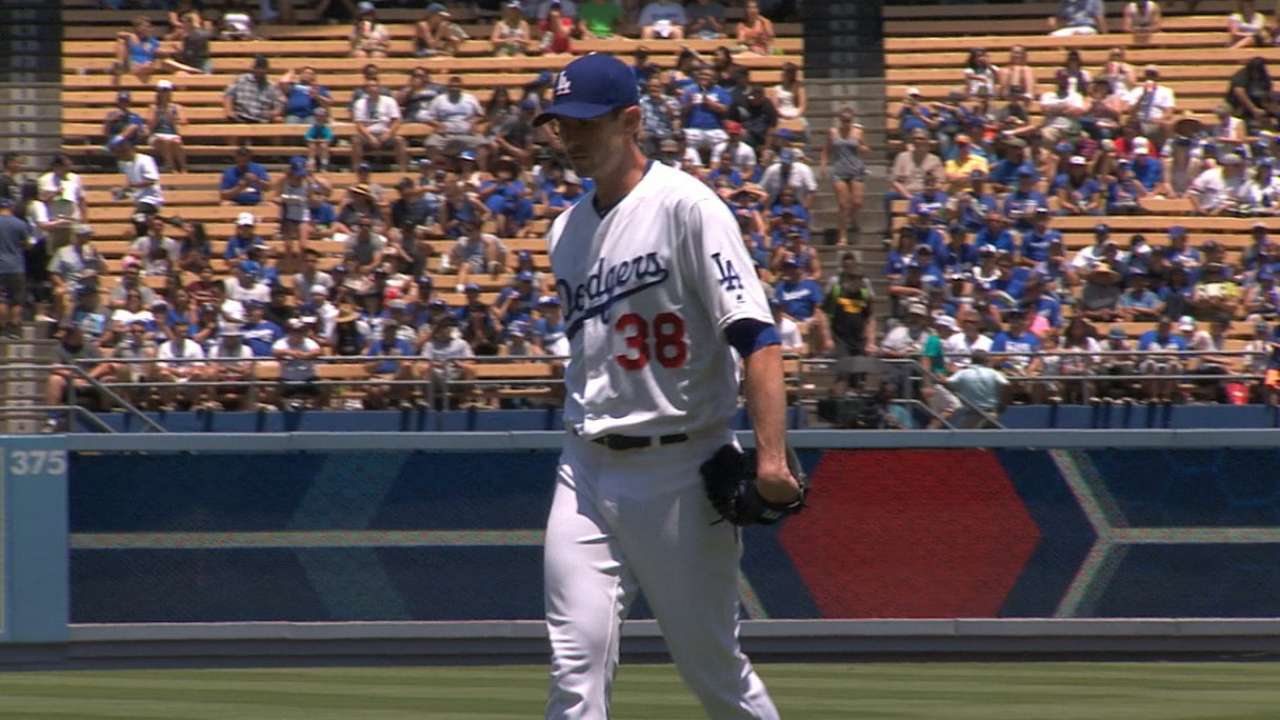 LOS ANGELES -- The first half of the 2016 baseball season is over, and the Dodgers may have weathered a very disruptive storm. As of Saturday, they had $71.23 million worth of starting pitching on the disabled list.
Brandon McCarthy then returned on Sunday from Tommy John surgery and pitched five innings of shutout ball. Hyun-Jin Ryu is scheduled to make his first regular-season start since Sept. 12, 2014, on Thursday night against the Padres at Dodger Stadium.
The left-hander missed the entire 2015 season and the first three months of this season after shoulder surgery.
That still leaves Clayton Kershaw (herniated disk in his lower back), Brett Anderson (herniated disk surgery) and Alex Wood (posterior elbow impingement) in various stages of disrepair.
Yet, even though young left-hander Julio Urias couldn't make it out of the fourth inning Monday evening, the Dodgers came from behind to defeat the Orioles, 7-5.
The Blue Boys are 11 games over .500 and reasonably optimistic that the worst is behind them. They may yet be able to make a run at the first-place Giants in the National League West or, at least, take one of the league's two Wild Card slots. They trail the Giants by five games.
"I think the one thing about our club is that we really haven't considered who we don't have," first-year Dodgers manager Dave Roberts said. "We focus on what we have to do, and that's to win games. So as guys start coming back, we're better for it. Knowing we can get through some tough times without guys, we're better for it."
Urias will be optioned back to Triple-A Oklahoma City, Roberts said after the game, corresponding moves also to activate Ryu pending in the next couple of days. Ryu is on the 60-day disabled list and must be placed back on a completely full 40-man roster.
"It won't be Ryu," Roberts said about the swap for Urias.
Plus, there are innings limitations on Urias, who has already tossed 77 1/3 this season between Los Angeles and Oklahoma City.
But that's the least of the Dodgers' problems right now.
To be sure, the big question is the extended absence of Kershaw, one of the game's top starters. Since the onset of the 2013 season, Kershaw has 64 wins and has logged a 1.90 ERA. And that doesn't include his 21-5, 2.28 ERA and 248 strikeout campaign in 2011.
This season, his strikeout-to-walk ratio of 145-9 in 16 starts was historic. He went out with an 11-2 record and 1.79 ERA.
The Dodgers were already without Zack Greinke after the right-hander signed a six-year, $206.5 million free-agent deal this offseason with the D-backs.
As fate would have it, Greinke is also on the DL right now in Arizona because of a strained left oblique. Go figure it. Greinke and Kershaw combined to win 35 games last year for the Dodgers.
Dodgers starters other than Kershaw this season have won 20 games.
Roberts said there really was no timetable for the return of his other three injured starters. The organization, which makes these decisions from the top down, are slow-walking all of them.
Wood has been out since May 31 and seems to be the closest. He's in the process of increasing the length of his bullpen sessions. Anderson hasn't even climbed back on the mound yet. The last time that happened was a batting practice session during the first week of Spring Training. He's soft-tossing at 150 feet.
Kershaw, of course, is the most problematic, and he's not even close yet to any kind of baseball activities.
"Everyone is different coming back from certain injuries, and with Clayton we hope it's sooner," Roberts said. "It doesn't make any sense to put any timeline on him because he's going to try to beat it. We just want him to get back as soon as he can."
But what looked so bleak when Kershaw went out on June 27 has suddenly become a lot rosier during a streak of seven wins in eight games and 10 in a row at home. McCarthy, Urias, Scott Kazmir, Kenta Maeda and the newly acquired Bud Norris all pitched well during that stretch.
And with the return of Ryu, the Dodgers' rotation is suddenly boasting an embarrassment of riches.
"They've got a surplus of pitching, you mean?" said veteran Orioles manager Buck Showalter. "Anybody that has a surplus of pitching is going to demand a king's ransom at the trade deadline."
And that's coming up on Aug. 1.
Roberts said even before the game that Monday night's start probably would be the last for Urias before Sunday's All-Star break. The 19-year-old didn't do himself any justice by allowing five runs on six hits in 3 1/3 innings, three of those runs during the second inning as the Orioles sent eight men to the plate.
It was his worst start since allowing six runs on eight hits over five innings in a June 2 loss to the Cubs at Wrigley Field.
"You know, we're going to think through it and see what's best for Julio and us as far as all the other starters," Roberts said. "I think everything is on the table. We're just trying to figure out what makes sense."
There's also the possibility of a six-man rotation at some point, certainly, though, not before the break. That would make it more sustainable for McCarthy and Ryu to continue to pitch and pitch well after returning from the dual surgeries.
It's a lot pending and a half season left to see how it all plays out. But the point is, the Dodgers seem to have weathered the storm.
"We're playing a lot better baseball," Roberts said.
That is an understatement.
Barry M. Bloom is a national reporter for MLB.com and writes an MLBlog, Boomskie on Baseball. Follow @boomskie on Twitter. This story was not subject to the approval of Major League Baseball or its clubs.