Bullpen gets job done in Giants' win vs. Rockies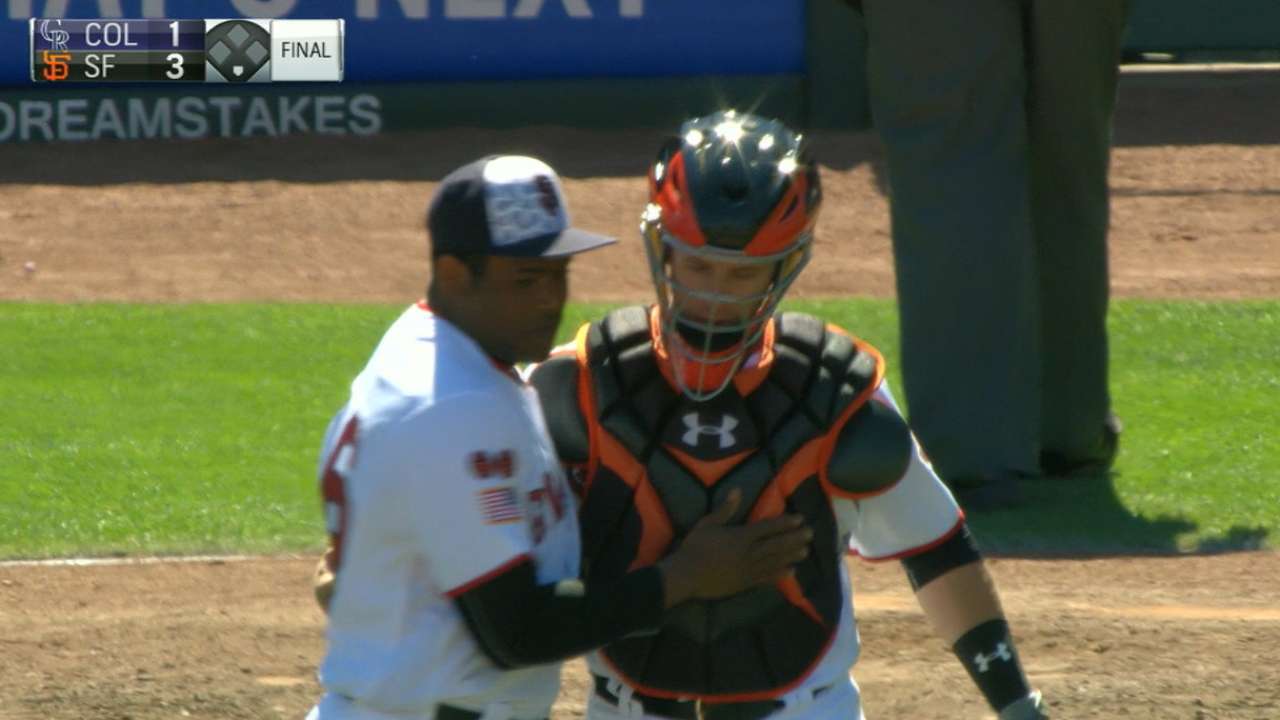 SAN FRANCISCO -- Protecting a lead was a task that became particular taxing for the Giants' bullpen in Arizona this past weekend. In consecutive days, the group surrendered a game-winning and game-tying home run in the eighth inning, resulting in their 15th and 16th blown saves of the season.
But the Giants' relief pitchers proved they were up for the assignment Monday, pitching 2 1/3 shutout innings and preserving a 3-1 victory over the Colorado Rockies at AT&T Park.
After Jake Peavy surrendered a two-out single in the seventh inning, Giants manager Bruce Bochy used five pitchers from his bullpen, and the result was much more effective than it has been lately.
The combination of Javier Lopez, freshly activated Sergio Romo, Josh Osich, Derek Law and Santiago Casilla allowed one hit while protecting the two-run lead Peavy left the mound with.
"You just try to catch a little bit of momentum," said Osich, who after giving up an earned run Saturday hasn't allowed a hit in 1 1/3 innings. "No reliever just wants to sit there and dwell on what happened."
The pitchers had some impressive defense in the infield to thank. Brandon Crawford made a hard-hit grounder from DJ LeMahieu to the gap between short and third look routine to get the first out of the eighth inning. Then, after Nolan Arenado doubled and reached third on a groundout one at-bat later, second baseman Grant Green saved a run by throwing across his body to get Trevor Story out at first. The Rockies challenged the call on the field, but it would stand as called.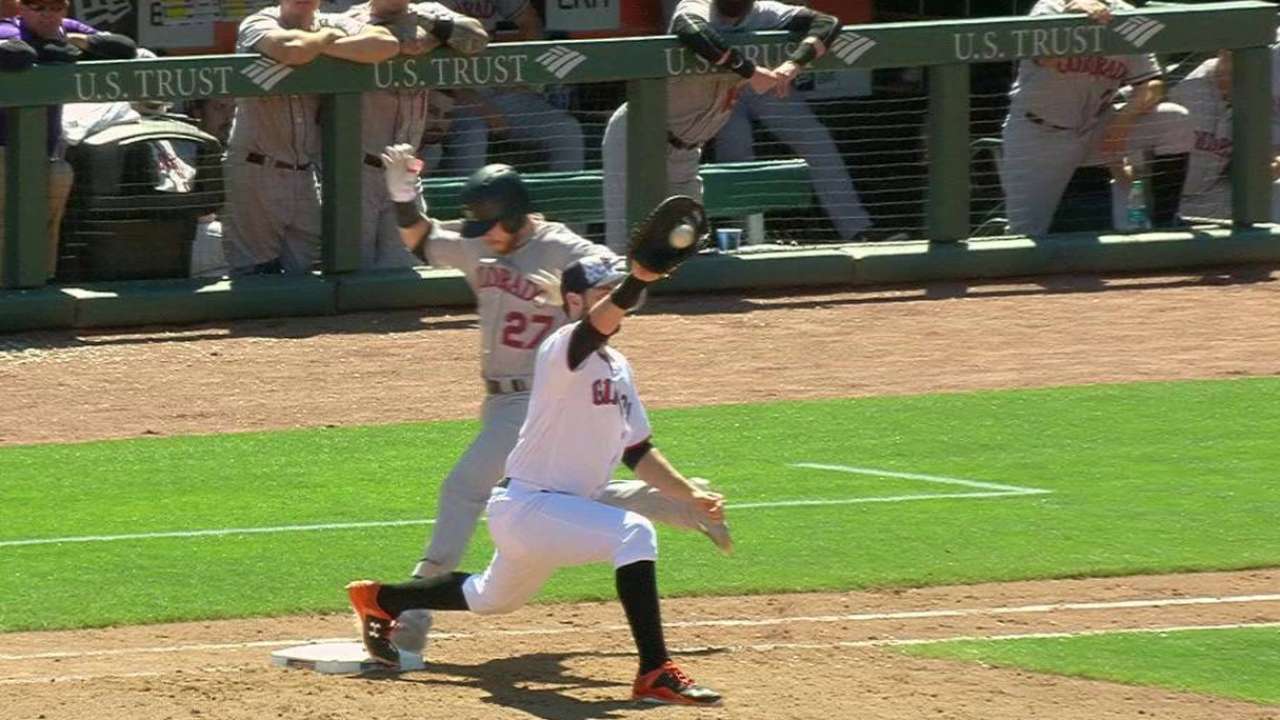 Romo allowed the lone hit the bullpen yielded. But with his presence alongside several players who have proven themselves at one point or another this season, Bochy appeared optimistic about the group's potential moving forward after Monday's game.
"We have four or five guys that I'm comfortable using in the seventh, eighth inning," said Bochy, alluding to the bullpen's depth and how Romo will be used.
Casilla picked up his 20th save of the season by retiring three straight batters, two of which came via strikeout, an inning later. Casilla has now converted 13 of his last 14 save opportunities.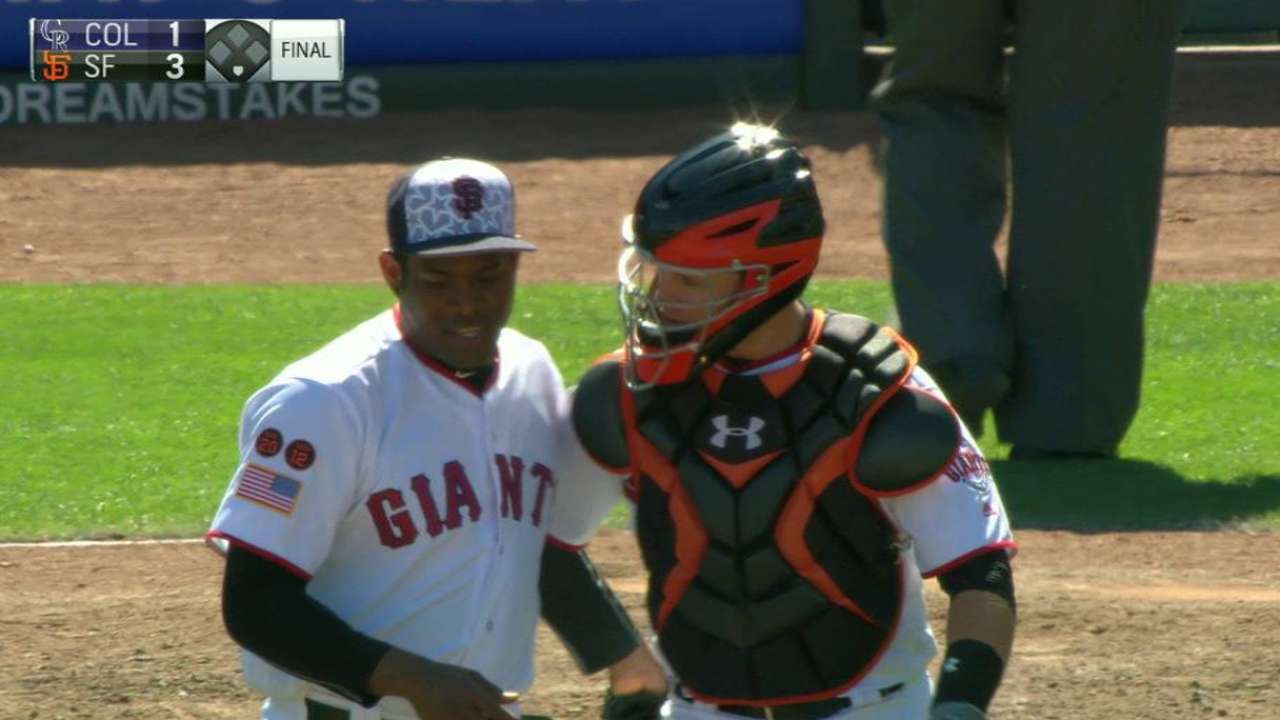 Romo, who was just activated from the 60-day disabled list Monday, said he's noticed how persistent the Giants bullpen has remained in spite of the recent damage it's surrendered.
"The guys have responded well," he said. "There's not a guy in the 'pen that's afraid to take the ball and get the job done."
Monday's outing was a "positive" sign for the bullpen, according to Osich. The group had wasted solid performances from Jeff Samardzija and Albert Suarez on back-to-back days and inched closer to becoming the league leader in blown saves. The only team with more is the Cincinnati Reds, with 17.
This time, the relievers protected another dominant start from Peavy. And with Romo now available, Bochy is certainly hoping the added depth will only help a bullpen hoping to find its collective footing again.
Justin Wise is a reporter for MLB.com based in the Bay Area. This story was not subject to the approval of Major League Baseball or its clubs.