Astros, M's jockey for position on MLB.TV
Tanaka looks to rebound in Chicago; Rockies try to halt losing skid vs. Bumgarner, Giants
A week from today, baseball's most elite talent will take the field at Petco Park in San Diego as part of this year's All-Star festivities. But in the meantime, all 30 Major League clubs will try to close out the first half strong, building momentum heading into the break.
Two teams jockeying for positioning in the standings will be in direct opposition today as the Astros and Mariners continue their three-game series at Minute Maid Park. This American League West clash -- featuring Houston's Dallas Keuchel and Seattle's Taijuan Walker -- is just one of many intriguing matchups in store for today's MLB.TV slate, including starts by Madison Bumgarner, David Price and Masahiro Tanaka.
MLB.TV Premium has returned with the same features as last year, and is only $99.99 for the rest of the season. This package has the best value and provides access to more than 400 devices and a free subscription to the MLB.com At Bat Premium app (a $19.99 value). It offers the best picture quality ever -- a new 60 frames per second -- for supported devices. Monthly signups for MLB.TV Premium are now underway as well for $24.99.
The new MLB.TV Single Team package is also now available as an $79.99 yearly subscription. You can watch a single team's live out-of-market games in full HD.
Here's what to watch for throughout the day (all times in ET):
Keuchel, Walker duel in AL West clash: SEA@HOU, 7:10 p.m.
While the Rangers have a substantial lead as the AL West's top club, second place, along with potential Wild Card spots, is firmly up for grabs. The Astros are currently in possession of the second spot in the division, but their one-game lead could quickly become a one-game deficit if the Mariners can take two games in this head-to-head series.
Houston will send Keuchel to the mound to defend its division standing. Keuchel has traditionally had success against the rival Mariners, going 4-5 with a 3.09 ERA in 11 games (10 starts) with 68 strikeouts in 70 innings. Seattle will counter with Walker, who's also seen plenty of action in this rivalry. Ten of his 52 career starts have come against the Astros. The 23-year-old has a 3.98 ERA and 52 strikeouts in 52 innings vs. Houston. The Mariners will be keeping a close eye on Walker in this one as he continues to pitch through tendinitis in his right foot.
"It's crept up in every start, sometimes later, sometimes earlier," Seattle manager Scott Servais said. "He's been able to manage it and threw the ball very well last time out. We'll be looking for the same thing."
Stat that matters: Robinson Cano has been a problem for Astros pitchers this year. He's batting .441 (15-for-34) with five homers and 17 RBIs through eight meetings so far.
Tanaka seeks rebound start in Chicago: NYY@CWS, 8:10 p.m.
Tanaka will look to put one of his worst outings of the season behind him when he takes on the White Sox today in Game 2 of a three-game set at U.S. Cellular Field. Tanaka was tagged for six runs and eight hits in six innings of work against the Rangers his last time out. Still, the right-hander has been among the AL's top hurlers this season with a 3.35 ERA. For Chicago, 23-year-old Carlos Rodon will toe the rubber. In two career starts vs. New York, Rodon has given up 10 earned runs through nine innings. He's walked nine batters and struck out eight in those outings.
Stat that matters: Opponents are hitting just .138 (8-for-58) against Tanaka in the first inning this season. Only two of the 41 runs he's surrendered have come in the first frame.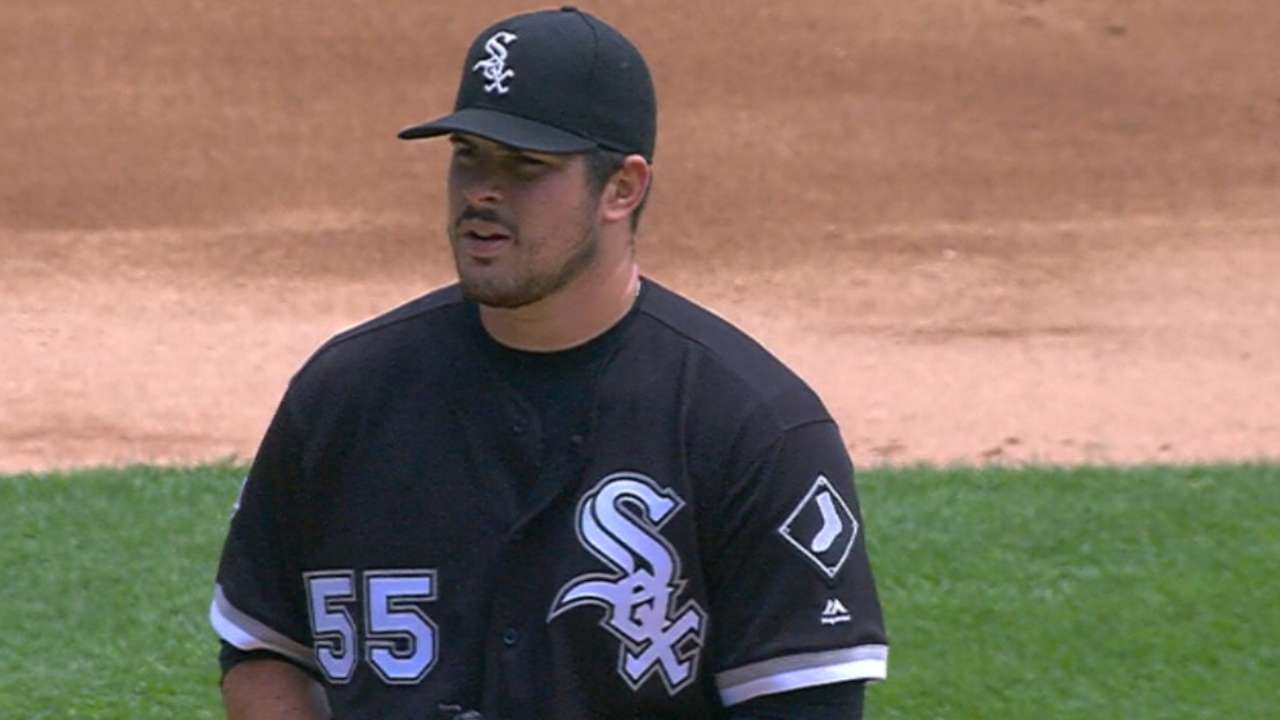 Giants look to continue division dominance: COL@SF, 10:15 p.m.
With Monday's win in the series opener with the Rockies, the Giants now own a winning record against every National League West opponent so far this year. Another win today and San Francisco will secure its eighth series victory in its last nine within the division. With their ace Madison Bumgarner on the mound, the odds are in their favor. Bumgarner has limited the Rockies to three earned runs through 13 1/3 innings this season.
The Rockies, meanwhile, will try to put an end to their six-game losing streak. Right-hander Tyler Chatwood will start, returning to action for the first time since injuring his back June 18. He was on a roll before his injury, going 8-4 with a 3.15 ERA.
Stat that matters: Chatwood hasn't surrendered a home run in any of his last six starts. He's pitched 41 innings without allowing a home run since Yoenis Cespedes went deep for a solo shot against him on May 15.
MLB.TV Premium subscribers get the Mosaic View -- split screen or quad, available on PC or Mac only. That always comes in handy, especially when scoreboard-watching looms. MLB.TV Premium and MLB.TV Single Team subscribers both enjoy HD and both will get real-time highlights and player stats automatically loaded moments after they occur (only for the game you are watching with MLB.TV Single Team, and for all games with MLB.TV Premium).
Chad Thornburg is a reporter for MLB.com. This story was not subject to the approval of Major League Baseball or its clubs.