Realmuto's 7 straight hits nears Miami mark
Marlins catcher goes 4-for-4 in loss to Mets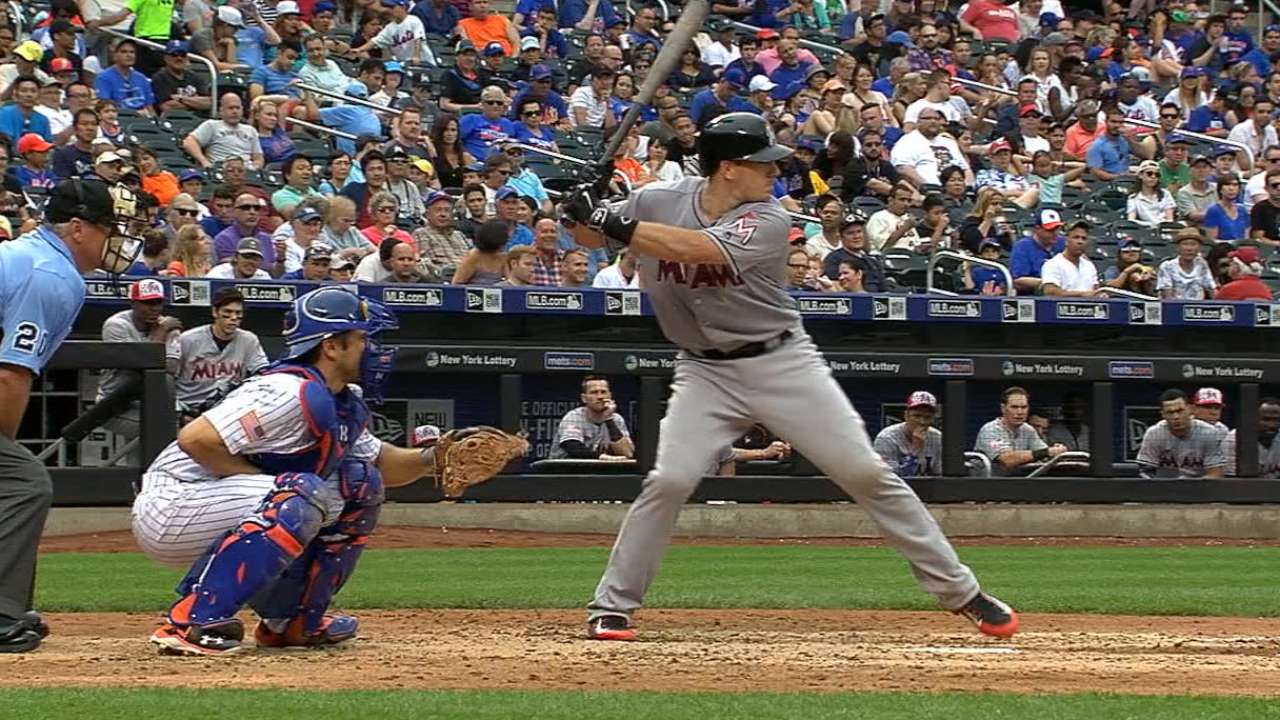 NEW YORK -- Seven straight at-bats, seven consecutive hits. No matter if he is performing at a military base or in the shadows of Manhattan, Marlins catcher J.T. Realmuto continues to string hits together at a record pace. The 25-year-old from Oklahoma's hot streak now places him one hit away from matching a franchise record of most hits in a row.
Realmuto went 4-for-4 with a walk on Monday in the Marlins' 8-6 loss to the Mets. The team mark is eight, done four times, with Christian Yelich being the most recent last Oct. 3 during a doubleheader at Philadelphia.
The hot streak magnifies what type of first half Realmuto is having.
"It's unfortunate you don't really hear his name in the All-Star talks," Marlins right-hander Tom Koehler said. "When you compare him at his position to guys across the league, he's having a better year than probably everybody that's up there in the fan vote. I'm sure some players don't realize how well he's been doing when they vote. It would be nice to hear his name called [Tuesday] when they announce the team, but I don't know if that's going to happen."
The All-Star squads will be announced on Tuesday, and the Marlins have worthy candidates, like right-hander Jose Fernandez and center fielder Marcell Ozuna. Yelich, Martin Prado, A.J. Ramos and even Ichiro Suzuki, now 10 hits shy of 3,000 MLB hits, could be in consideration.
In his first full big league season, Realmuto is performing at a level worthy of All-Star consideration. After his four hits on Monday, his batting average is up to .325, second only to Washington's Wilson Ramos (.340) among all catchers.
If Realmuto isn't selected on Tuesday, the Marlins think it is only a matter of time until he reaches the All-Star Game.
Realmuto heated up on Sunday with a 3-for-5 game (including a home run) against the Braves at Fort Bragg Field in North Carolina. After fanning his first two times up, he had three hits before collecting four straight hits on Monday. In the eighth inning he walked, which keeps his streak alive. He now has seven hits in his last eight plate appearances, but it's still seven consecutive at-bats.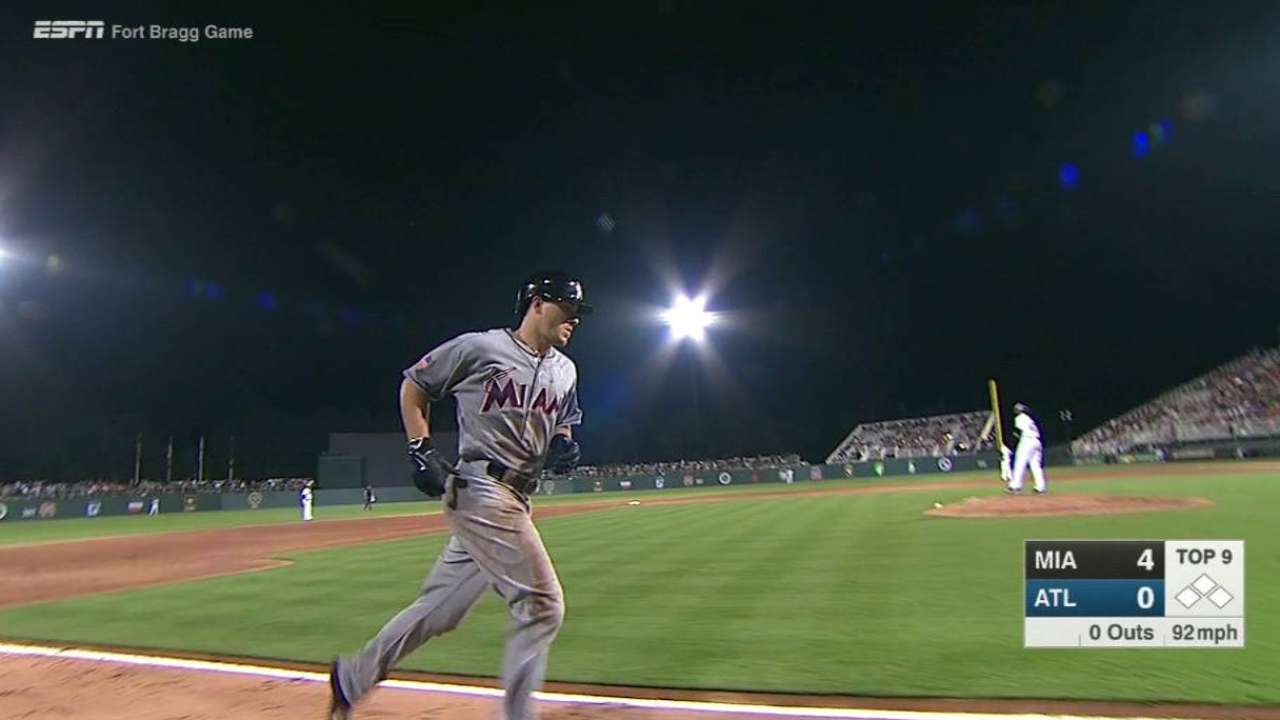 "I feel confident at the plate, swinging at the right pitches," said Realmuto, who earlier in the year became the first catcher ever to lead off. "I'm getting myself in good counts to hit. Not chasing pitches the pitchers want me to hit. Swinging at the ones I want to hit. That's something that comes with time."
Manager Don Mattingly has moved Realmuto up and down the batting order. The past two games he's led off.
"I showed up one day and I was leading off again," Realmuto said. "The situation dictates what you do. I can come up with runner at second and have nobody out whether I'm hitting first or eighth. It's more the situation of the game that dictates the approach."
Joe Frisaro has covered the Marlins for MLB.com since 2002. He writes a blog, called The Fish Pond. Follow him on Twitter @JoeFrisaro and listen to his podcast. This story was not subject to the approval of Major League Baseball or its clubs.