Mets see fortunes turning going into break
New York's big comeback extends win streak to 5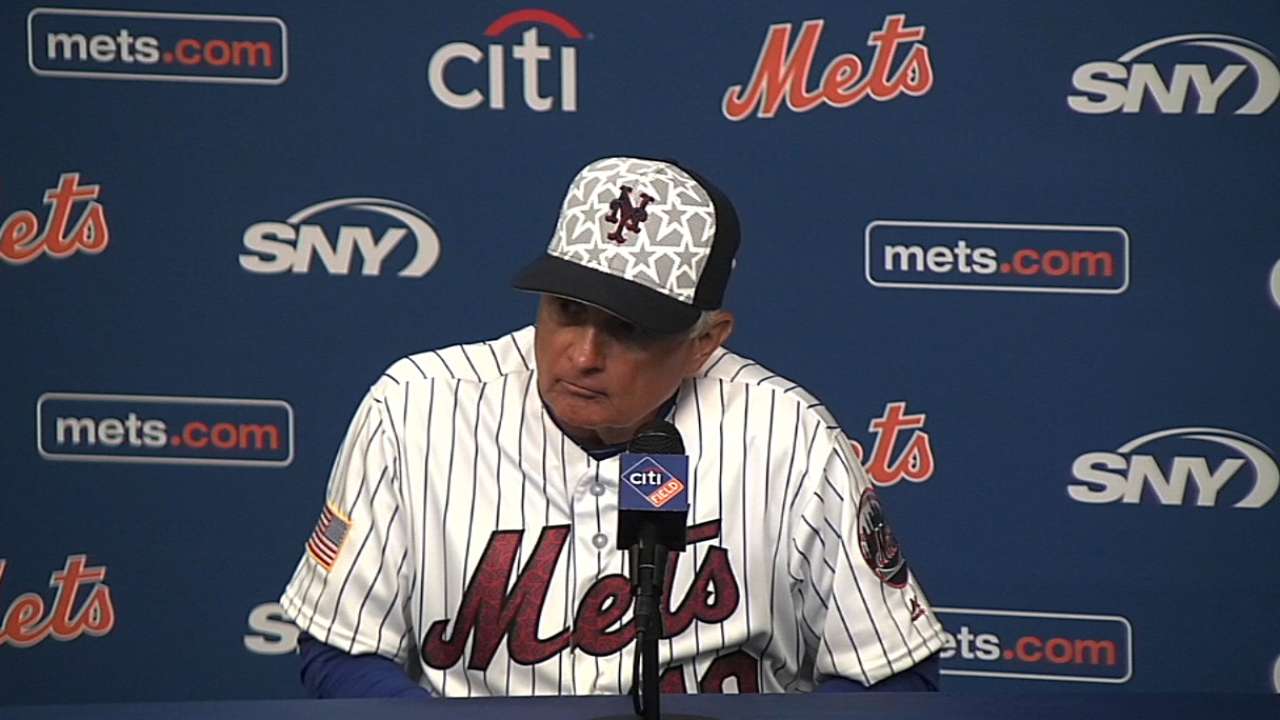 NEW YORK -- The Mets had every reason to get down on themselves. Matt Harvey had been pulled after 3 2/3 ineffective innings, and New York was trailing by six in the fourth inning against the Marlins on Monday. They were running out of outs.
But then Travis d'Arnaud hit a solo shot in the bottom of the frame, and manager Terry Collins began to hear some chatter in the dugout. Then Curtis Granderson mashed a dinger of his own in the next inning. As the game wore on, the Mets kept chipping away, and eventually pulled off the fourth-largest comeback in franchise history with an 8-6 win. For Collins, it was a testament to his club's character.
"When Travis hit that homerun, there was a lot of noise in the dugout," Collins said. "It was just peck away here, and we did peck away and we got back into the game."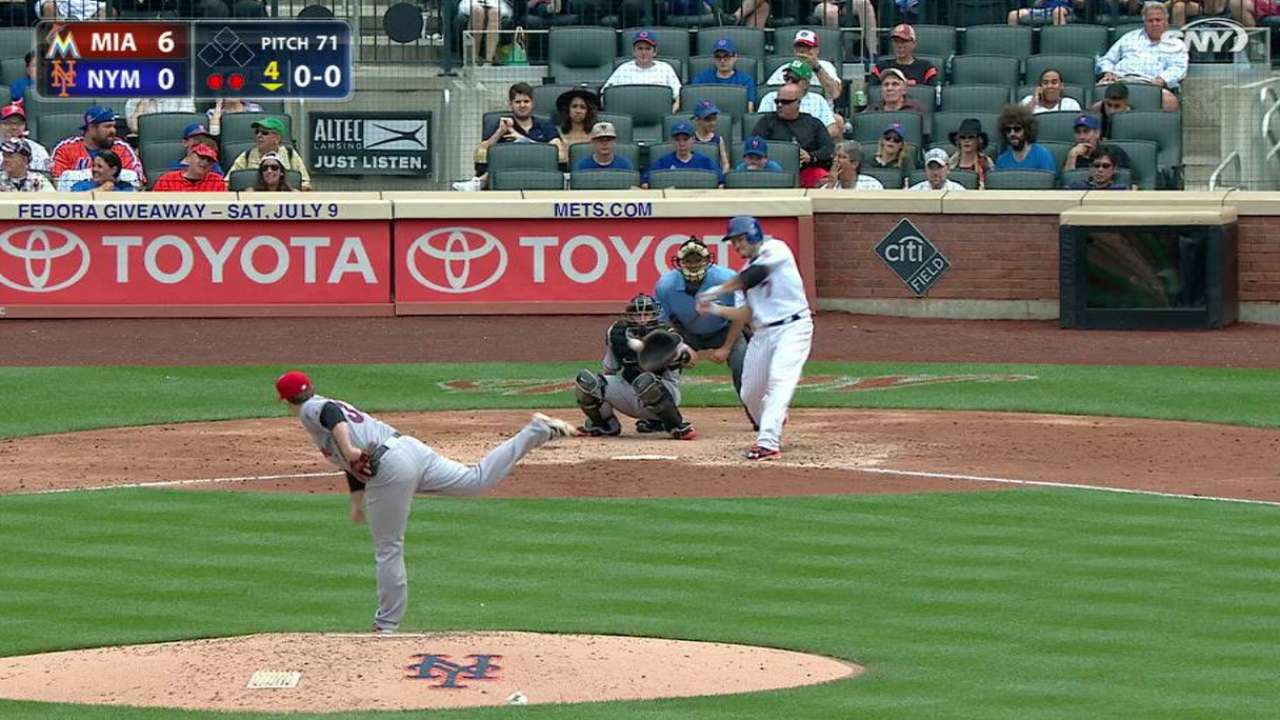 During a lull in the postgame press conference, Collins posed an innocuous question.
"You know this is a holiday, everybody know that?" Collins said to laughter.
The first game of the three-game series lasted three hours and 38 minutes, perhaps putting a dent in Collins' Fourth of July plans. It was a product of the Mets' spirited comeback, which was drawn out until the end. They scored one run in the fourth, one run in the fifth, and two each in the sixth, seventh and eighth.
• Mets announce Reyes to join team Tuesday
With the contest knotted at six in the eighth, Yoenis Cespedes gave the Mets the lead with a two-RBI double. It was his second double in as many innings.
"I think both those times we were down to our last out, so I changed my approach," Cespedes said through a translator. "I'm just looking to make comeback with the ball. That first double was on a cutter and the second just came straight over the plate."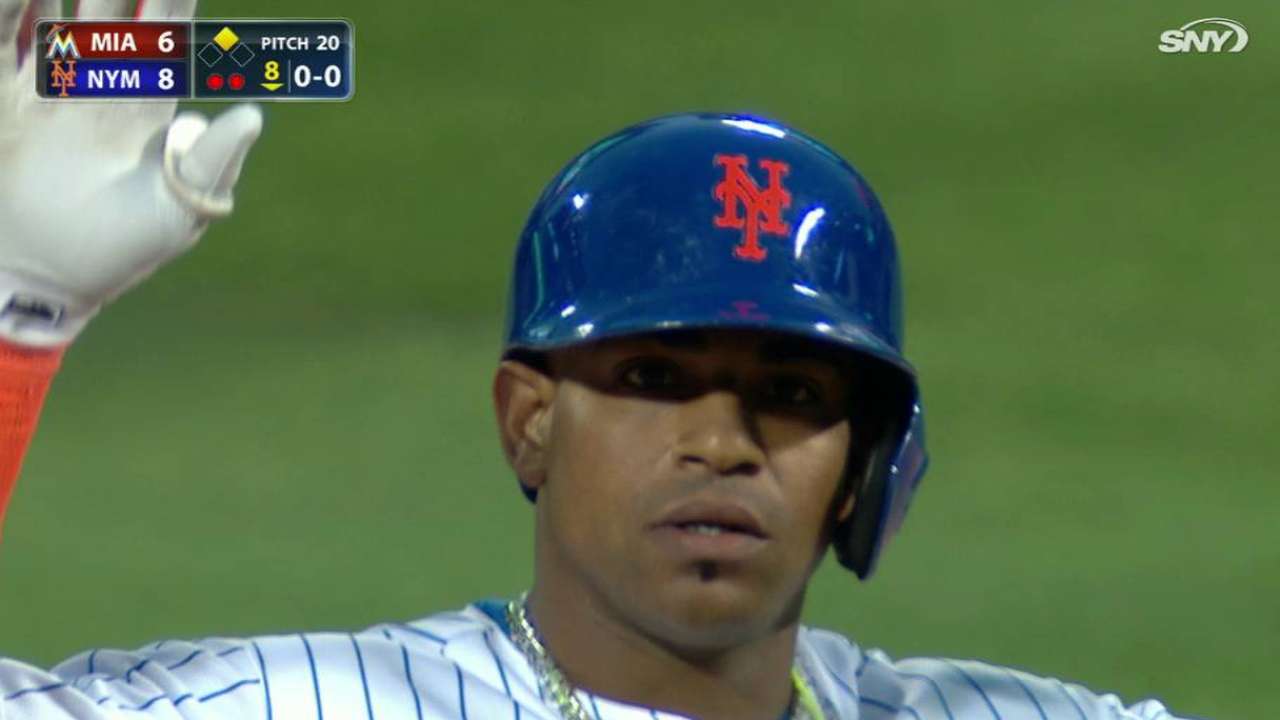 The rousing victory comes after the Mets completed a four-game sweep of the Cubs, who at 52 wins have the second-most victories in the National League.
After getting swept in Washington last week, the Mets have now won five in a row and have a two-game lead over the Cardinals for the second Wild Card spot in the NL. The comeback over the Marlins seemed to signify the team's changing fortunes.
"We talked to the team before the Cubs series and I said we've got a lot of games. We've got 11 games," Collins said. "And then we get a nice little rest. But we got to grind it for 11 days. And if we do, we'll be OK where we're sitting going into the break. And so far they've done that."
Joshua Needelman is a reporter for MLB.com based in New York. This story was not subject to the approval of Major League Baseball or its clubs.