O'Brien optioned back to Triple-A Reno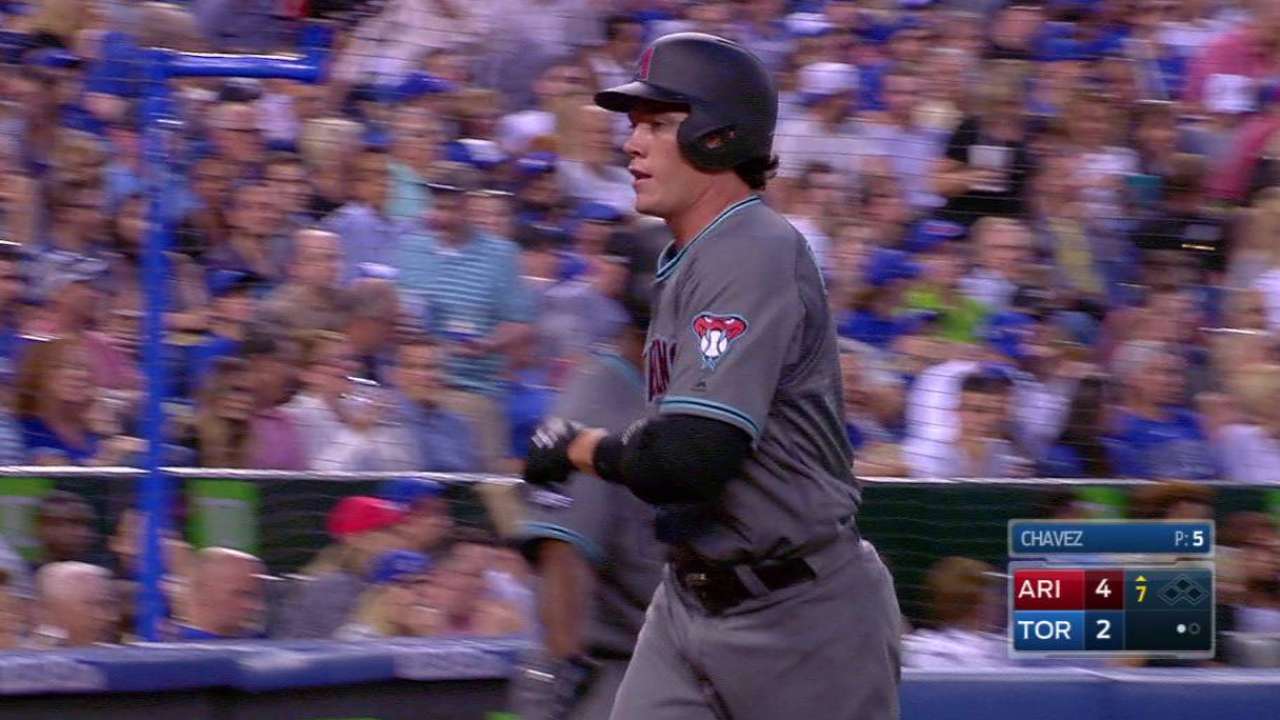 PHOENIX -- Peter O'Brien hit his way into the Major Leagues last month. He didn't do enough of that in his three weeks with the D-backs and now, the outfielder is on his way back to Triple-A Reno.
O'Brien was optioned before Monday's game against the Padres to make room for shortstop Nick Ahmed, who returned from paternity leave. The D-backs opted to keep nine relievers in their bullpen for the series opener against San Diego, though Daniel Hudson will be going on the bereavement list Tuesday.
When O'Brien was called up on June 10, he had his first opportunity to get consistent at-bats in the Majors. But in 20 games, he hit .125 (7-for-56) with four home runs, eight RBIs and 24 strikeouts.
"It's something to get better from and have faith, and I'll be back," O'Brien said. "I think the biggest thing, for sure, is just plate discipline, just going up there with a plan and making sure I swing at pitches that I want to swing at. Sometimes it's easier said, but it's definitely something I've been working on my whole career and will continue to work on."
O'Brien mashed in 51 games in Triple-A earlier this season, batting .330 with 17 home runs and 52 RBIs. But when facing more challenging pitching in the Majors, he struggled to lay off low breaking balls and had too many swing-and-misses.
"He got away a little bit from who he is, maybe a little anxiety got to him at the end," manager Chp Hale said. "His first 50 [plate] appearances were just about as an everyday guy. The numbers just didn't support him to keep playing at that point."
Hale added that he told O'Brien to go back down to the Minors and again hit his way back up to the D-backs. And while his longest stint in the Majors didn't go the way he had hoped, O'Brien said he learned from the experience.
"I'm definitely encouraged," O'Brien said. "I'm going to go back down there and I know exactly what I have to work on and hopefully I'll be up here soon."
Jake Rill is a reporter for MLB.com based in Phoenix. This story was not subject to the approval of Major League Baseball or its clubs.