Offense learning there's no place like home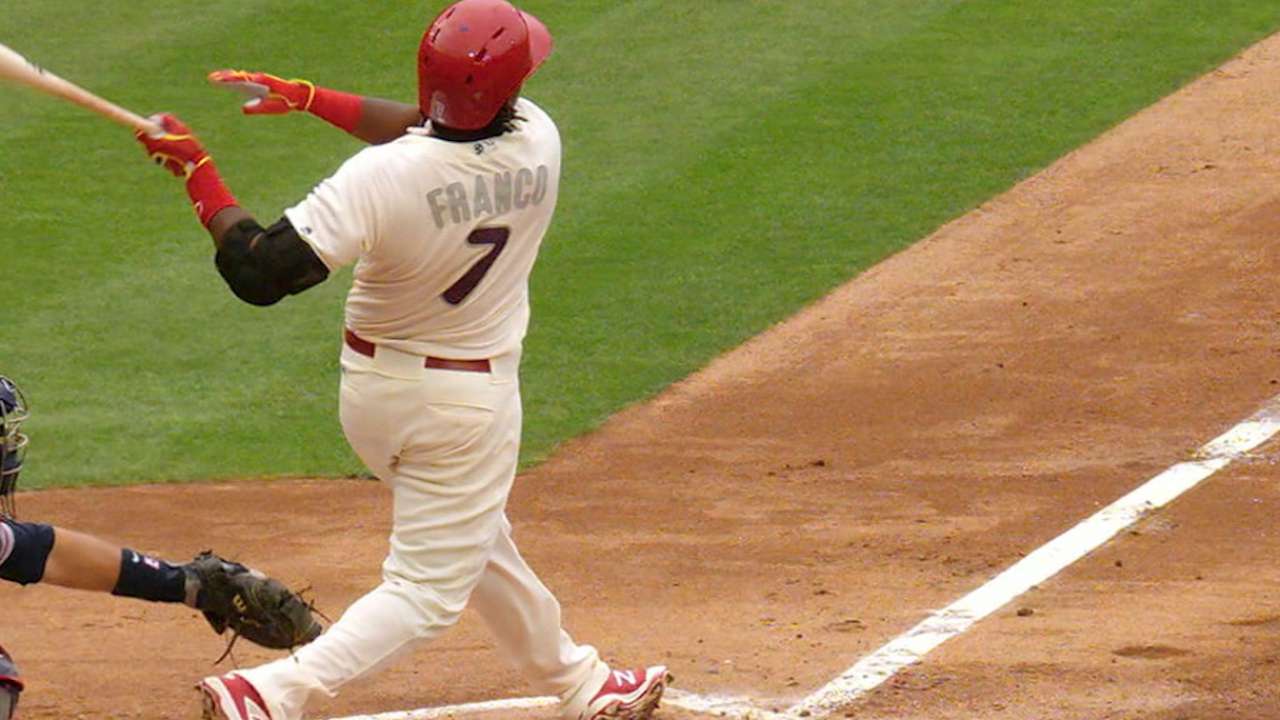 PHILADELPHIA -- The Phillies are finally learning what previous Phillies teams knew long ago: Citizens Bank Park isn't a bad place to hit.
They beat the Braves on Monday, 8-2, with the help of eight extra-base hits. Six of those hits came in the second inning when the Phillies scored a season-high seven runs. Braves right-hander Joel De La Cruz became the first pitcher to allow eight or more extra-base hits to the Phillies in a game since Dizzy Dean gave up eight in 14 innings on May 26, 1933, at Sportsman's Park.
"Confidence breeds success," Phillies catcher Cameron Rupp said. "I think when we were struggling, it's hard to have confidence going up there, especially going up against some of the veteran pitchers we faced that know how to pitch and have been in the big leagues a long time versus a very young lineup. I think the confidence was a little down, then you start running into some pitches and the line keeps moving. … Confidence, man, it's through the roof."
The Phillies have averaged six runs per game in their last 13 contests after averaging 3.11 runs per game in their first 71.
Much of the Phillies' early struggles came at home. The Phillies opened their six-game homestand against the Royals and Braves posting a .608 OPS and averaging 2.7 runs per game at Citizens Bank Park, compared to a .724 OPS and 4.2 runs per game on the road.
Those are pretty significant splits.
Rupp credits the team's offensive resurgence to their success last weekend in San Francisco. The Phillies lost two of three, but they beat Madison Bumgarner on June 25 and scored six runs in six innings against Johnny Cueto in a losing effort on June 26.
"Every one of those games was a dogfight for us," Rupp said, "and I think we've got a lot of respect for ourselves, knowing that we can play anybody. Those guys won three out of the last five World Series with the same guys that were out there playing against us. I think that showed us that we can play with anybody."
Todd Zolecki has covered the Phillies since 2003, and for MLB.com since 2009. Read his Phillies blog The Zo Zone, follow him on Twitter and listen to his podcast. This story was not subject to the approval of Major League Baseball or its clubs.