Bucs place Taillon on DL with shoulder fatigue
Cole returns to mound on rehab start with Triple-A Indianapolis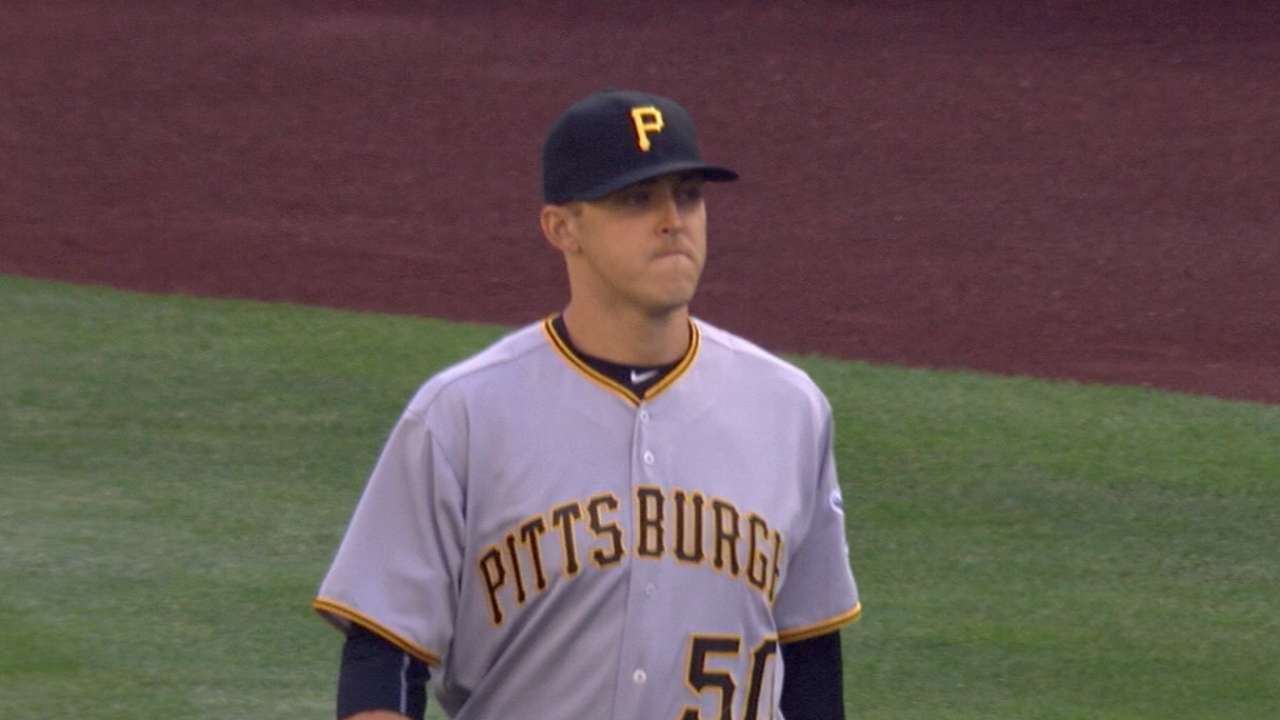 ST. LOUIS -- The Pirates were already making plans to give right-hander Jameson Taillon a break after the All-Star Game. A little bit of shoulder fatigue gave them reason to put those plans in motion.
Taillon was placed on the 15-day disabled list on Tuesday, but the issue with his "cranky" throwing shoulder doesn't appear to be anything serious. Taillon said he had been throwing through the discomfort, a common feeling for pitchers coming back from Tommy John surgery, since his third start for the Pirates.
"It's nothing alarming," Taillon said. "I think this is a good opportunity to give it a little blow and give it a couple days, if it's speaking to me, and come back real strong after the All-Star break."
Taillon, who had Tommy John surgery in April 2014, has never dealt with any shoulder issues. Since he hasn't pitched a full season since '13, the Pirates have been mindful of his workload this year. They would have put their plan into action coming out of the break, skipping a few starts to manage his innings total.
Taillon said he wanted to start Tuesday night in St. Louis, an assignment that instead fell to left-hander Steven Brault, but he understood the Pirates' caution.
"With them already trying to figure out a way to go about this and control the innings, this was a great opportunity for them to pump the brakes and hit the reset button," Taillon said.
"This just gave us the proactive nature to hit it now," added manager Clint Hurdle. "We want to do everything we can do to put him in the best position to have the strongest second half he can have. We feel that this is a good time for the pause now to give him that opportunity."
Cole Train rolls through Indy
Pirates ace Gerrit Cole got back on the mound Tuesday night, making a rehab start for Triple-A Indianapolis. He pitched three innings, allowing two hits while striking out six and hitting a batter. Cole threw 45 pitches, including 30 strikes.
"It's not going to be perfect. It's been a while since I touched the mound during a game," Cole told reporters after his start. "It was nice to get out of there, get the pitch count up, get through the innings smooth, work out of the stretch a little bit and for the most part execute pitches."
Cole is on the disabled list with a strained right triceps muscle. He likely will make another rehab start, putting him in line to return -- like Taillon -- after the All-Star break.
"I would anticipate another rehab start. The main goal here is to get built back up," Cole said. "We're in a position up there where we need quality innings. We need starters to go deep into the ball game. It's a good step in the right direction."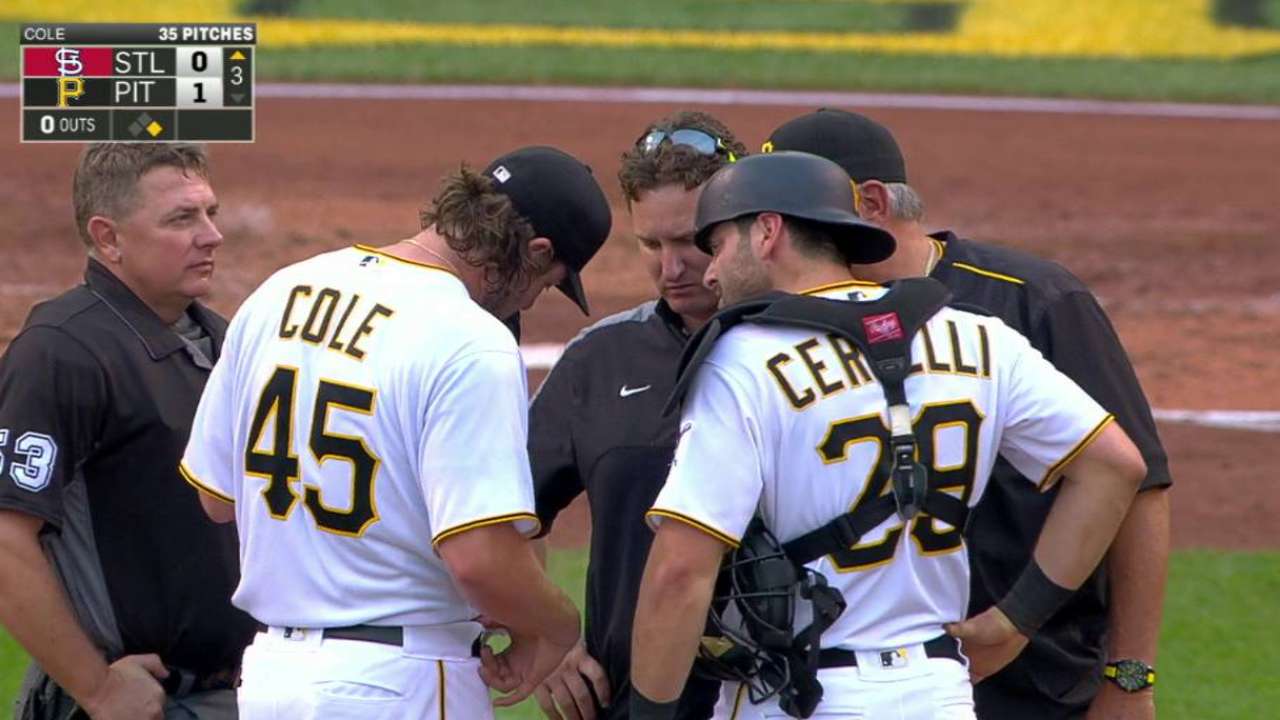 Niese undergoing tests
Left-hander Jonathon Niese flew back to Pittsburgh on Tuesday to have his left knee examined, the Pirates announced. Niese is still expected to make his next start, scheduled for Saturday against the Cubs.
Niese started Monday afternoon against the Cardinals, allowing one run over 5 2/3 innings, and reported no issues after that outing.
Around the horn
• Veteran right-hander Ryan Vogelsong, on the 60-day disabled list as he recovers from surgery to repair multiple facial fractures, threw a four-inning simulated game early Tuesday afternoon at Busch Stadium.
Vogelsong threw 61 pitches and used his full arsenal -- fastball, cutter, curveball and changeup -- while throwing out of the windup and stretch to Adam Frazier, Jung Ho Kang and Erik Kratz. It's unclear what will come next for Vogelsong, who is eligible to return on July 23.
"I think he did well," Hurdle said.
• Catcher Francisco Cervelli, recovering from surgery to remove the fractured hook of his left hamate bone, caught Vogelsong's simulated game and took part in an "arduous" batting practice session with hitting coach Jeff Branson.
Cervelli is swinging with both hands, and he is essentially at full speed behind the plate. Between Vogelsong's simulated innings, Cervelli went through pitch-blocking drills, threw and backed up bases.
"He's in a good place," Hurdle said.
• Pirates No. 2 prospect Austin Meadows will not play in the All-Star Futures Game in San Diego on Sunday due to a right hamstring strain. Meadows was placed on the seven-day disabled list Tuesday, retroactive to Friday. Right-handed reliever Dovydas Neverauskas will be Pittsburgh's lone representative in the Futures Game.
• To make room for Brault, the Pirates designated catcher Jacob Stallings for assignment. Stallings made his Major League debut last month before returning to Triple-A.
Adam Berry has covered the Pirates for MLB.com since 2015. Follow him on Twitter at @adamdberry. This story was not subject to the approval of Major League Baseball or its clubs.