Giants top Rockies behind two homers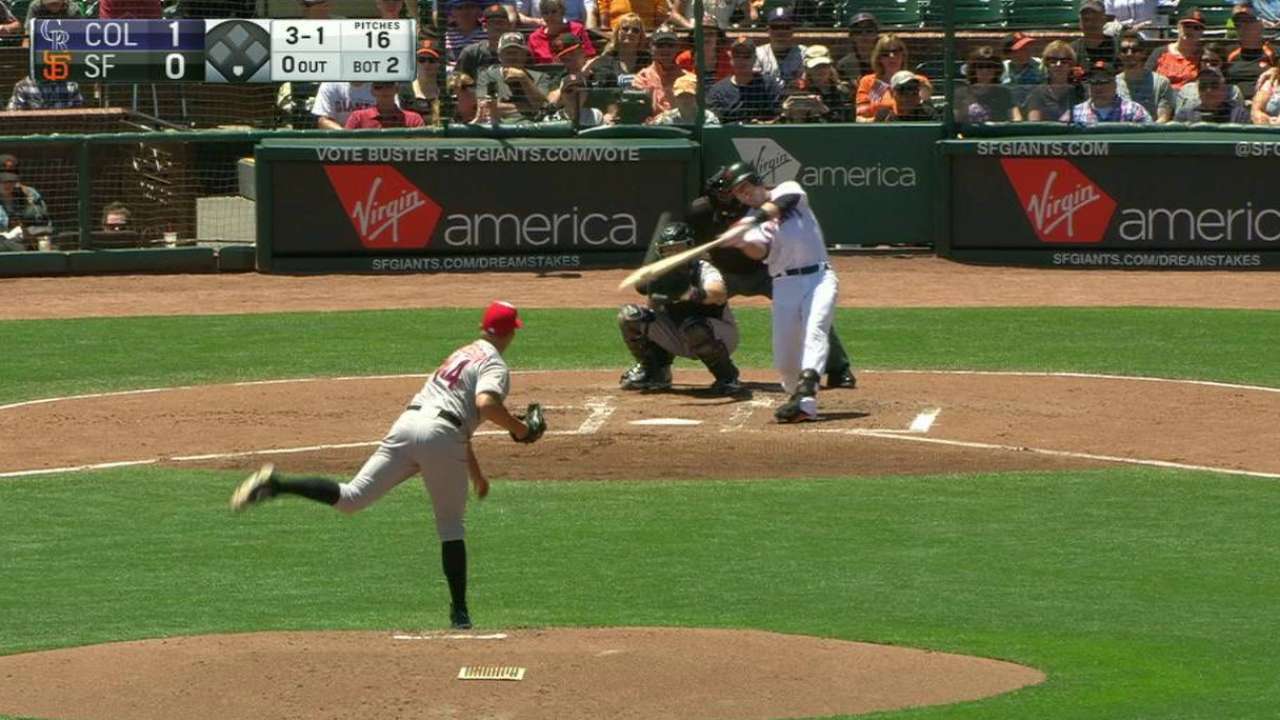 SAN FRANCISCO -- Relying on power, a seldom-tapped offensive source for them, the San Francisco Giants received home runs Monday from Buster Posey and Angel Pagan and proceeded to defeat the Colorado Rockies, 3-1.
Facing Rockies starter Tyler Anderson (0-3), Posey led off the Giants' half of the second inning with his 10th home run of the season, matching Brandon Belt's team lead and forging a 1-1 tie. One inning later, Pagan followed Ruben Tejada's leadoff single with a one-out drive to left field to put the Giants ahead. Pagan has driven in 15 runs in his last 13 games.
"Both those, they just got pitches they were sitting on," Anderson said. "Those balls were up as well. They were poorly executed and Posey is obviously one of the best hitters in the game. He did what he was supposed to with that pitch. Pagan got it just right. I wasn't sure. It looked like he was a little off-balance. But he's a strong man. This is a men's game. He is a strong guy, but even though he was out in front, he was able to get the barrel to it."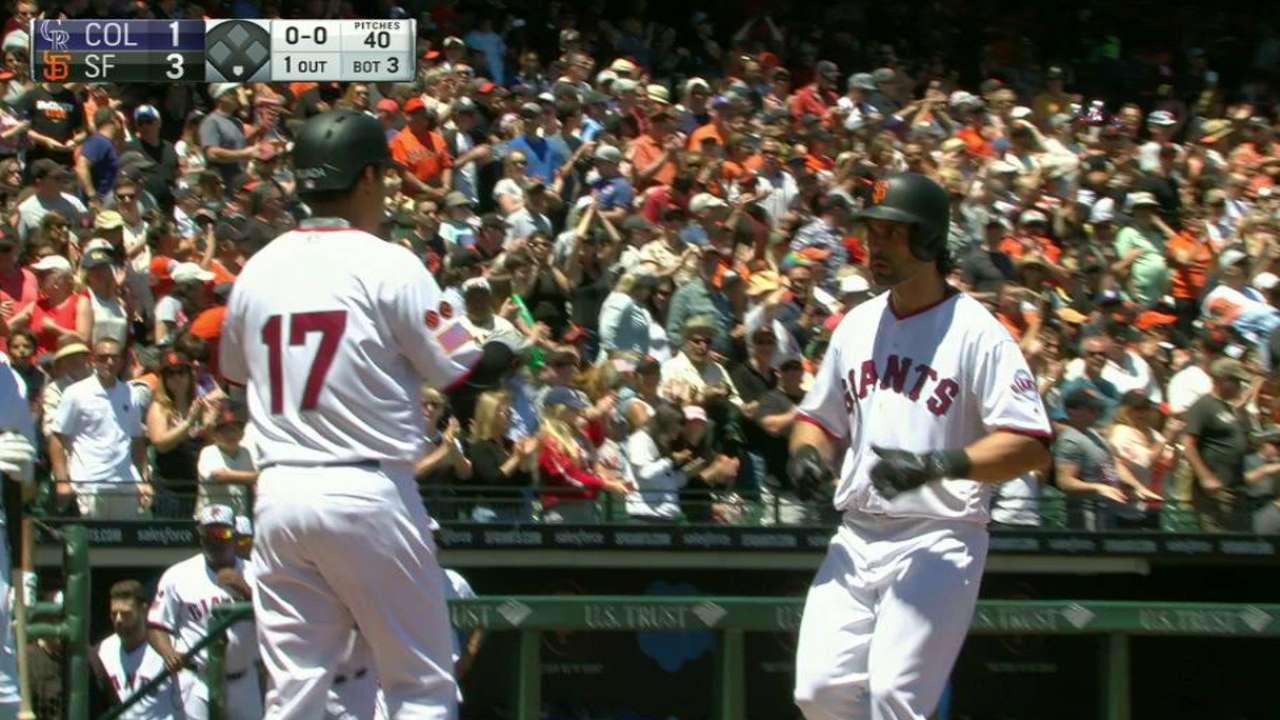 The Rockies lost their sixth consecutive game -- and their 2,000th since beginning play in 1993 -- and fell to a season-worst eight games below .500 while mustering five hits in 6 2/3 innings off Giants starter Jake Peavy (5-7). By contrast, Peavy allowed Colorado 10 extra-base hits (11 overall) and six runs when he opposed the Rockies on April 13.
"It's one of those where if he makes a mistake, we hit it, but he didn't make many of them," said Rockies first baseman Mark Reynolds (1-for-4). "But he was staying out of the middle of the plate for the most part with his cutter and his sinker. You've got to wait him out, but we never got the big hit."
Peavy is 4-2 with a 2.27 ERA in his last eight starts, compared with 1-5, 8.21 in his first nine outings.
"More than anything, he's just doing a better job of pitching -- backing off a little bit, changing speeds, hitting his spots," Bochy said.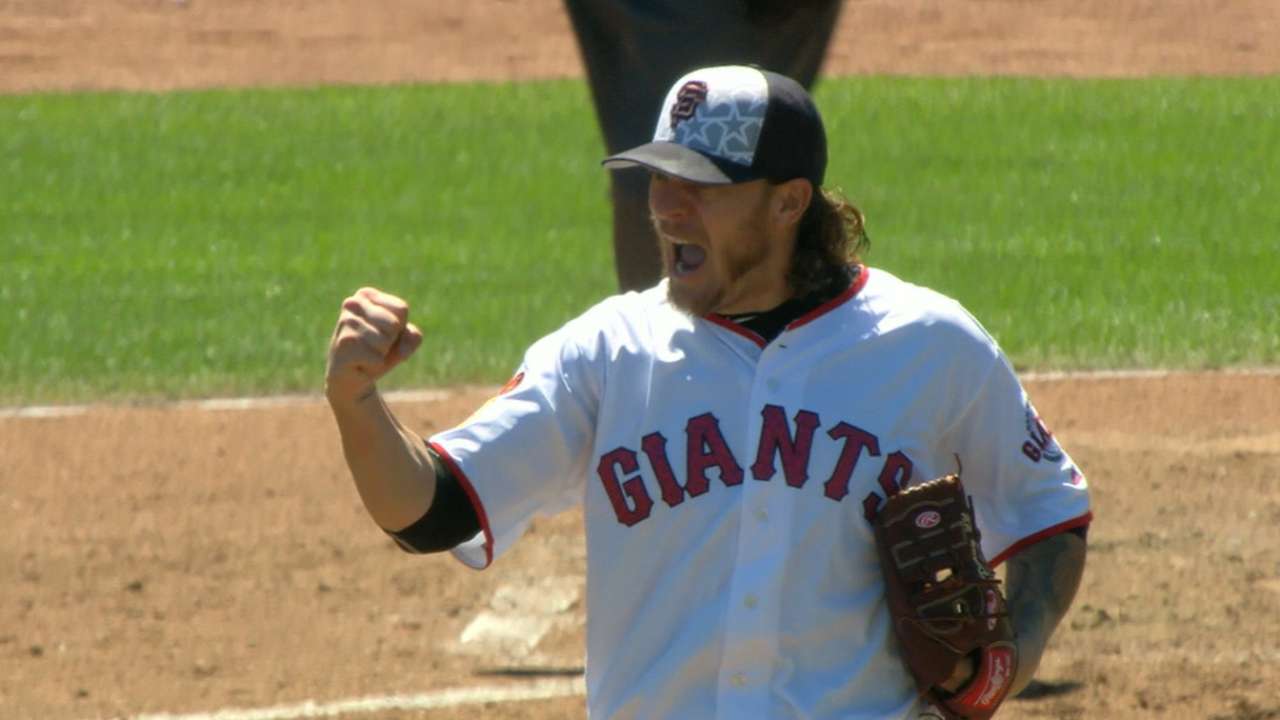 The Rockies have scored three runs and struck out 49 times -- eight Monday -- while losing the first four games of their current road trip.
"Just keep battling in the box. ... These guys have good track records and they're going to come around," Rockies manager Walt Weiss said.
MOMENTS THAT MATTERED
Following the script: Having endured some rough games recently, San Francisco's bullpen performed according to form against the Rockies. Javier Lopez, Sergio Romo, Josh Osich, Derek Law and Santiago Casilla combined to record the last seven outs with only one runner reaching scoring position.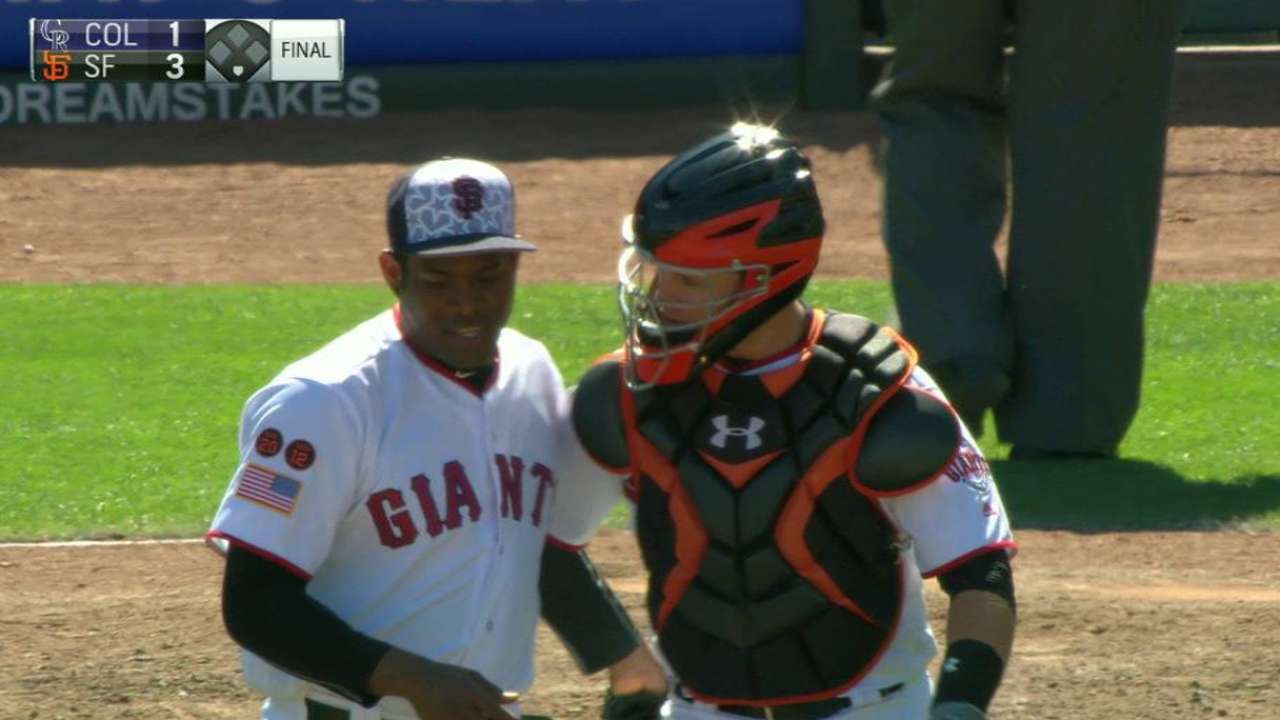 Romo, who was reinstated from the 60-day disabled list earlier Monday, allowed a double in one-third of an inning.
"He looked normal, so it's a good sign," Posey said. More »
Here's your chance: The Rockies loaded the bases for Anderson with one out in the second when Ryan Raburn doubled, Reynolds singled and Nick Hundley walked. A run scored when Peavy balked on a pickoff move to first. But Anderson struck out and Peavy forced Charlie Blackmon into a grounder to first base.
Anderson, who has a 3.03 ERA in five starts but has had his team score just two runs with him on the mound, lamented that strikeout and another after a Hundley leadoff single in the fifth.
"Those were two opportunities where I really could've helped our team, and I didn't get it done," Anderson said. "That's on me, and something that needs to be addressed and fixed."
Good with gloves: As is often the case, the Giants' defense sparkled. Right fielder Mac Williamson's lunging seventh-inning catch denied Reynolds a hit, shortstop Brandon Crawford turned a couple of grounders in the hole into putouts and second baseman Grant Green ranged up the middle to snare Trevor Story's grounder and throw to first for the inning-ending out. That play also prevented Colorado from scoring a run.
"When you're in a close game like that, it's defense that usually plays a part in the win," Bochy said.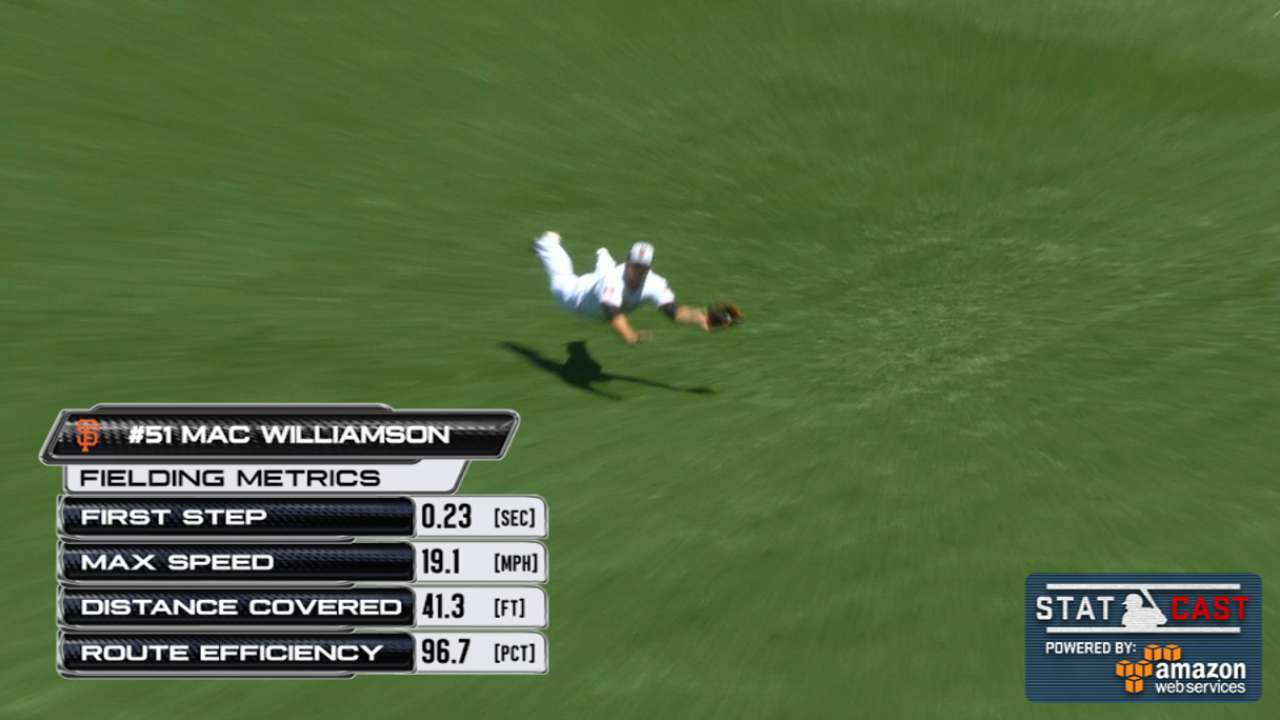 Still his home away from home: The Rockies' Nolan Arenado doubled in the first and eighth innings on a 2-for-4 day and is hitting .310 (32-for-103) with seven homers, 11 doubles and a triple in 27 games at AT&T Park.
QUOTABLE
"It's a very frustrating day. Anderson pitched great, which is a good sign. We've been sputtering offensively. It's just like everything else. It seems when we get good pitching we get poor hitting, or the other way around. We've got to find a run here soon, where we can get both things clicking at one time." -- Reynolds
UPON REVIEW
The Rockies sorely needed something to go in their direction, so they issued an eighth-inning challenge on Story's grounder with Arenado at third. But it was ruled the call would stand because replay officials could not determine that Story's foot hit the bag before the ball hit Belt's glove.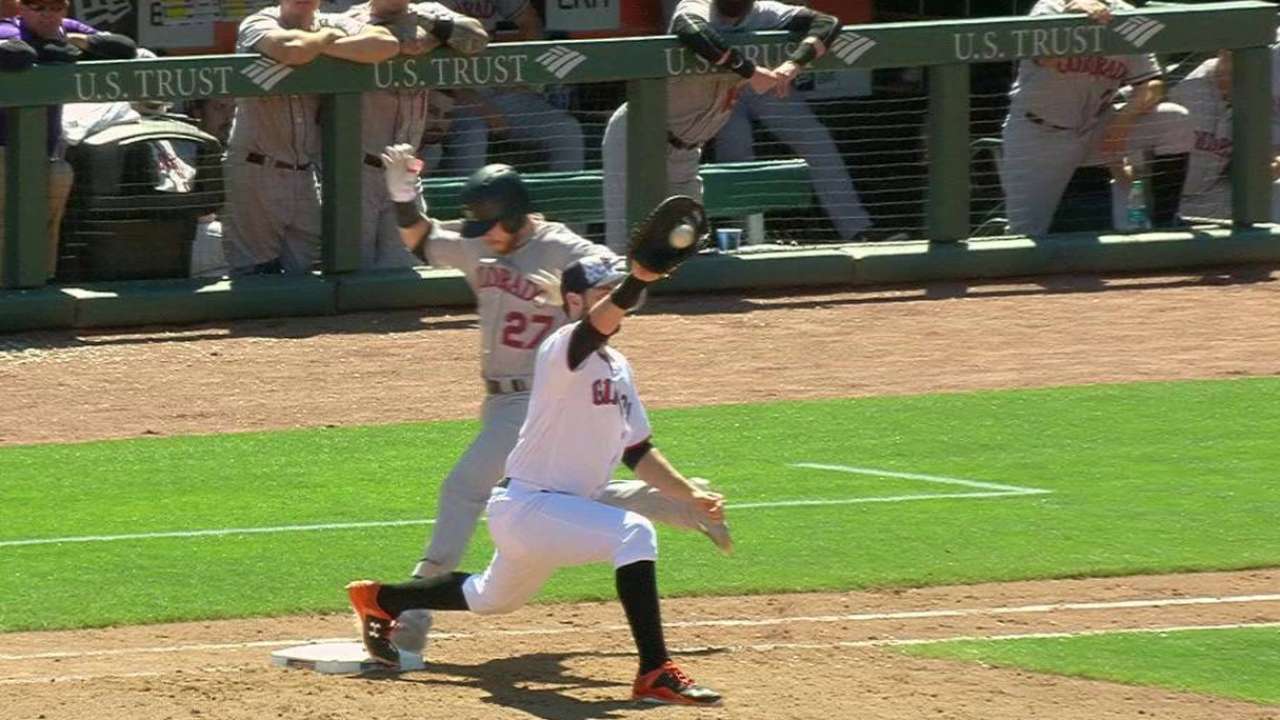 WHAT'S NEXT
Rockies: Righty Tyler Chatwood will pitch for the Rockies for the first time since June 18, when he suffered a back strain, when he faces the Giants on Tuesday at AT&T Park at 8:15 p.m. MT. Chatwood carries a 1.25 ERA in seven road starts.
Giants: Madison Bumgarner, who appears destined to be named to his fourth consecutive All-Star team, is scheduled to make his 18th start of the season Tuesday at 7:15 p.m. PT. The Giants are 12-5 when he goes to the mound.
Watch every out-of-market regular-season game live on MLB.TV.
Chris Haft has covered the Giants since 2005, and for MLB.com since 2007. Follow him on Twitter at @sfgiantsbeat and listen to his podcast.

Thomas Harding has covered the Rockies since 2000, and for MLB.com since 2002. Follow him on Twitter @harding_at_mlb, listen to podcasts and like his Facebook page.

` This story was not subject to the approval of Major League Baseball or its clubs.