Romo returns from DL to fortify Giants' bullpen
Suarez sent to Triple-A; Broadway designated for assignment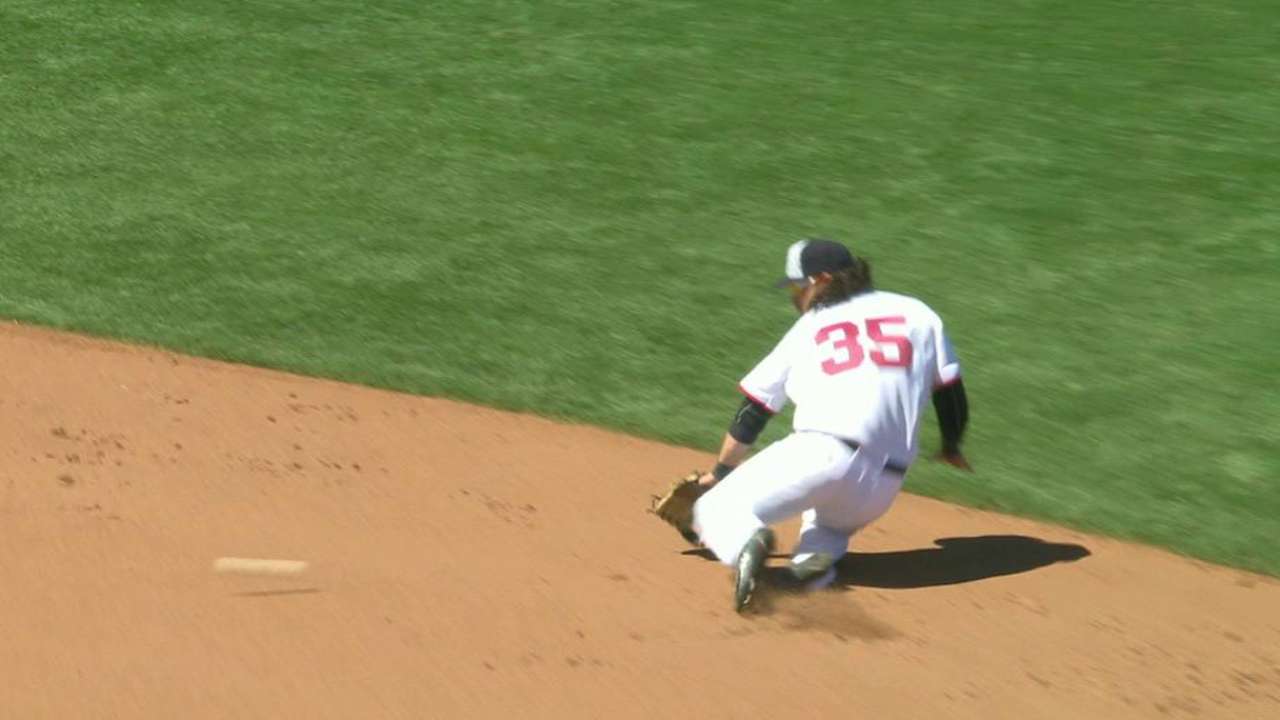 SAN FRANCISCO -- Monday's off-field housekeeping for the Giants featured more roster shuffling and injury updates, including veteran reliever Sergio Romo being activated from the disabled list.
Having sufficiently recovered from a strained right flexor tendon, Romo rejoined the bullpen and appeared in one-third of an inning during the Giants' 3-1 win Monday.
Although manager Bruce Bochy said before the game he'd prefer to use Romo initially in a non-pressurized situation, the veteran reliever entered the game in the eighth inning against the heart of the Rockies' batting order.
Romo forced DJ LeMahieu to ground out, but exited one at-bat later, following Nolan Arenado's double off the left-field wall.
"He's going to help out," Bochy said. "First time out, I'm sure he was pretty amped up to get back out there. He showed some good sliders; he's just got the presence you like in a 'pen that's going to help you in late innings."
If Romo is anywhere close to regaining his typical effectiveness, he should help upgrade the relief corps that has struggled recently.
He made a pair of injury rehabilitation stints before being deemed ready to pitch, reflecting the Giants' intent on certifying his health.
"[The bullpen's] been tested," said Romo, who made his first appearance in a game since April 10. "Now that I'm getting a chance to be back, I just hope I can complement that effort."
Romo, 33, long ago established his value as a top setup reliever who's also capable of closing.
"Those are guys you miss," Bochy said. "They help stabilize the bullpen and keep things in order. He's a strike-thrower." Said starter Jake Peavy: "To get a guy back with closer mentality provides more depth and certainly gives us a lot more confidence."
Romo compiled a 2.70 ERA in four appearances before being injured. Now he's just hoping to stay healthy and provide valuable production for the Giants.
Albert Suarez was optioned to Triple-A to clear room on the active roster for Romo. Since Romo returned from the 60-day DL, he also needed to be accommodated on the 40-man roster, which led the Giants to designate Sacramento right-hander Mike Broadway for assignment.
Suarez relieved and started for the Giants, posting a 3-1 mark with a 3.72 ERA in 12 appearances, including six starts. The right-hander was 1-0 with a 4.13 ERA while filling in as a starter for the injured Matt Cain and 2-1, 2.87 as a reliever.
Joe Panik was assigned to the seven-day concussion DL on June 29 (retroactive to June 28) but will need significantly more time to regain his health and return to playing shape.
"He's making improvement," Bochy said of the 2015 All-Star second baseman, who's batting .256 with seven home runs and 36 RBIs in 70 games.
• The Giants opted not to place center fielder Denard Span on the disabled list, though he was out of the lineup for the fourth game in a row with a stiff neck. Span's condition, as well as Gregor Blanco's limited availability due to a sore left knee, prompted Bochy to start Angel Pagan in center field for the first time this season. That had been Pagan's sole position with the Giants from 2012-2015 until Span's arrival this season. Bochy said after Monday's contest that Span could be much better by Tuesday, adding Span still might go on the DL if the Giants don't see significant improvement.
• Bochy said Ramiro Pena's sprained left ankle had improved, giving the utility man a "good chance" of starting at second base Tuesday.
Chris Haft has covered the Giants since 2005, and for MLB.com since 2007. Follow him on Twitter at @sfgiantsbeat and listen to his podcast. This story was not subject to the approval of Major League Baseball or its clubs.