Estrada gets cortisone shots, hopes to make next start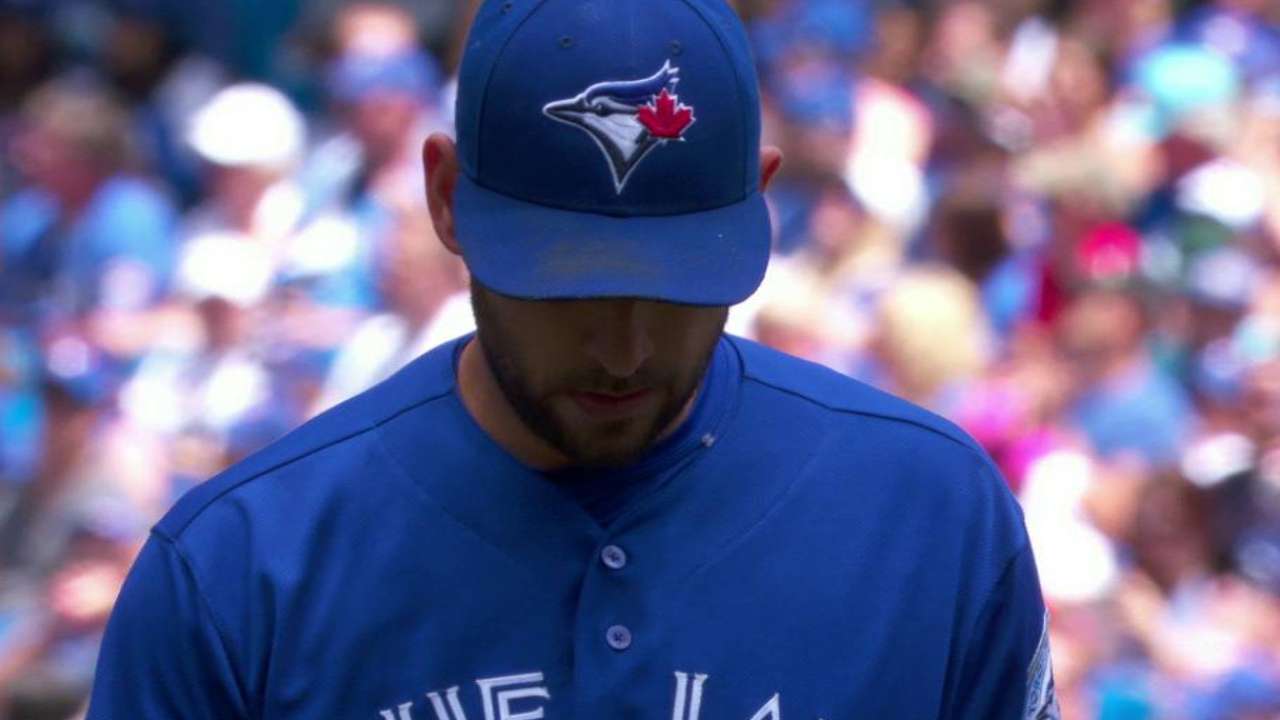 TORONTO -- Blue Jays right-hander Marco Estrada received multiple cortisone shots into his lower back on Monday morning, but he still hopes to make a start later this week.
Estrada underwent an MRI on Sunday, which revealed a similar level of inflammation that was present during Spring Training. A major injury has been ruled out, but his exact status for Thursday's game vs. Detroit won't be known until later this week.
The 32-year-old veteran has been trying to pitch through back pain since the middle of June. The discomfort became more severe during Saturday's 9-6 win against the Indians when Estrada experienced a drop in velocity, and at times, it seemed like he could barely move on the mound.
"I hope so, I hope so," Estrada said when asked if he'd be able to make his next start. "I don't want to miss any starts. I don't know if it's the right thing to do or whatever, but it's what I want to do. Only time will tell right now.
"I can't really give an answer today, I'm pretty sore from all the needles. Hopefully tomorrow's a little bit better, and then I should know by maybe two days from now."
Estrada missed most of Spring Training after he injured his back while working out in the days leading up to camp. He began to throw a couple of weeks before the season and was placed on the disabled list, but he missed just six games before returning.
During the spring, a cortisone shot helped speed up his recovery process. He received a pair of shots into his sacroiliac joints, which connect the pelvic bones to the fused vertebrae in the lower back. That process was repeated Monday morning, and he also received shots in his facet joints, which help stabilize vertebrae.
Estrada aggravated his back issues while taking a swing against the Phillies during an Interleague game on June 15. The initial hope was that the pain would go away relatively quickly, but instead, it got worse over time and prompted Estrada to receive additional treatment.
"I'm a little numbed-up right now," Estrada said. "I still feel it a little bit, but this is basically what I felt the last time we had the cortisone shot done. It took a few days for it to really kick in. So I'm hoping the same thing happens, because I felt pretty good after a few days."
Blue Jays manager John Gibbons said that he expects Estrada to be ready for his scheduled outing on Thursday. If for some reason that does not happen, Drew Hutchison would take the mound and Estrada likely would be held out until after the All-Star break.
Estrada is 5-3 with a 2.93 ERA in 16 starts this season. He easily has become one of Toronto's top starting pitchers, and he was on a stretch of 12 consecutive starts with five hits or fewer with at least six innings pitched until his recent start vs. Cleveland.
"I basically have the same thing [as Spring Training]," Estrada said. "I reaggravated everything. It's basically what happened during the spring. I couldn't really do anything during spring, but once I had my cortisone shot, it took a few days and then I was fine after that to be honest with you.
"I felt good until Philadelphia, until I faced Philly. I took a couple of awkward swings I guess, and I think that's what reaggravated everything."
Gregor Chisholm has covered the Blue Jays for MLB.com since 2011. Follow him on Twitter @gregorMLB and Facebook, and listen to his podcast. This story was not subject to the approval of Major League Baseball or its clubs.