Miley, Servais taking positives from solid start
Lefty limits Astros to two runs over 6 2/3 innings in loss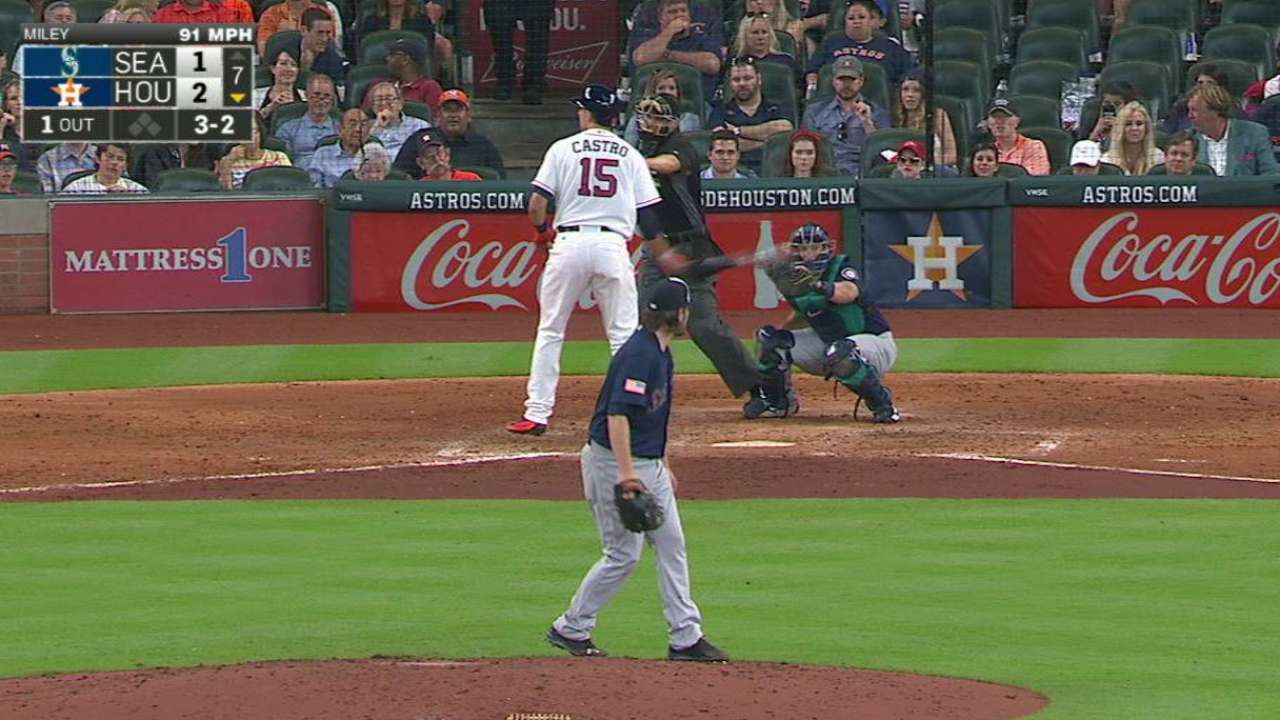 HOUSTON -- Wade Miley bounced back from a slow start and a recent rough stretch with a solid outing Monday, but it wasn't enough for the Mariners as they dropped a 2-1 decision to the Astros in the opener of a three-game set at Minute Maid Park.
Miley came into the game with a 7.63 ERA and opponents batting average of .325 over his last six starts, and the Astros teed off on him in the first with five hard-hit balls, though he escaped with just one run thanks to some fortunate defensive positioning.
From there, Miley settled in and threw 6 2/3 innings with just two runs on seven hits, looking much more like the crafty southpaw the club had seen earlier in the year.
"It definitely felt a lot better," Miley said. "Obviously there's still some work left to be done, but it was a step in the right direction."
The lone trouble spot was Astros right fielder George Springer, who doubled leading off the game and then laced a go-ahead home run in the fifth with a lightning bolt to left projected at 454 feet by Statcast™.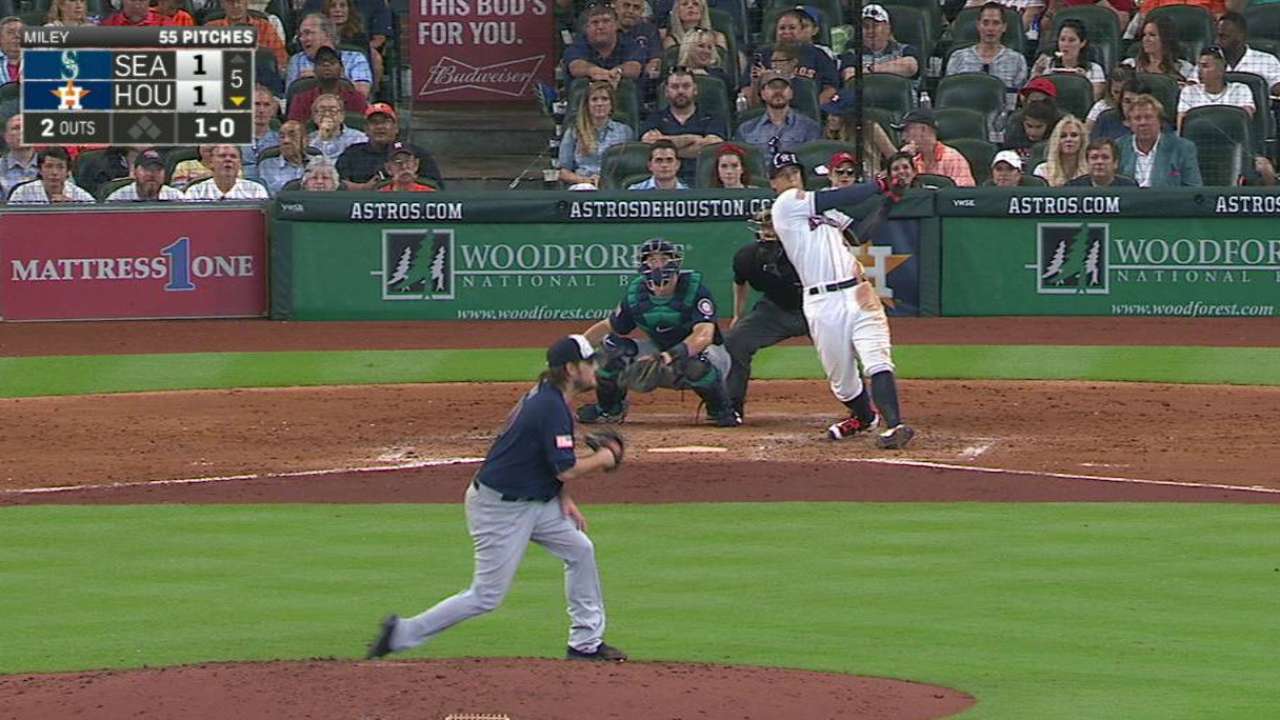 "I was trying to get a sinker in there down and away and just cut it back over the middle of the plate," Miley said. "It was just a mistake pitch and he did what he's supposed to do with it."
Mariners manager Scott Servais didn't want to give Springer another shot at Miley, so he lifted the 28-year-old with two out and the bases empty in the sixth even though his pitch count was only at 81. That decision led to a clearly-miffed Miley as Servais took the ball.
"That was the thought," Servais said of avoiding Springer. "And I thought where Wade has been, it's a good positive outing today. Let's build on that. He's a competitor, and I certainly respect that. He wants to stay in the game. But at that point, let's do what is best for the team and keep it right at 2-1, which we did."
Miley said he just wanted another shot at Springer after his mistake pitch in the fifth.
"Obviously for anybody it'd be tough to come out in that situation," he said. "I don't think anybody is going to be happy about that. But he did what he had to do."
Servais liked what he saw from Miley most of the day, which stood as one of the lone bright notes in a game the Mariners managed just five hits.
"I thought he pitched really well," Servais said. "After a rocky first there, he got going again and looked kind of like the Wade Miley we saw in May, which is definitely a positive sign, and we certainly need that out of him.
"He started locating better and got the ball down in some spots. I thought his off-speed pitches were better. He was much crisper."
Miley fell to 6-5 with a 5.36 ERA, but felt he learned a few things along the way, particularly in adjusting after the rough first.
"I just tried to trust it a little more. In the first inning, I was kind of feeling for some stuff and it didn't work out," he said. "I kind of got lucky to get out of that inning only giving up one. From then on it was just trust your stuff. Stop trying to think too much and just go out there and compete."
Greg Johns has covered the Mariners since 1997, and for MLB.com since 2011. Follow him on Twitter @GregJohnsMLB and listen to his podcast. This story was not subject to the approval of Major League Baseball or its clubs.