Twins' luck runs out in Nolasco's quality start
MINNEAPOLIS -- The Twins' starting rotation just hasn't been able to catch a break on this homestand. Three times in the last four games, Minnesota starters have taken strong starts late into the game before being undone by a combination of bad luck and inherited runners being let in by the bullpen.
Right-hander Ricky Nolasco was the victim this time in Minnesota's 3-1 loss to Oakland on Monday. He shut the A's out over six strong innings but was charged with three runs in the seventh due to two defensive misplays and two hits off reliever Taylor Rogers.
"We still had chances to minimize there," said Twins manager Paul Molitor. "We didn't make a play, and then we had the bobble on potentially what I thought might have been a double play, if it's exchanged cleanly. And then a two-strike base hit with the bases loaded, and that's pretty much the game."
Minnesota's bullpen has allowed all six of its inherited runners to score in the four games on this homestand. Both of the Twins' losses in that span have come as a result of those late runs.
Texas cashed in both runners that Ervin Santana left on in the seventh on Friday to kill a shutout and force extra innings, while the two runners left on by Nolasco on Monday became the go-ahead runs for Oakland that snapped a 1-1 tie.
Molitor doesn't necessarily think his bullpen has pitched badly in those situations; it's just that opponents have been opportunistic and have taken good at-bats.
"If you go back and look at it, I think we've thrown well," he said. "You're looking for guys to come in and stop them and try to keep them where they're at, but I don't have any complaints about how they've been throwing the ball. The results just haven't been very good with inherited runners within the last week."
It doesn't help that the defense has been less than stellar in those situations.
On Monday, the Twins had two big chances to curb the damage in the critical seventh, but two miscues cost them.
Following Danny Valencia's leadoff double, Nolasco induced a grounder to short from Khris Davis, but Eduardo Nunez's throw to nab Valencia going to third was far to the left-field side of third base. Although Miguel Sano's sweep tag was initially ruled to be in time, a replay review overturned the call and put runners on first and third with no outs.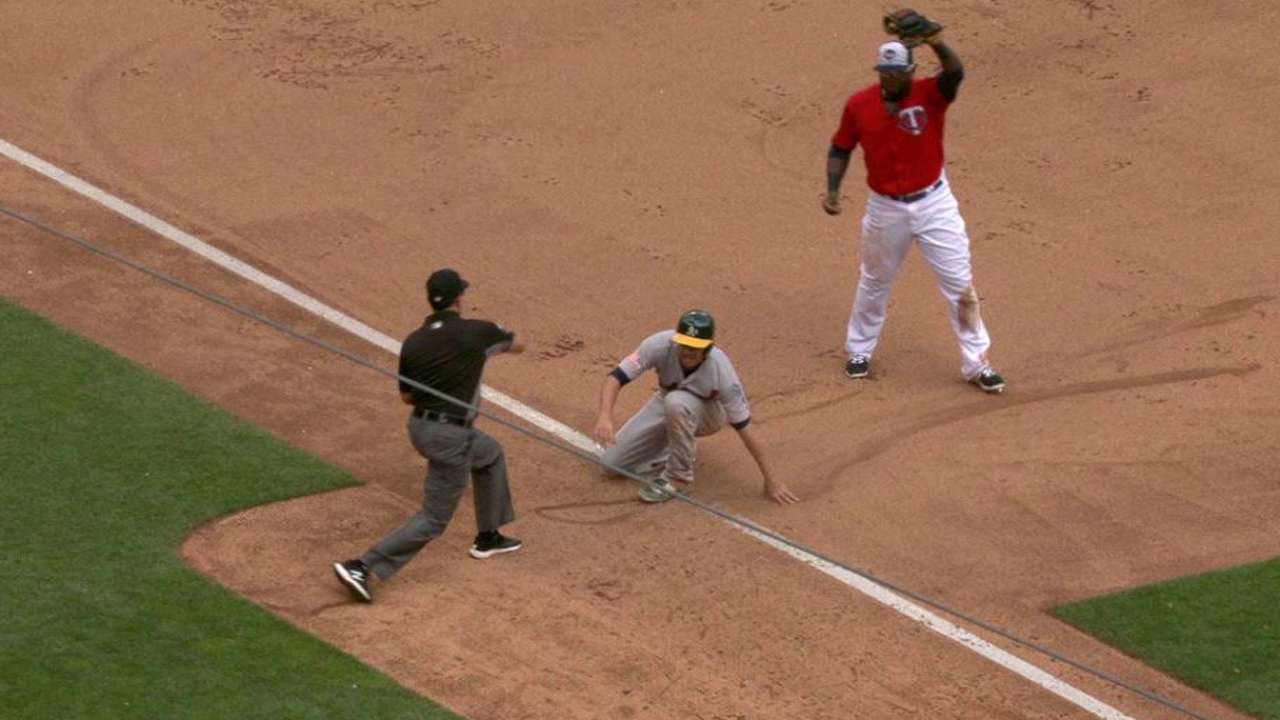 "A good throw, and he's probably out by a fair margin," Molitor said. "It's not a throw that you practice a lot, but [Nunez] didn't have any obstruction from the runner, I believe. I think he just kind of let the ball get out there and made a tougher play."
Later in the inning, with the bases loaded and one out and Rogers on the mound, pinch-hitter Jake Smolinski dribbled a grounder in front of home plate, but Rogers dropped the ball while trying to flip it to catcher Juan Centeno, who was able to pick the ball up for the forceout without a chance at a double play.
Coco Crisp followed with the two-out, two-run go-ahead single to bury the Twins.
"It's not like the ball was flying all over the place," Molitor said. "It's just one of those days where one little hiccup was enough to change the outcome of the game."
Do-Hyoung Park is a reporter for MLB.com based in Minneapolis. This story was not subject to the approval of Major League Baseball or its clubs.