Dull stays sharp with inherited runners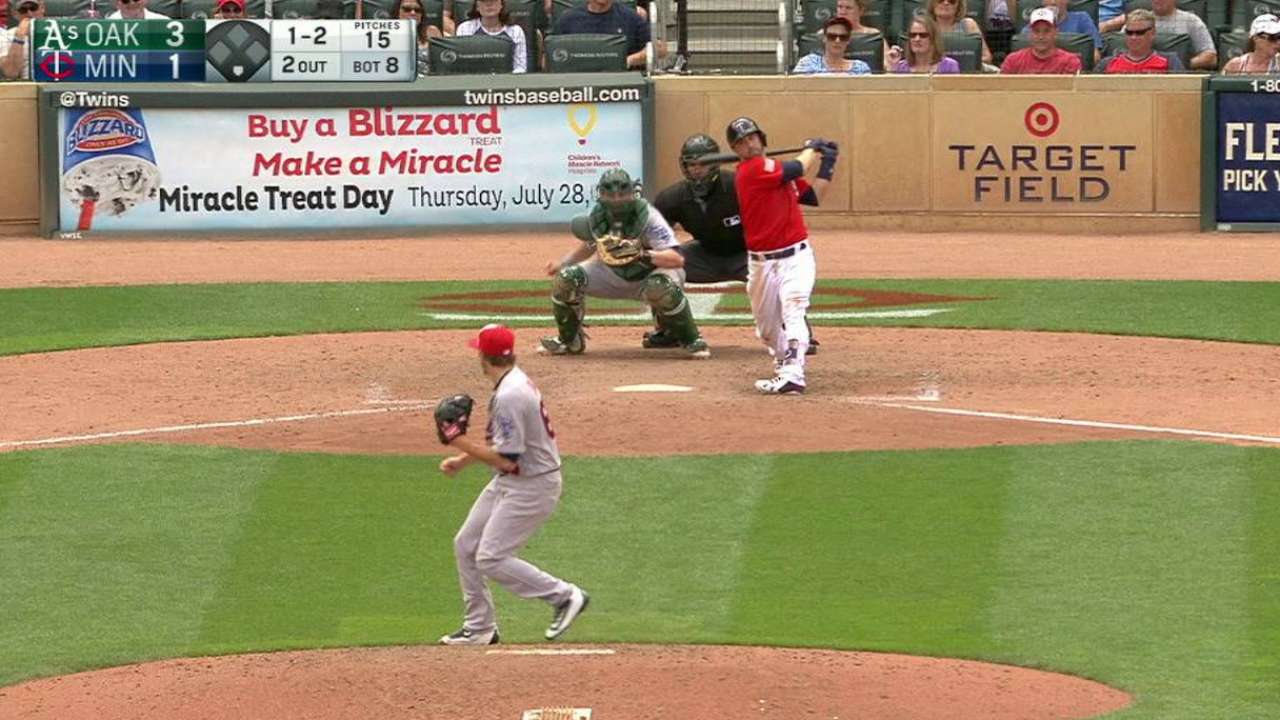 MINNEAPOLIS -- Ryan Dull is quietly making history with his magician-like handling of inherited runners.
The unassuming right-handed reliever has been absolutely brilliant when summoned by the A's in sticky situations this season -- perfect even.
Dull has stranded all 36 of his inherited runners on the year, including the two he left out to dry in the seventh inning of Monday's 3-1 win in Minnesota. According to Elias, that's the most at any point in the season in Major League history since at least 1961, when the Expansion Era began. The previous high was 35 by the Rangers' Frank Francisco in 2007.
Perhaps it's not the sexiest stat out there, but its worth cannot be overstated.
"I don't even know what to say about that," A's manager Bob Melvin said. "I mean, I'd buy him a drink, but I don't know that he's old enough."
Dull is 26, but not even a work-in-progress beard can hide his baby face.
"I think the most incredible part is he never shows any emotion," starter Kendall Graveman said. "He comes in, bases loaded, man on first and second, it doesn't matter. He's just the same person, and I think that's a tribute to the confidence he has in himself and maybe a tribute to some of the guys in the bullpen that are helping him along the way.
"You look at [Ryan] Madson, he has the same mentality. I think Dull just takes everything in. He's a great learner, and he just watches and really observes, and I really commend him for that. That's why he's having a lot of success."
Said Dull: "The heart gets going sometimes. It's just how I was taught to pitch, don't show any emotion, don't let the other team know they got to you, just try to be as calm as you can out there."
Dull was instrumental in securing Graveman a victory on Monday, inducing a ground ball from likely All-Star Eduardo Nunez that was expertly snagged by shortstop Marcus Semien for an inning-ending forceout at second base.
Dull returned for the eighth and struck out two in a perfect inning, lowering his ERA to 2.11 and continuing to make his own case for an All-Star nod.
Just one run has scored under his watch since May 25.
"I don't really look into the numbers, just go out and execute," Dull said. "Can't worry about the numbers too often."
"When guys are coming in the game to pick up somebody else's baserunners, that's the most significant stat," Melvin said. "You come in for your own clean inning to pitch, but when you're coming in every time with guys on base, I don't know that there's a more important stat, and I know that in our clubhouse, there's a lot of respect for what he's doing."
Jane Lee has covered the A's for MLB.com since 2010. This story was not subject to the approval of Major League Baseball or its clubs.