With another gem, Guerra lifts Brewers out of their funk
Right-hander's latest victory snaps four-game skid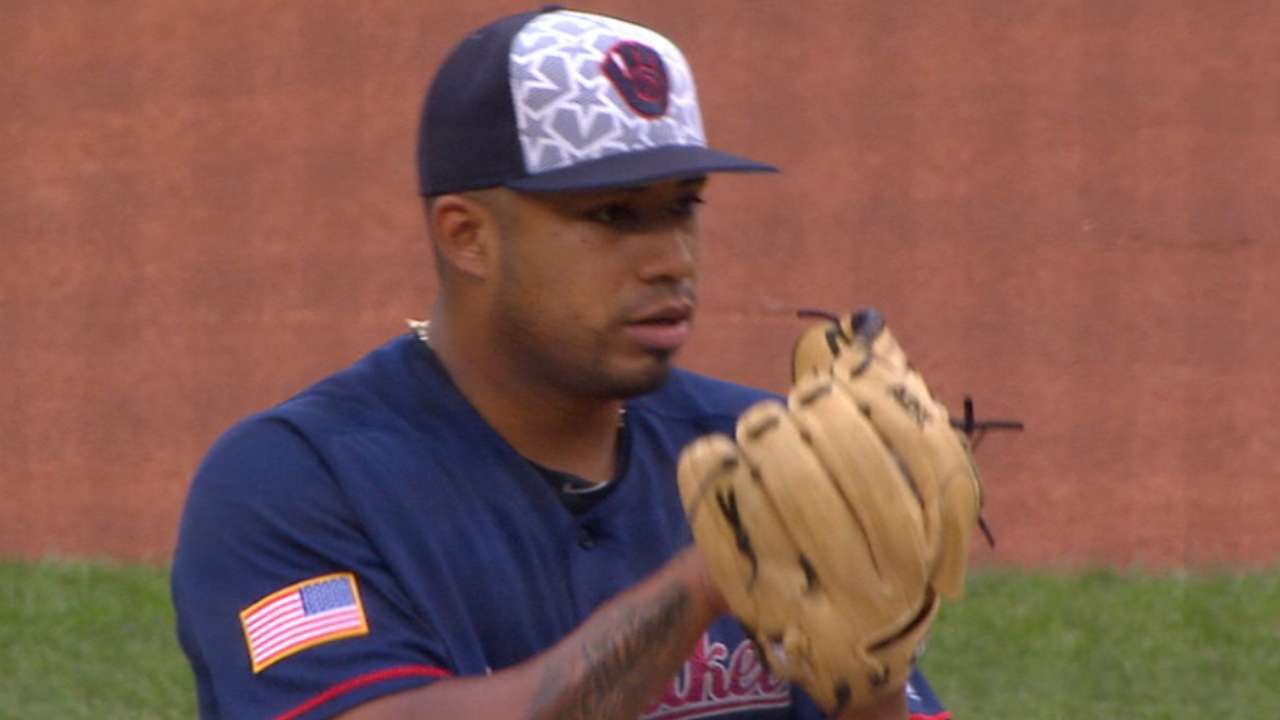 WASHINGTON -- There's nothing better than a shutdown pitching performance to lift a team coming off a tough couple of days.
Junior Guerra provided that boost for the Brewers on Monday, when he delivered his second straight scoreless start in a 1-0 win at Nationals Park. It was a significant victory for a team coming off four consecutive losses -- including a rain-soaked sweep at St. Louis -- not to mention a late-night flight to Washington for an 11 a.m. local start on Independence Day that began with the Brewers batting out of order.
"We're in a tough stretch, and Junior came out and carried the load today, big time," Brewers manager Craig Counsell said.
Guerra improved to 3-0 with a 2.41 ERA in his last six starts, and 6-1 with a 2.93 ERA in 12 starts overall. The Brewers are 10-2 when Guerra takes the mound, and 26-44 behind their other starters.
He hasn't surrendered a run in either of his last two starts, and they've been nearly identical. Against the Dodgers at Miller Park last week, Guerra pitched eight scoreless innings, allowing two hits, two walks and recording seven strikeouts on 109 pitches. He pitched 7 1/3 scoreless innings on Monday, permitting two hits, two walks and registering seven strikeouts on 109 pitches.
Monday marked the Brewers' second two-hit shutout this season; the other was Guerra's game against the Dodgers. It was also their second 1-0 victory; the other was Guerra's win over the Padres on May 13 in his third Brewers start.
"I felt like all my stuff was working," Guerra said. "That helped me have a very similar outing."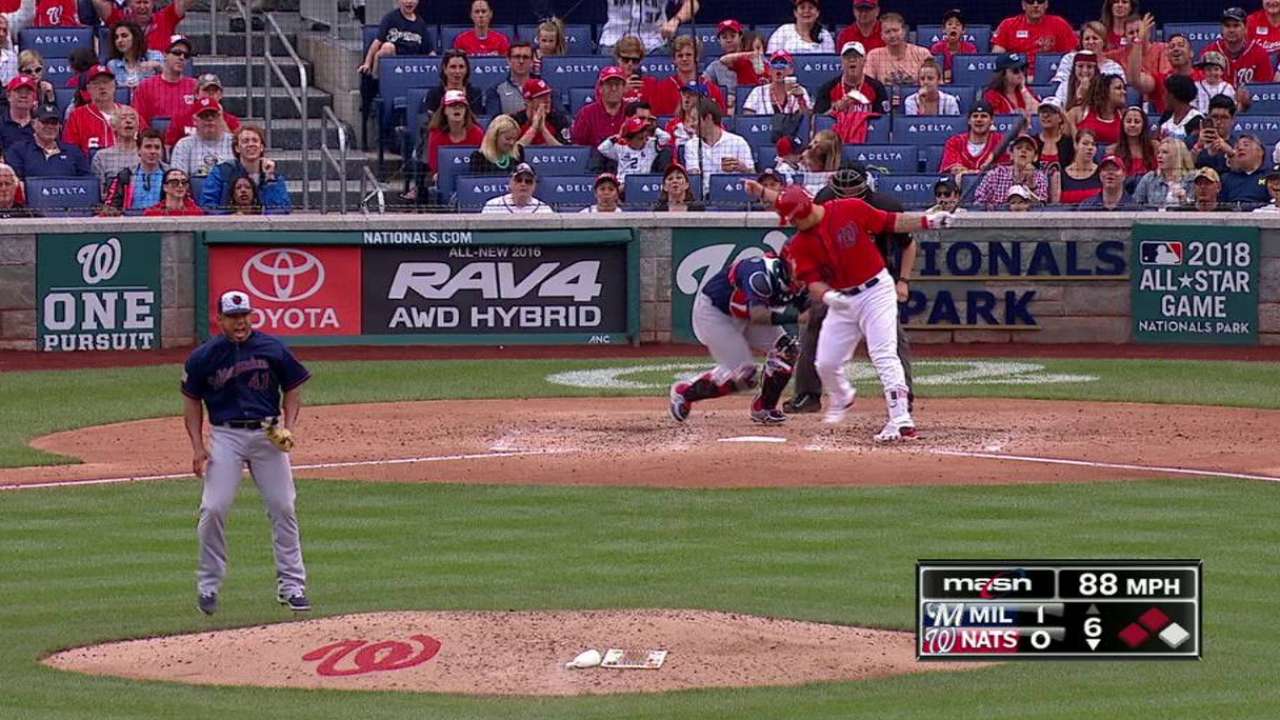 Guerra's best moment came in the sixth, an inning after Martin Maldonado's home run off Max Scherzer gave the Brewers the lead. Jayson Werth singled with two outs and took second on left fielder Ryan Braun's first error this season. Guerra intentionally walked Bryce Harper, and both runners advanced a base on a wild pitch.
That set-up a showdown between Guerra and fellow Venezuelan Wilson Ramos, who has been the National League's best offensive catcher this season. The two had battled before in Winter Ball, and Guerra remembered one Ramos double off the wall.
This time, Guerra won with his signature pitch. Ramos swung at a splitter for a critical strike three.
"He had us fishing for that split-finger, which we knew he had," Nationals manager Dusty Baker said. "Until you see it, you really don't know what it's like."
"It feels like he's even getting better," Counsell said. "And it's in the biggest spots [when] he seems to step up even more. It's been fun to watch."
Adam McCalvy has covered the Brewers for MLB.com since 2001. Follow him on Twitter @AdamMcCalvy, like him on Facebook and listen to his podcast. This story was not subject to the approval of Major League Baseball or its clubs.