Frazier a sparkplug for Pirates off the bench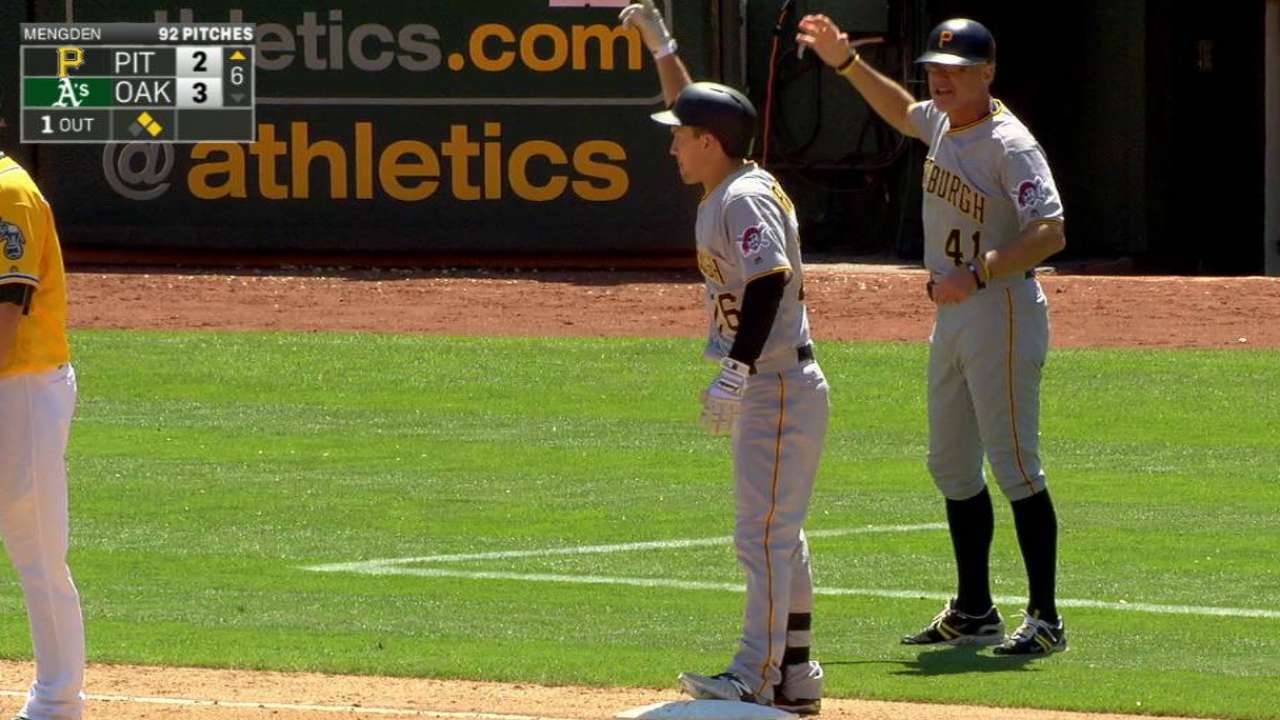 ST. LOUIS -- Adam Frazier led off the fifth inning Sunday in Oakland with a line drive to shallow center field. For most players, it's a routine single. Frazier, the Pirates' rookie utility man, is not like most players.
Frazier hustled out of the batter's box, thinking about second base the whole way. He thought A's center fielder Coco Crisp would have to make a tough throw to beat him to the bag, so he took a shot.
"It's part of your mentality," Frazier said. "Out of the box, I'm trying to get two."
Frazier got two on that play, and he got three on an RBI triple in the sixth inning. In his first seven games with the Pirates, the 24-year-old prospect has provided a spark off the bench and speed on the bases.
Frazier has three steals without being caught; he was thrown out 15 times while totaling 17 steals for Triple-A Indianapolis this season. He's recorded seven hits in his first 14 Major League at-bats, spraying line drives all over the field.
"That's where I want to be, staying short, staying within myself, hitting pitches I want to hit and not really chasing their pitch," Frazier said. "If you can do that, you're in a good spot."
But most players can't do that, especially not in their first taste of the big leagues.
"First couple games were probably a little tougher, but I started to settle down a little bit," he said, smiling. "If you can breathe and control your heart rate a little bit, then it's not too bad."
Frazier, the Pirates' No. 27 prospect according to MLBPipeline.com, was called up on June 24. He earned his way to the top of their callup list, leading the International League with 87 hits and a .333 average at the time of his promotion.
"It's fun. That's why they brought me here, to be able to contribute in any way possible," Frazier said. "That's what I'm trying to do. To get the opportunity to play and play in the big leagues, it's always fun to play baseball."
Frazier, listed at 5-foot-10 and 175 pounds, quickly earned one of manager Clint Hurdle's highest compliments, dubbed a "backyard ballplayer" for his hustle and gritty style of play. He's shown it on offense, turning singles into doubles and flying around the bases, and versatility on defense, playing left field, right field and second base in seven games.
"This is what he's done his whole career," Hurdle said. "He's the kind of guy you look at and you probably start thinking what he can't do. You watch him play for a week then you start noting down all the things he can do.
"He's never really thought a whole lot, I think, about what he can't do. He works hard. He plays hard. ... He's been impressive here."
Adam Berry has covered the Pirates for MLB.com since 2015. Follow him on Twitter at @adamdberry. This story was not subject to the approval of Major League Baseball or its clubs.