Molitor makes All-Star case for Nunez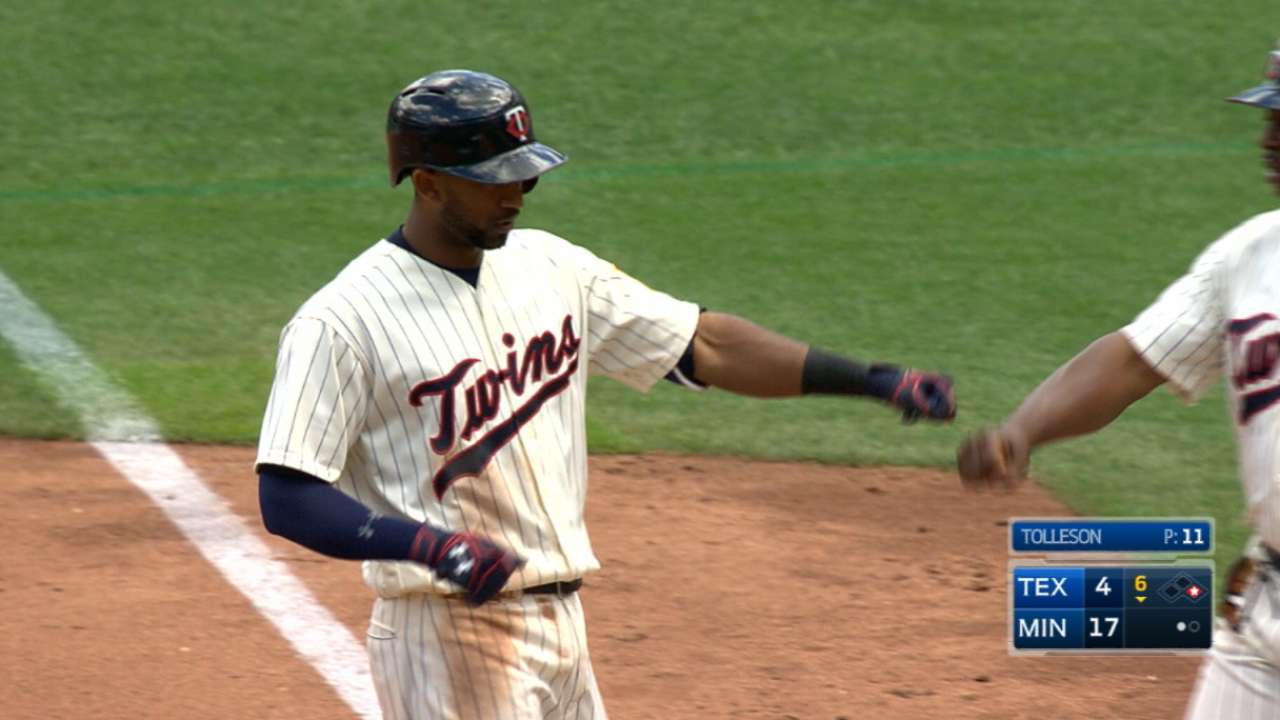 MINNEAPOLIS -- With one day to go before the rosters for the 2016 MLB All-Star Game presented by MasterCard are unveiled on Tuesday evening, Twins manager Paul Molitor says he hasn't been asked by American League manager Ned Yost to recommend any Minnesota players for the AL roster.
But if he were to get the call, he knows exactly who he'd pitch to Yost: shortstop Eduardo Nunez.
"I would recommend Nunez to go," Molitor said. "Of all our players -- position and pitchers -- he's had the best first half."
Because Nunez began the season as a utility bench player, he wasn't on the ballot and was thus never among the leading vote-getters during the fan voting period despite a late push by the Twins.
He earned that late push by having a breakout season at the plate, as he's hitting .319/.345/.486 and is sixth in hitting in the American League. He is also third in the league in stolen bases (19) and is second on the Twins in both runs (42) and RBIs (34).
Molitor pointed to both Nunez's standout hitting and his versatility as good reasons for his selection as the Twins' representative in San Diego. Nunez has played at second base, third base, shortstop, left field and right field in his tenure with the Twins, though he has exclusively played as an infielder in 2016.
"I think that the numbers support it," Molitor said. "He's versatile, productive. I would think his versatility might be appealing in a game like that."
Given that Yost selected Red Sox super-utility man Brock Holt to his All-Star team last season with roster construction and late-game flexibility in mind, Nunez would be the logical choice to fill that role if Yost were to make that a priority again.
Molitor also pointed to second baseman Brian Dozier, catcher Kurt Suzuki and reliever Fernando Abad as Twins players that have also been strong in the first half.
Dozier, who was selected to his first All-Star team last season, started slowly with a .191 average in April but had a dazzling June in which he hit .369/.435/.728. He has raised his season average to .262 and is fifth among AL second basemen with 13 home runs and sixth with 41 RBIs. He has reached base in a MLB-leading 25 straight games.
Suzuki has had a similar season, starting slowly before hitting .370/.395/.589 in a torrid June to raise his season average to .278, which would put him second in hitting among AL catchers if he had enough at-bats. Suzuki made his first and only All-Star game appearance in 2014.
Abad has never earned an All-Star selection in his seven-year career but made a strong case earlier this season, when he recorded an 0.79 ERA through June 12 before a string of shaky appearances raised his season mark to 2.57.
Do-Hyoung Park is a reporter for MLB.com based in Minneapolis. This story was not subject to the approval of Major League Baseball or its clubs.