Flamethrower Diaz changing 'pen complexion
Rookie right-hander ties club mark with 10 straight strikeouts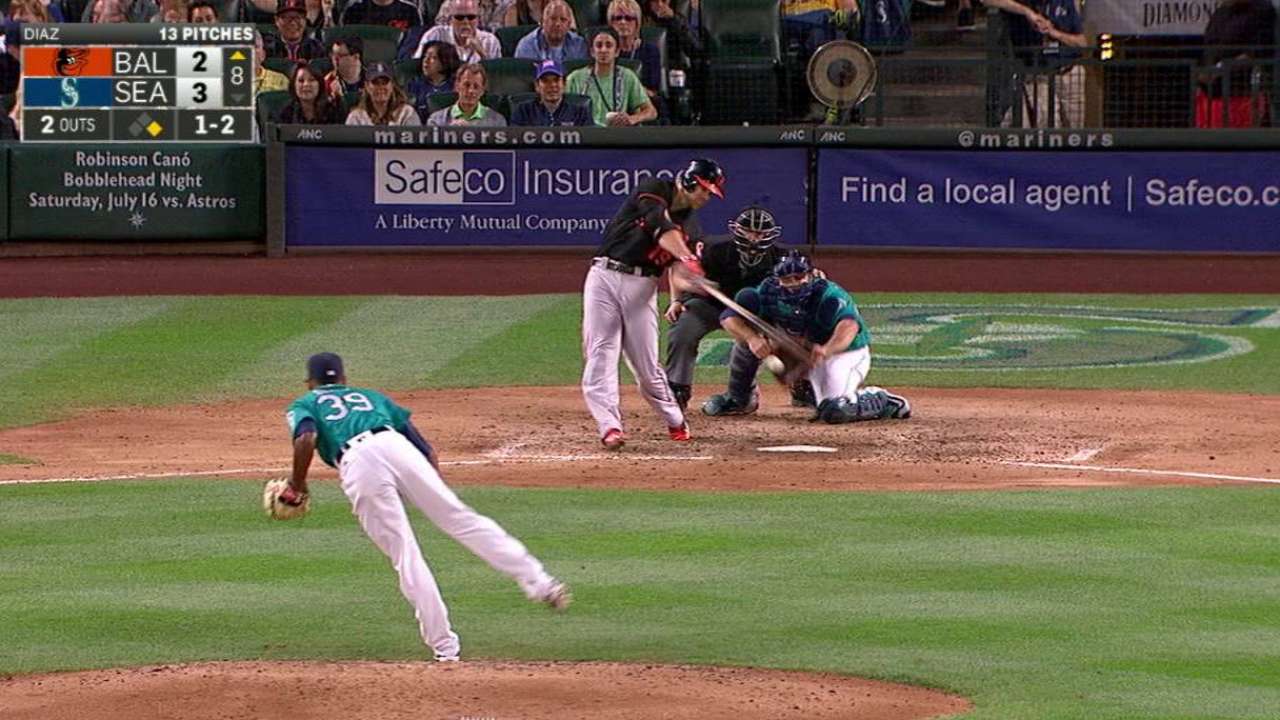 HOUSTON -- The Mariners' bullpen has taken on a new look with some midseason adjustments, none bigger than the arrival of hard-throwing rookie right-hander Edwin Diaz.
The 22-year-old has struck out 29 batters in 15 1/3 innings since being called up a month ago, and his last 10 outs have come via the strikeout, equaling a club record set by Hall of Famer Randy Johnson in 1997.
While manager Scott Servais is being careful how much he uses the youngster, given that he only converted to the bullpen two months ago and never pitched above the Double-A level until his June 6 debut, the skipper knows what a difference Diaz has made already.
"When you first hear about the player and how he's put together and how it works for him, I'm thinking big, thinking this could be a guy that comes in and really gives us a boost in the arm," Servais said prior to Monday's series opener against the Astros. "But it's probably been more than even I expected. He's been able to step up that quickly in the big leagues.
"You just don't know with young players. And me not knowing him personally, his personality, that's been a very welcome surprise. It's a tough league, and to come in and go right after people like he has, the development of his slider has really been the difference. Everybody knows he throws hard. We knew we were getting that. But the development of his secondary pitch has been huge."
Diaz pitched three times in the four-game sweep of Baltimore and struck out eight of the 11 hitters he faced on one of baseball's best offensive clubs.
"Going through a team like he did with Baltimore, that's a really good lineup," Servais said. "We pitched very well against them and, at times, Diaz overpowered that lineup. That's not easy to do."
Diaz dials his fastball up to 100 mph, but it's his rapidly-improving slider that has made him so effective.
"There's a marked difference [with his slider] from between when he got here to where it is now." Servais said. "I think he's changed his grip a little, he's changed his thought process in how he's throwing it. That's great. Players need to continue to develop when they get to the big leagues, the young guys especially that don't have a lot of Minor League track record. It's good to see it evolve."
Diaz said veteran right-hander Joaquin Benoit and pitching coach Mel Stottlemyre Jr. showed him a new grip on the slider.
"I started practicing and using it in the game, and I got good results," Diaz said. "I feel pretty comfortable with it. I actually used that same grip in my first or second year in the Minor Leagues, then changed it. So I've gone back to my old grip."
But more than anything, he's discovered he can indeed compete at the big league level. And he's not overthinking the situation.
"I just try to do my best," said the Puerto Rican native. "It doesn't matter who is in the batter's box, I just try to punch them out and get them out."
Worth noting
• Felix Hernandez has traveled with the Mariners to Houston and will throw a simulated game on Wednesday as he continues working toward a post-All-Star break return from his strained right calf. Hernandez will throw about three innings and 45 pitches in a simulated game at Minute Maid Park against Mariners hitters prior to that night's game against the Astros.
• Outfielder Norichika Aoki is now eligible to return to the Majors, having spent 10 days in the Minors since being optioned to Triple-A Tacoma to open up a roster spot for an extra reliever. The Mariners also wanted Aoki to work on his hitting, and he's batted .348 (8-for-23) in his first six games with the Rainiers, but Servais said it's not certain how long the Mariners will want to carry the extra reliever.
"We'll see. You get to point now where you look ahead to break and then re-shuffle," he said. "It could be sooner than that. We'll see. Once you get rotation stabilized, which is what we saw at the end of the homestand, then you don't really use that extra guy that much."
Greg Johns has covered the Mariners since 1997, and for MLB.com since 2011. Follow him on Twitter @GregJohnsMLB and listen to his podcast. This story was not subject to the approval of Major League Baseball or its clubs.