Reds' arms take responsibility after dismissal
Pitchers had good relationship with departed Riggins, optimistic about Jenkins' abilities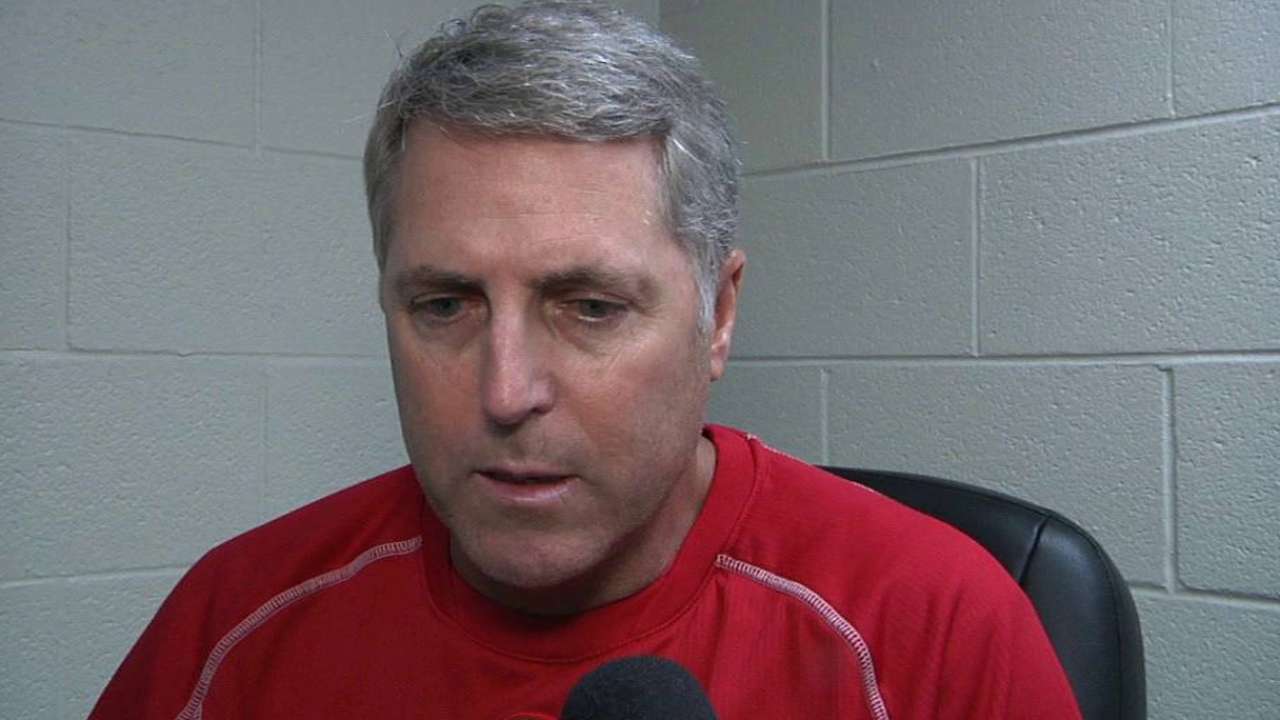 CHICAGO -- Reds manager Bryan Price and president of baseball operations Walt Jocketty held a meeting in the visitors' clubhouse before Monday morning's batting practice at Wrigley Field and gave notice that change was coming. The players learned that there was a change at pitching coach.
Mark Riggins was out and Mack Jenkins was in, promoted from bullpen coach. Ted Power was promoted from Triple-A pitching coach to big league bullpen coach. Reds players, namely the pitchers, didn't have much time to digest the information before they had to take the field and prepare to play the Cubs.
• Jenkins in, Riggins out as Reds pitching coach
"For me, it was a surprise. I didn't really think this would happen in the middle of the season," starting pitcher Anthony DeSclafani said. "I know stuff like this does happen. This is my first time going through it. At the end of the day, us as pitchers have to take responsibility for ourselves. We have to do our best out on the mound. He's not out there throwing the ball for us."
The Reds' pitching staff ranks at or near the bottom in just about every category this season. It's on record pace in home runs allowed. There have not been back-to-back wins for over two weeks. Several of the team's young starters have struggled to go deep in games, and while the bullpen has struggled most of the year, short outings have only caused that group's issues to snowball.
It was Riggins' first season as pitching coach for Cincinnati after he spent four years as the club's Minor League pitching coordinator.
"One thing I felt was some responsibility," reliever Ross Ohlendorf said. "As a pitching staff, we haven't performed very well. Each of us as pitchers can pitch better than we have. I feel like it's unfortunate for Mark that he took the brunt of that when it's really on us as pitchers to perform. I know we all really liked him. We're excited to have Mack, but we all really liked Mark as a person and felt he was knowledgeable."
Jenkins, who is in his 30th year with the Reds' organization, has been on the big league coaching staff for five seasons. He has the respect of the pitchers and good relationships with the players. Could his different voice help the pitching staff improve the rest of the season?
"It can," Ohlendorf said. "We need to pitch better. It can kind of be a wakeup call that will help us realize we need to do better. This isn't going to be given to us, the ability to play in the Major Leagues. We need to take advantage of the opportunity."
"I don't know how it's going to shake out," DeSclafani said. "When you're losing, it's not always a good thing. I feel like stuff has got to be shaken up. I feel like I had a pretty solid relationship with Mark Riggins from a personal standpoint. He was great to work with, communicated well with everybody.
"I guess this is just the route the team went. I know a lot of guys respect Mack Jenkins and have really good relationships. He knows a lot of what the organization is about. Maybe he can offer a different insight, you never know."
Mark Sheldon has covered the Reds for MLB.com since 2006, and previously covered the Twins from 2001-05. Follow him on Twitter @m_sheldon and Facebook and listen to his podcast. This story was not subject to the approval of Major League Baseball or its clubs.