MLB.com Columnist
Jim Callis
Phils' Cozens among 5 Futures Gamers on Team of Week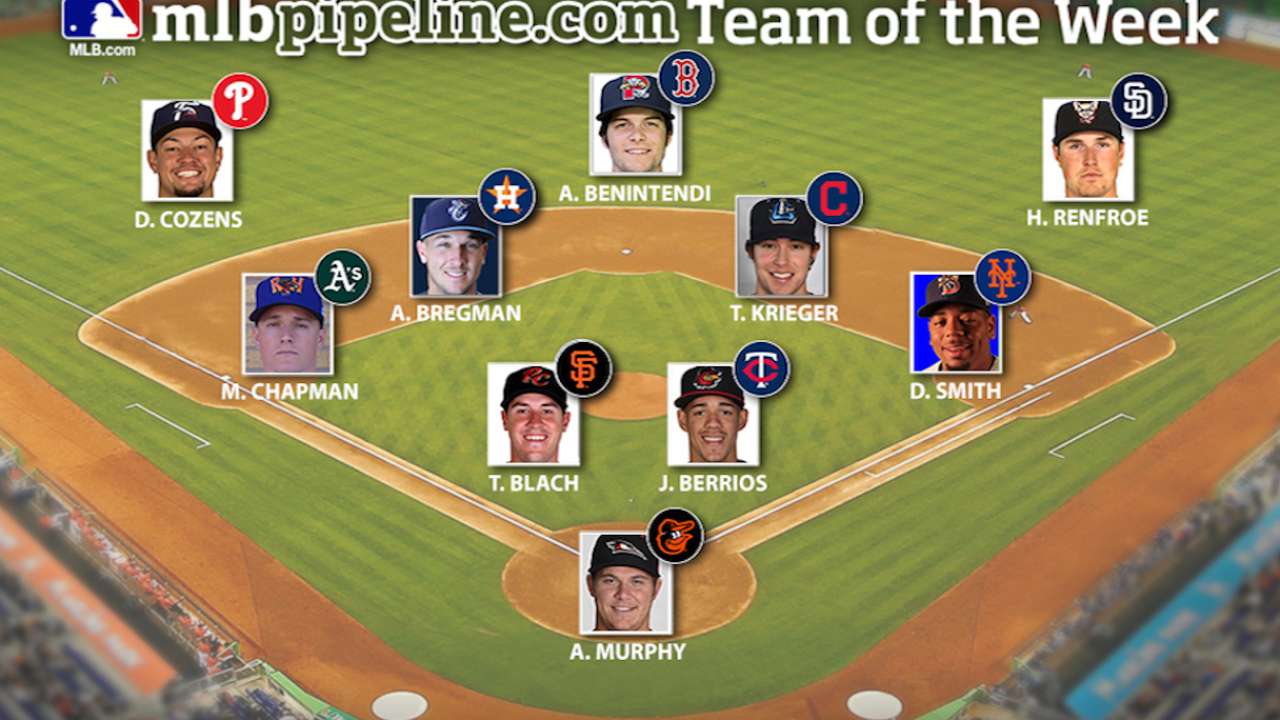 MLBPipeline.com's Prospect Team of the Week honors the best performances from the previous seven days. Any player currently on an organization Top 30 Prospects list on our Prospect Watch is eligible, including big leaguers.
Dylan Cozens was recruited by college football programs as a defensive end but chose not to follow in the footsteps of his father Randy, who played at Pittsburgh and was drafted by the NFL's Denver Broncos. Instead, Cozens signed with the Phillies as a second-round pick in 2012 after hitting 19 homers to break the Chaparral High (Scottsdale, Ariz.) single-season record previously held by Paul Konerko.
In his first four pro seasons, Cozens hit a combined .264/.325/.431 with 38 homers in 361 games, far from overwhelming numbers for a player whose value comes solely from his bat. But he has exploded this year in Double-A, batting .285/.372/.590 and already establishing new career highs in runs (73), doubles (26), homers (23) and RBIs (70) after just 81 games.
Cozens was on fire again last week, topping the Minors with 13 runs, 14 RBIs, 10 extra-base hits and 30 total bases. He homered four times to take over the overall Minor League lead from Reading teammate Rhys Hoskins.
Cozens is the featured performer on MLBPipeline's Prospect Team of the Week, which covers games from June 27 through July 3. He's one of five members of this PTOW selected for the annual SiriusXM All-Star Futures Game, which will be played Sunday at Petco Park. The others are Red Sox outfielder Andrew Benintendi, Astros shortstop Alex Bregman, Padres outfielder Hunter Renfroe and Mets first baseman Dominic Smith.
C: Alex Murphy, Delmarva Shorebirds (Class A)
(Orioles No. 24 prospect)
7 G, .379/.419/.621, 4 R, 11 H, 4 2B, 1 HR, 4 RBI, 2 BB, 10 SO
The most anonymous member of this edition of the PTOW, Murphy was a sixth-round pick out of a Baltimore high school who totaled eight homers in his first three pro seasons. An offensive-minded catcher, he ranks second in the South Atlantic League with 13 homers this season and is batting .250/.317/.444 overall.
1B: Dominic Smith, Binghamton Mets (Double-A)
(Mets No. 1 prospect)
9 G, .412/.474/.882, 9 R, 14 H, 4 2B, 4 HR, 10 RBI, 3 BB, 5 SO
Smith has impressed with his pure hitting ability ever since the Mets made him the 11th overall choice in the 2013 Draft, though his power has been slow to develop. He's showing positive signs this season, however, batting .280/.339/.446 with a career-high 10 homers. He had never hit more than two in a week before going deep four times in the last seven days, including twice on Saturday, and he tied Cozens for the Minor League lead with 30 total bases last week.
2B: Tyler Krieger, Lynchburg Hillcats (Class A Advanced)
(Indians No. 21 prospect)
6 G, .381/.444/.857, 7 R, 8 H, 2 2B, 1 3B, 2 HR, 5 RBI, 3 BB, 3 SO, 1 SB
One of four honorees this week who also had earned PTOW acclaim earlier this season -- Benintendi, Renfroe and Twins right-hander Jose Berrios are the others -- Krieger had no problems getting acclimated to Class A Advanced after making the jump last Monday. He opened his first full pro season in the Class A Midwest League, where he batted .313/.385/.427 with 15 steals in 69 games.
3B: Matt Chapman, Midland RockHounds (Double-A)
(Athletics No. 3 prospect)
4 G, .308/.438/1.077, 5 R, 4 H, 1 2B, 3 HR, 6 RBI, 3 BB, 2 SO
Chapman had an abbreviated week because he participated in the Texas League All-Star Game, during which he finished second in the home run derby. He homered three times in games that counted, pushing his TL-leading total to 20 and his overall numbers to .234/.329/.491.
SS: Alex Bregman, Fresno Grizzlies (Triple-A)
(Astros No. 1 prospect)
4 G, .471/.526/.941, 7 R, 8 H, 2 2B, 2 HR, 8 RBI, 2 BB, 6 SO
Bregman also played in the Texas League All-Star Game, going 2-for-3 with a homer, then departed Double-A with a .297/.415/.559 line and TL leadership in on-base percentage, slugging and plate appearances per strikeout (11.0). He went 4-for-5 with two doubles, five runs and three RBIs in his first Triple-A game, then homered in two of his next three contests. Though he's in just his first full pro season after going No. 2 overall in the 2015 Draft, don't be surprised if he takes over Houston's third-base job at some point in the second half.
OF: Andrew Benintendi, Portland SeaDogs (Double-A)
(Red Sox No. 3 prospect)
7 G, .391/.481/.913, 6 R, 9 H, 2 2B, 2 3B, 2 HR, 4 RBI, 4 BB, 3 SO, 2 SB
Another 2015 first-rounder (No. 7 overall) who's speeding through the Minors, Benintendi has hit .312/.393/.536 with more extra-base hits (63) and walks (66) than strikeouts (57) in 130 pro games at four levels. He scuffled in his first three weeks in Double-A but has posted a 1.108 OPS since and is batting .286/.346/.491 overall at Portland. At this rate, he'll join Mookie Betts and Jackie Bradley Jr. in a star-studded Boston outfield at some point in 2017.
OF: Dylan Cozens, Reading Fightin Phils (Double-A)
(Phillies No. 22 prospect)
7 G, .429/.500/1.071, 13 R, 12 H, 6 2B, 4 HR, 14 RBI, 4 BB, 6 SO, 1 SB
This edition of the PTOW features six of the top home run hitters in the Minors, as Cozens ranks first, Chapman is tied for third and Renfroe stands sixth with 19. Cozens also leads the Minors in runs (73) and extra-base hits (49) and paces the Eastern League in doubles (26), total bases (184) and slugging (.590).
OF: Hunter Renfroe, El Paso Chihuahuas (Triple-A)
(Padres No. 3 prospect)
6 G, .519/.576/.741, 6 G, 9 R, 14 H, 2 HR, 8 RBI, 5 BB, 5 SO
Renfroe is running out of things to prove in Triple-A, where he's batting .333/.362/.601 after posting similar numbers there in the final month of 2015. He tops the Minors with 202 total bases and the Pacific Coast League in runs (65), hits (112), homers (19) and extra-base hits (48).
LHP: Ty Blach, Sacramento River Cats (Triple-A)
(Giants No. 22 prospect)
2-0, 1.13 ERA, 2 GS, 16 IP, 12 H, 2 R, 2 ER, 0 HR, 0 BB, 16 SO, 0.750 WHIP
A durable lefty who throws a lot of strikes, Blach led the Pacific Coast League with 165 1/3 innings last year and ranks second in that category (102 2/3) and wins (eight) this season. He recorded consecutive quality starts for the second time in 2016 last week, including a six-hit shutout with nary a walk at the hitter's paradise that is Las Vegas.
RHP: Jose Berrios, Rochester Red Wings (Triple-A)
(Twins No. 1 prospect)
2-0, 0.56 ERA, 2 GS, 16 IP, 5 H, 2 R, 1 ER, 0 HR, 2 BB, 13 SO, 0.438 WHIP
After starting consecutive Futures Games for the World Team and leading the Minors in strikeouts (175 in 166 1/3 innings) last year, Berrios was supposed to bolster the Twins rotation this year but struggled to a 10.20 ERA in four starts. He's ready for another opportunity after becoming the first player to earn PTOW recognition in consecutive weeks this year. He has ironed out some inconsistency with his command and allowed a total of two earned runs in his last four starts, and he now ranks first in the International League in wins (eight), second in WHIP (0.966) and opponent average (.180) and fourth in ERA (2.43).
Jim Callis is a reporter for MLB.com. Follow @jimcallisMLB on Twitter and listen to him on the weekly Pipeline Podcast. This story was not subject to the approval of Major League Baseball or its clubs.