Bucs' Stewart placed on DL with left knee injury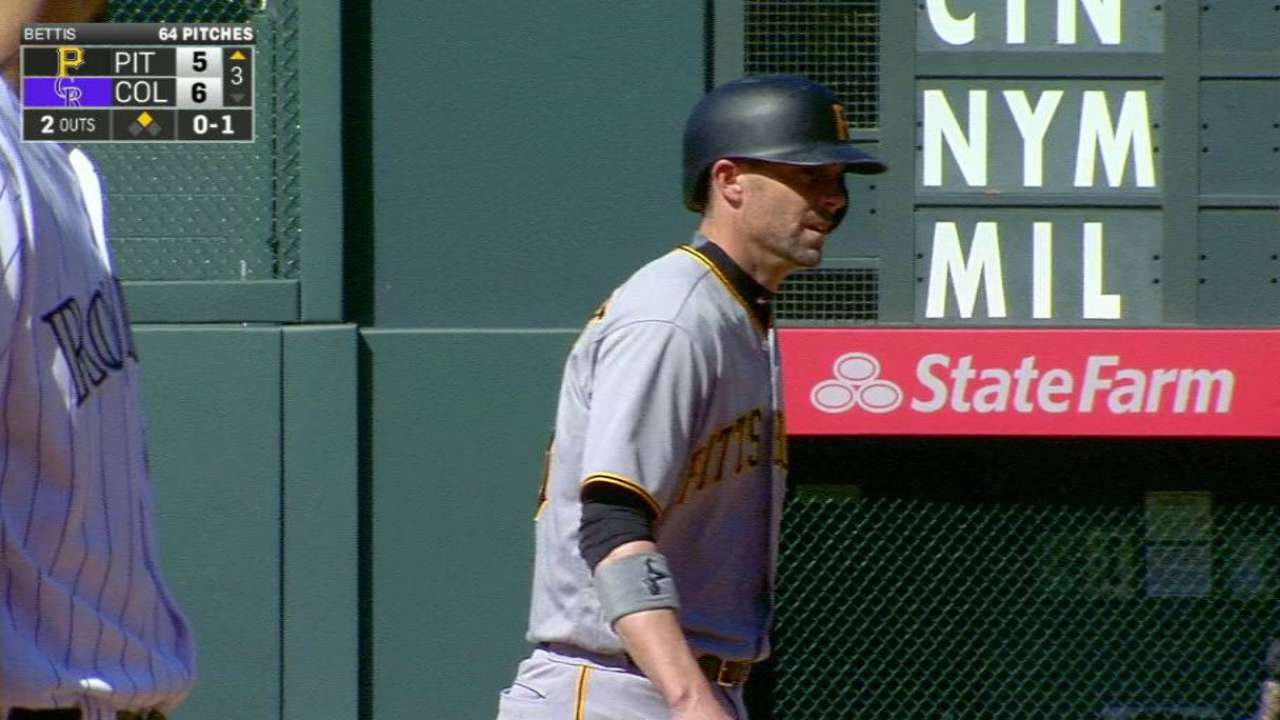 ST. LOUIS -- Pirates catcher Chris Stewart had been playing through pain in his left leg for weeks. The soreness recently prevented him from playing on consecutive days. A bad flare-up Friday night will keep him off the field even longer.
The Pirates placed Stewart on the 15-day disabled list Monday morning with left knee discomfort and activated catcher Eric Fryer, who was claimed off waivers from the Cardinals on Sunday.
Stewart was Pittsburgh's de facto starting catcher with Francisco Cervelli (hamate bone surgery) on the disabled list and prospect Elias Diaz (right elbow surgery) beginning a Minor League rehab assignment on Monday. While warming up Friday night in Oakland, he felt something unusual in his knee but played through it.
On Saturday morning, his leg was more stiff than usual. The soreness lingered into Sunday, leaving manager Clint Hurdle with one healthy catcher: Erik Kratz, purchased from the Angels last month.
"It's at a point now to where I'm not useful in the game," Stewart said.
Stewart will undergo tests on his knee in Pittsburgh on Tuesday. He was uncertain about the extent of the injury, but Stewart believes it came about weeks ago. Stewart fouled two balls off his ankle and felt he was compensating for that soreness by putting more stress on his knee.
"It's part of getting old, part of being a catcher -- a combination of a lot of things. I've taken a lot of wear and tear throughout my career, and it seems like it's catching up to me," he said. "Hopefully it's nothing too bad, to where we can take these two weeks and be back the rest of the year."
Fryer joined the Pirates at Busch Stadium on Monday morning. In an odd set of coincidences, he is back where he began his Major League career (with the Pirates in 2011) and back in the ballpark he called home earlier this season.
"It's great. I'm seeing a lot of familiar faces," he said. "My phone was ringing when the transactions cleared. It seemed like it was four years ago with a bunch of different numbers I had saved and didn't know if I'd use them again."
Fryer hit .267 in 16 games for the Pirates from 2011-12. He batted .368 in 24 games (eight starts) for the Cardinals this season and became the first Cardinals player to begin a season with six straight hits.
"Things started out really well," Fryer said. "A lot of times, just having some confidence really goes a long way."
Fryer received a crash course on the Pirates' pitching staff from Stewart. He planned to pick Cervelli's brain and meet with pitchers before getting behind the plate.
"We know Eric. Got to see him this year. He does a solid job behind the plate," Hurdle said. "He was a very good get for us at a very needy time."
Adam Berry has covered the Pirates for MLB.com since 2015. Follow him on Twitter at @adamdberry. This story was not subject to the approval of Major League Baseball or its clubs.