Angels could hold Soto out until after break
Catcher has missed six-and-a-half weeks after right knee procedure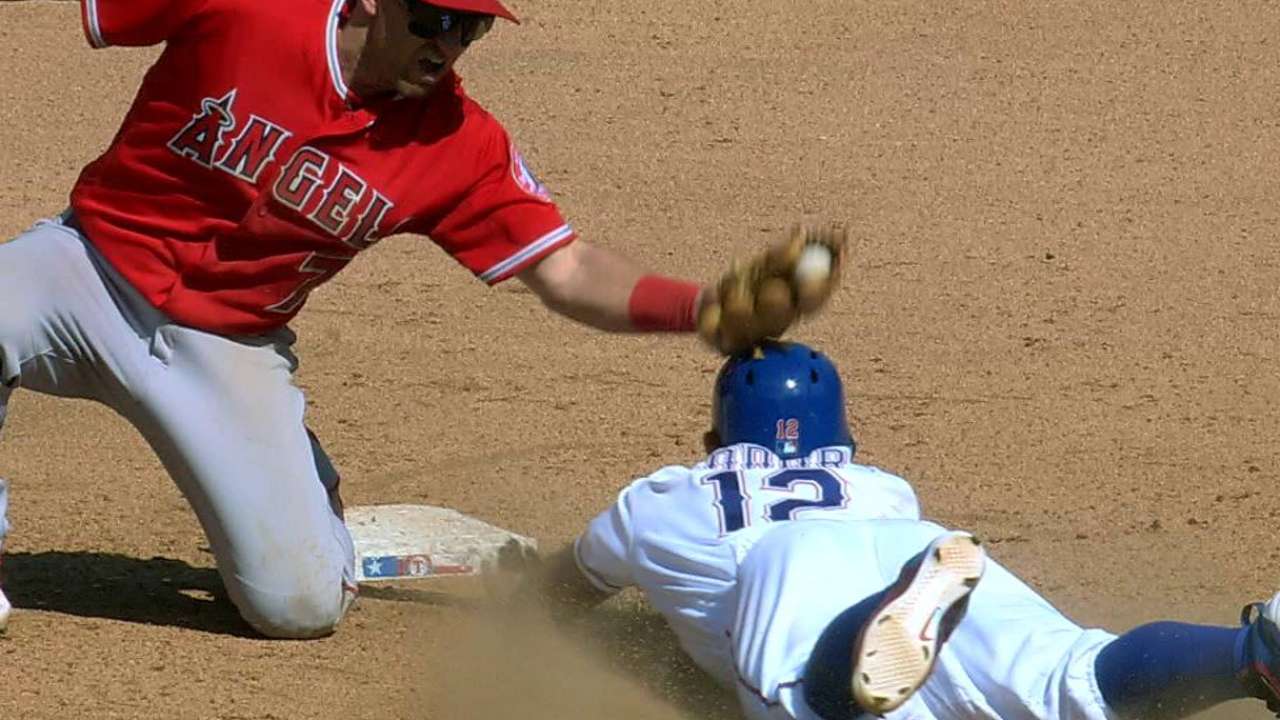 ST. PETERSBURG -- Geovany Soto was initially on track to be activated off the disabled list as early as Tuesday, but Angels manager Mike Scioscia said his veteran catcher will not be available for this four-game series against the Rays and may not return until after the All-Star break.
Soto has some stiffness in his legs after catching in a Minor League rehab assignment on Thursday and Saturday, something Scioscia said is "not connected" to the surgery he had on his right knee May 19.
Soto could "possibly" return for the Angels' last series before the All-Star break, which starts in Baltimore on Friday, but they may also hold him out until the start of the second half. The 33-year-old is six-and-a-half weeks removed from a procedure that carried an initial timeline of four-to-six weeks.
"It's just peripheral stuff," Scioscia said. "You want to make sure you get that out so you don't pull a quad or hamstring just by staying on some schedule. He'll be fine."
Alvarez sent down
The Angels sent down their only lefty reliever, Jose Alvarez, in order to make room on the roster for Monday starter Nick Tropeano.
Alvarez had a 4.38 ERA and a 1.60 WHIP in 37 innings, but also a 2.92 strikeout-to-walk ratio that was an improvement from his solid 2015 season. The 27-year-old gave up a couple of runs (one earned) without recording an out in Boston on Sunday, but prior to that, he had notched seven consecutive scoreless outings.
This is Alvarez's first stint in the Minors since 2014.
"Jose needs to go down there and just find his release point," Scioscia said. "It's not so much the walks that are showing up with Jose. It's the number of pitches he throws behind in the count, because he hasn't been able to command the ball. He needs to go work on a couple of things, but he'll be back."
Marte injures knee
Jefry Marte exited Monday's eventual 4-2 loss to the Rays early because of a bruised left knee, but Scioscia doesn't expect him to miss any additional time.
Marte, a corner infielder who has been used in left field of late, took a Matt Moore fastball to the left knee in the third inning but stayed in the game. He homered in the top of the sixth, then was replaced for defense by left fielder Daniel Nava in the bottom half.
Sam Blum is a reporter for MLB.com based in St. Petersburg. This story was not subject to the approval of Major League Baseball or its clubs.