Papelbon pitches clean frame in return
Closer activated prior to July 4 game with Brewers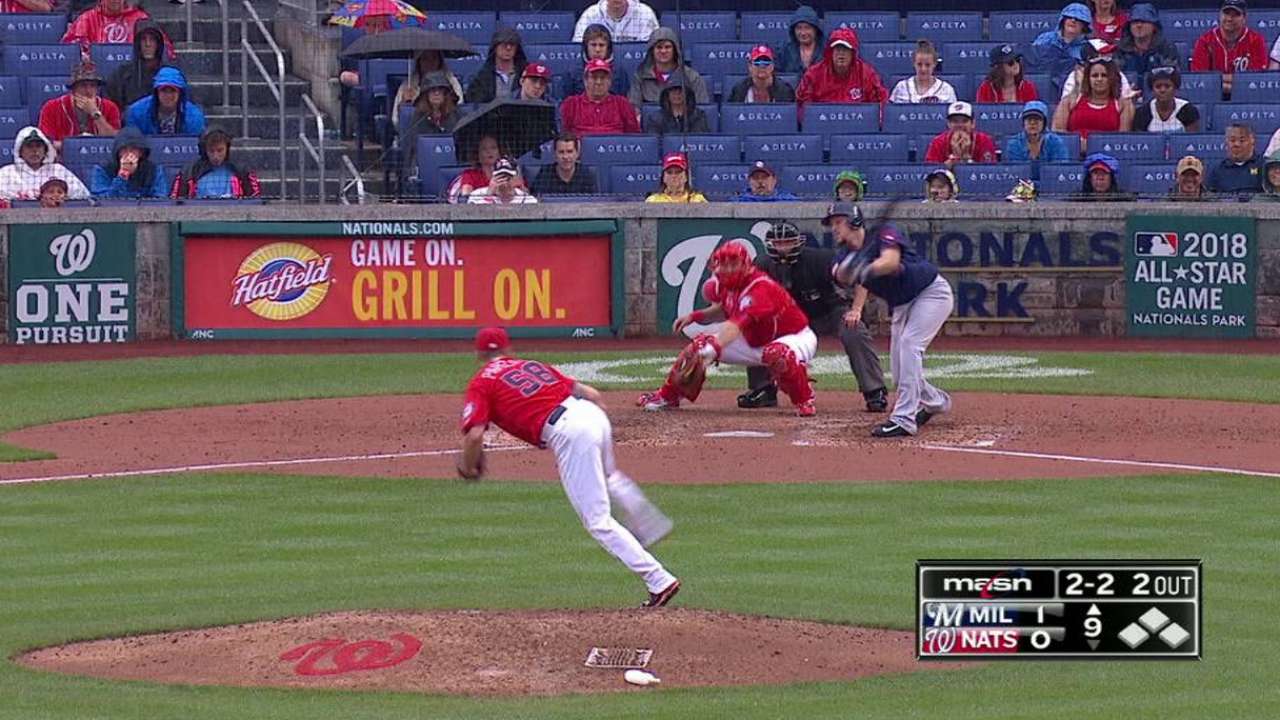 WASHINGTON -- The Nationals activated closer Jonathan Papelbon from the disabled list on Monday, optioning outfielder Michael Taylor to Triple-A Syracuse to clear room on the 25-man roster.
Papelbon, who had been out since June 14 with a right intercostal strain, pitched a perfect ninth inning in the Nationals' 1-0 loss to the Brewers on Monday. After the game, he said he felt good after his first ever DL trip.
"I felt pretty strong, and I felt pretty healthy," Papelbon said. "And I felt like my delivery was intact. I feel ready to go and continue the season to the last pitch of the season."
The Nationals' decision to send down Taylor came as somewhat of a surprise, but made sense given the worn-down state of their bullpen. They'll carry eight relievers for at least the next few days, according to manager Dusty Baker.
Though Papelbon will return to the closer role immediately, Baker said the righty might also pitch in non-save situations to make sure he gets work in.
"We gotta consider, can he go two days [in a row] now?" Baker said. "Or do we wait to use him in only save situations, or does he rust a little bit because he's just getting his act back together? So the game and the situation and the activity of our bullpen [will] sort of dictate how we use him."
Taylor is hitting .225/.266/.372, with six home runs and 10 stolen bases, in 2016. He had played well lately after a slow start to the season, batting .310 in June with a .500 slugging percentage.
Baker said there was no obvious move to make room for Papelbon, but that Taylor could benefit from consistent at-bats in Triple-A.
"It was real tough, because you don't want to see anybody leave," Baker said. "I just told him go down, no pouting, you just gotta go down there and get motivated again and determined to get your act together and come back."
Alex Putterman is a reporter for MLB.com based in Washington. This story was not subject to the approval of Major League Baseball or its clubs.