Top GIFs: Rodney jigs his way into our hearts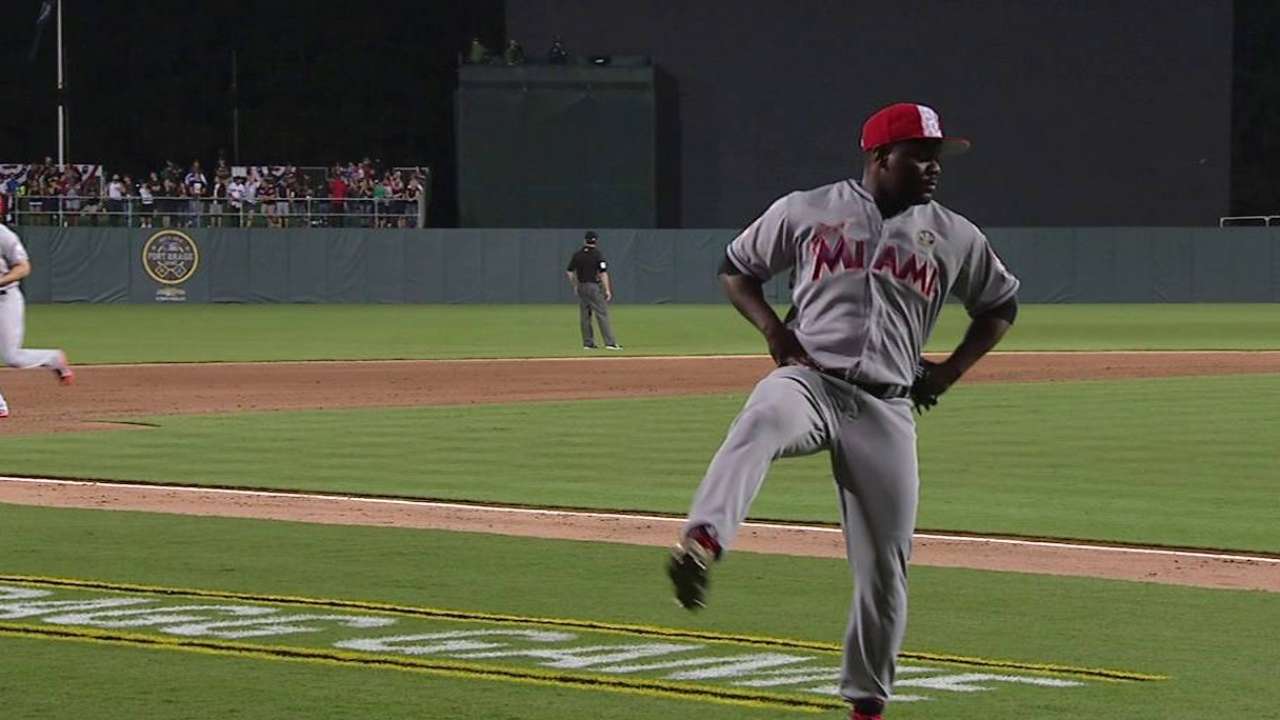 Here are the Top 6 GIFs from Sunday's games, courtesy of @MLBgifs:
1. Lord of the dance
Perhaps testing the waters on a replacement for his trademark bow and arrow routine, new Marlins reliever Fernando Rodney breaks into a jig at Fort Bragg.
2. Youthful exuberance
Bryce Harper has some fun in the dugout as his Nationals beat the Reds, 12-1, in Washington. Harper contributed with a 441-foot leadoff homer in the fifth inning.
3. Welcome back, Stephen
In his return from the disabled list Sunday, Stephen Strasburg improved to 11-0 with 6 2/3 no-hit innings and a devastating arsenal of pitches like this one.
4. The duel to end all duels
Salvador Perez and the Philly Phanatic were frequent adversaries at Citizens Bank Park on Sunday, challenging each other in a show of strength and attempting to douse each other with water and glitter.
5. A moment to remember
This flyover preceded the first-ever Major League game played on an active military base. The Marlins went on to beat the Braves, 5-2, at Fort Bragg Field.
6. You're on the Mark!
Mark Teixeira became the fifth switch-hitter in Major League history to hit 400 home runs with two long balls -- No. 400 and 401 -- in the Yankees' 6-3 win over the Padres in San Diego. The others to reach the milestone are Mickey Mantle (536), Eddie Murray (504), Chipper Jones (468) and Carlos Beltran (412).
Chad Thornburg is a reporter for MLB.com. This story was not subject to the approval of Major League Baseball or its clubs.