Belt comes up big in unexpected start
Giants first baseman gets call in left field, contributes two hits, two RBIs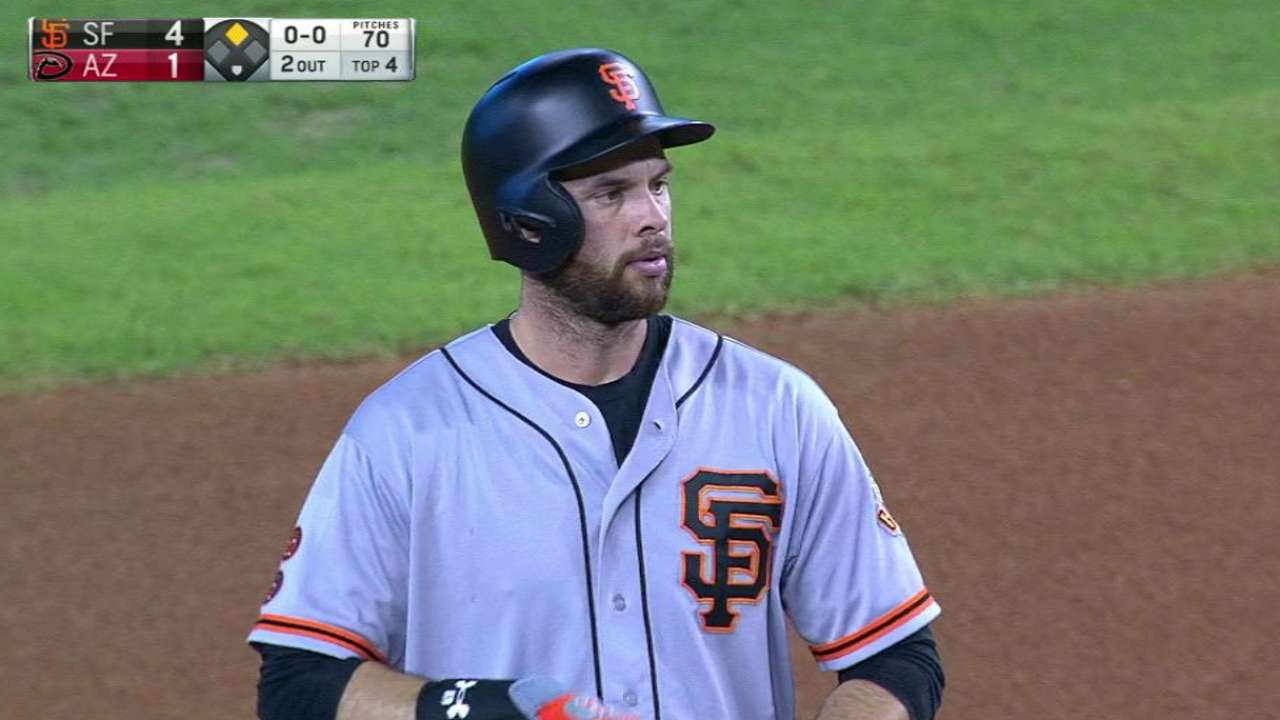 PHOENIX -- What started off as a day off for Brandon Belt ended up as an afternoon to remember.
The tall Texan went 2-for-4, including his National League-leading 26th double of the season, to help the Giants to a 5-4 victory and series win Sunday against the D-backs at Chase Field.
Belt was inserted into the starting lineup in left field when Gregor Blanco was scratched about an hour before the start of the game with Buster Posey starting at first base.
Belt drove in two, scored a run and walked twice.
It was quite a day for Giants who were not supposed to play in the series finale. Second baseman Ramiro Pena, who recently sprained his left ankle and was not expected to play for five to seven days, hit a double to the right-field corner to score Jarrett Parker for what proved to be the game-winning run in the top of the 11th.
"I was trying to hit it in the hole between first and second, but I got a good pitch to hit and I pulled it a little more," Pena said. "I thought we had a chance to score because the corners are a little tricky here. I know [Parker] could run and he did a really good job, too."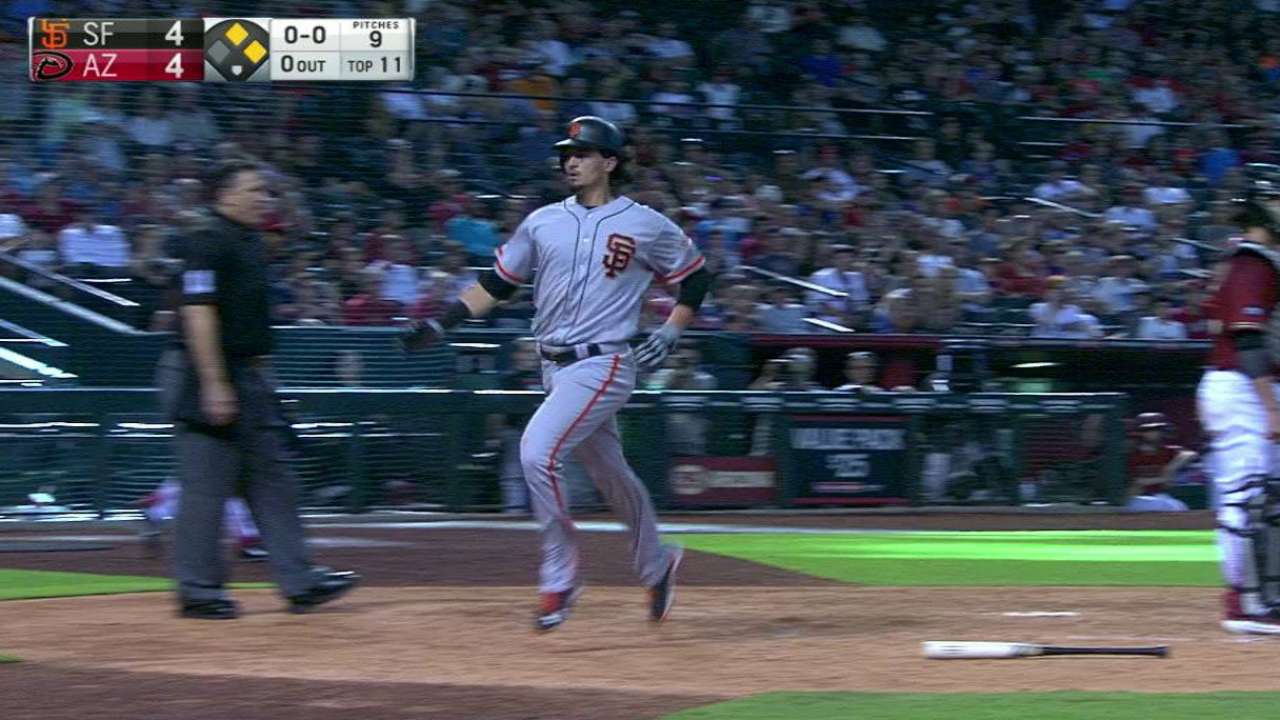 As for Belt, he's also on his way to solidifying his spot in the franchise's record books.
Only Jeff Kent, who had 28 doubles in 2000 and 27 doubles in 1999, Aaron Rowand, who had 27 doubles in 2008, and Posey, who had 27 doubles in 2013, have hit more doubles before the All-Star break as a San Francisco Giant than Belt.
What's more, Belt has 18 doubles in his last 33 games. He's hitting .323 with 20 runs, six home runs and 22 RBIs during that span. Twenty-four of his last 41 hits have gone for extra bases.
"I've felt pretty good at the plate this year and I've been a doubles-guy in the past, especially in our ballpark where you can hit the ball a long ways and it still doesn't go out," Belt said. "I'm just sticking with my line-drive approach and that's what has gotten me most of those doubles."
Belt walked in his first at-bat in the first inning and hit a single to right field in his second at-bat in the third inning against D-backs starter Robbie Ray. He drove in two runs in the fourth inning with the double to extend the Giants' lead to 4-1.
Belt also shined on defense with an outstanding running catch on a fly ball off the bat of Brandon Drury for the first out of the bottom of the seventh. It was Belt's second appearance in left field this year and his first start at the position since last season.
"In an unfamiliar situation like that, you just try to do the ordinary things," Belt said. "The catch was not one of the easiest catches I've ever made, but I just tried to keep my eye on it as a long as I could and hopefully I was able to get over to it. Fortunately, I was."
Outfielder Angel Pagan, another player who was supposed to be given the day off Sunday, pinch-hit in the top of the 11th and replaced Belt in left field in the bottom half of the frame.
In the end, Belt watched from the bench -- finally -- as his club clinched its seventh consecutive series victory against an NL West opponent.
"It's definitely nice to win against the division, but for us, every win matters," Belt said. "We are going out there looking to play our baseball."
Jesse Sanchez is a national reporter for MLB.com based in Phoenix. Follow him on Twitter @JesseSanchezMLB and Facebook. This story was not subject to the approval of Major League Baseball or its clubs.