Brewers focused on improvement at midway point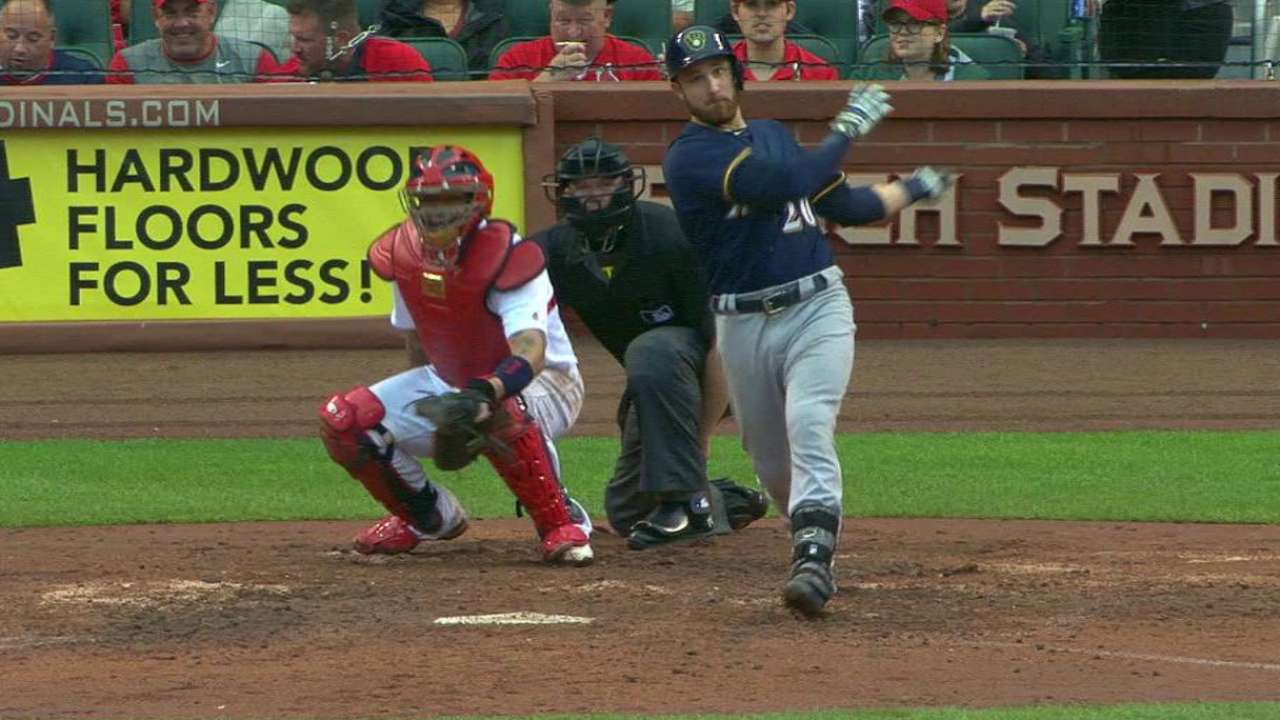 ST. LOUIS -- The first full season of the Brewers' rebuilding effort rounded the halfway mark on Sunday and headed for home.
A 9-8 loss to the Cardinals at soggy Busch Stadium was Game No. 81 of 162. The 35-46 Brewers fell a season-low 11 games under .500 with their 13th loss in 18 games -- a stretch that began with a three-city West Coast road trip that club officials had circled on the schedule from the start.
"I'm not going to make any big-picture pronouncements because all these big-picture pronouncements change after three days, and then we're making a different pronouncement," manager Craig Counsell said. "You know, the season is the season. I do believe that whatever your record is, is the record you deserve and the record you've earned.
"I know we've fallen into a place where we haven't [been], and it's because we're in that part of the schedule -- I think we all acknowledged it -- that's tough. We've gone in a little hitting drought the last [several] days that has hurt us. But we're going to keep moving forward. I think if we keep playing this way, I'll be pleased. The effort we've given every day, I'm very happy with. If that continues, I think we'll still win a bunch of baseball games."
Here's a look at some of the Brewers' metrics at the mathematical halfway point:
• A dive into their record reflects a team in the midst of rebuilding. The Brewers are 15-31 against teams at .500 or better, and 20-15 against teams with a losing record. They are 9-15 within the tough National League Central.
• They have actually played a win or two better than their performance suggests. The Brewers entered Sunday with a run differential of minus-66, fourth worst in the NL (the Cubs are best in the league at plus-138, and the Reds are worst at minus-157). The Brewers' Pythagorean expectation put them at 33-47 through their first 80 games, two games worse than their actual mark.
• Veterans have led the offense, positioning general manager David Stearns to deal if opportunities arise at the non-waiver Trade Deadline. Left fielder Ryan Braun and catcher Jonathan Lucroy lead the team in both OPS and weighted runs created plus. Third and fourth are two newcomers, shortstop Jonathan Villar and first baseman Chris Carter, who represent two of the team's first-half bright spots.
"I think overall, I'm pleased certainly with the energy, positivity and culture we've been able to develop throughout the organization," Stearns said. "Certainly, the Major League clubhouse is included, and that starts with Craig and his coaching staff. They've done a great job of maintaining a consistent approach and a consistent outlook through all the ups and downs of the first half of the season.
"We'll see more ups and downs through the second half; we know that. I'm certainly pleased that we've had a number of our young players here take steps forward and continue their development. So overall, happy with how the first half has gone."
Adam McCalvy has covered the Brewers for MLB.com since 2001. Follow him on Twitter @AdamMcCalvy, like him on Facebook and listen to his podcast. This story was not subject to the approval of Major League Baseball or its clubs.