Shutout streak rolls on for Bucs' bullpen
OAKLAND -- Neftali Feliz let loose a 98-mph fastball that zipped above Danny Valencia's bat, raised his right arm and looked to the sky. As the Pirates headed back toward the dugout, Feliz kicked out his right leg and pumped both fists toward the ground.
Feliz earned that moment after pulling off a high-wire escape act in the seventh inning of the Pirates' series-sweeping 6-3 win over the A's at the Coliseum on Sunday. The way things are going for Pittsburgh's bullpen right now, why not celebrate?
"Definitely grateful. That's just something natural that comes out of me," Feliz said through interpreter Mike Gonzalez. "The excitement, the passion, the adrenaline. That's what I do."
A.J. Schugel, Feliz, Tony Watson and closer Mark Melancon each threw a shutout inning in the Bucs' fourth straight win, relieving Francisco Liriano and pulling the Pirates back to .500 for the first time in more than two weeks.
Sunday's performance allowed the Pirates to pull out their third straight comeback win and stretched their bullpen's scoreless streak to 32 innings, the longest such streak in the Majors this year. That long stretch of zeroes reaches back more than a week to June 24.
"It's nice to have a bullpen like that," Liriano said.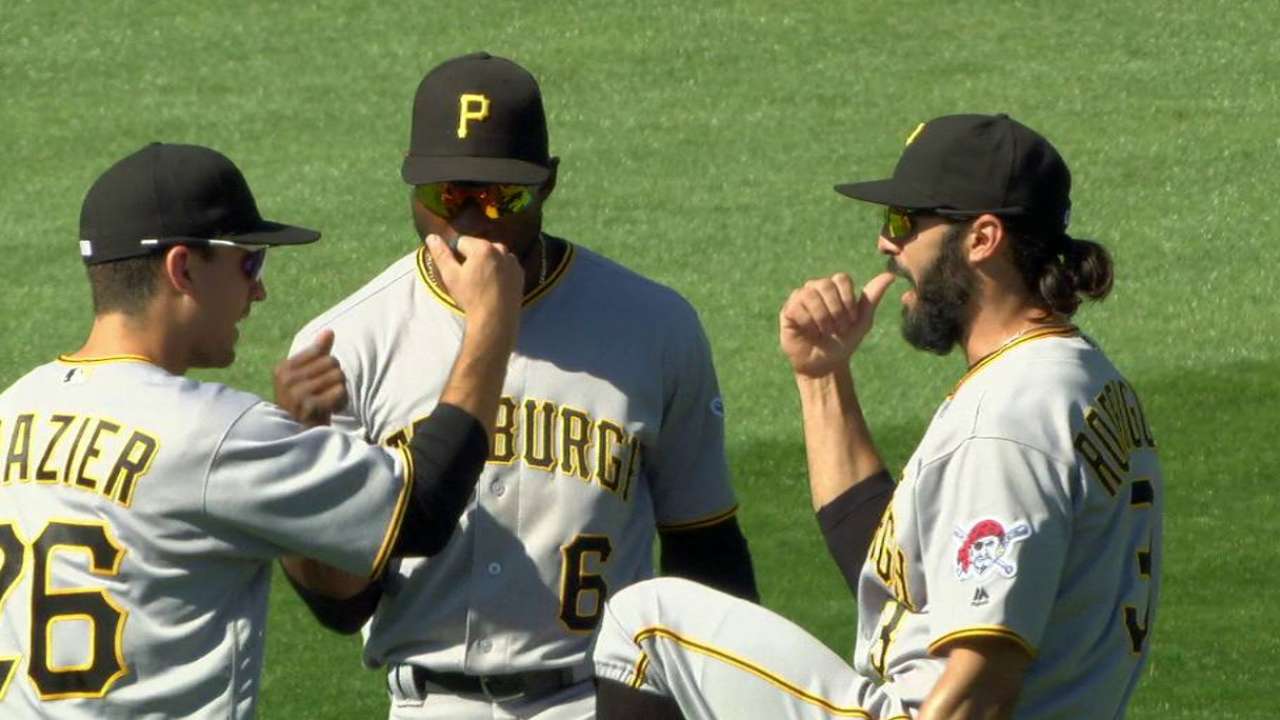 Schugel and Feliz pushed that streak to the brink, both pitching with a one-run lead and the tying run on third base. Schugel did so in the sixth, leaving behind a first-and-third jam with one out after a line-drive double play to first baseman David Freese.
Feliz, one of the Bucs' best offseason acquisitions, made it even more interesting in the seventh.
The former Rangers closer gave up two singles, immediately putting runners on the corners. He had to get three outs before A's second baseman Tyler Ladendorf advanced 90 feet.
Not a problem.
"Mentally that doesn't distract me at all. I focus pitch by pitch," Feliz said. "No matter who's on base, I'm here to strike out batters."
Feliz fell behind Marcus Semien but struck him out with an 86-mph slider. One down. Josh Reddick worked a 2-2 count and popped out to second baseman Josh Harrison for the second out.
Up came Valencia, who swung and missed at a 1-1 slider before Feliz unleashed a 98-mph fastball and spun around to punctuate the inning.
"Closer experience. Postseason experience. Slow heartbeat," manager Clint Hurdle said. "They all stayed within themselves, kept their composure and competed with the skills that they had. It worked out for us."
Freese's two-run homer in the eighth gave Watson and Melancon an additional cushion they didn't wind up needing.
Watson started the eighth with a strikeout and ended it with a double-play grounder. Melancon didn't let a ball get past the pitcher's mound in the ninth and struck out Coco Crisp to lock down his 24th save in 25 attempts.
"We definitely have a great bullpen," Feliz said. "Seeing everyone do their part, that definitely is contagious."
Adam Berry has covered the Pirates for MLB.com since 2015. Follow him on Twitter at @adamdberry. This story was not subject to the approval of Major League Baseball or its clubs.