Rangers' 7th-inning rally falls one run short
Choo's bases-loaded double brings in two; runner held at third doesn't score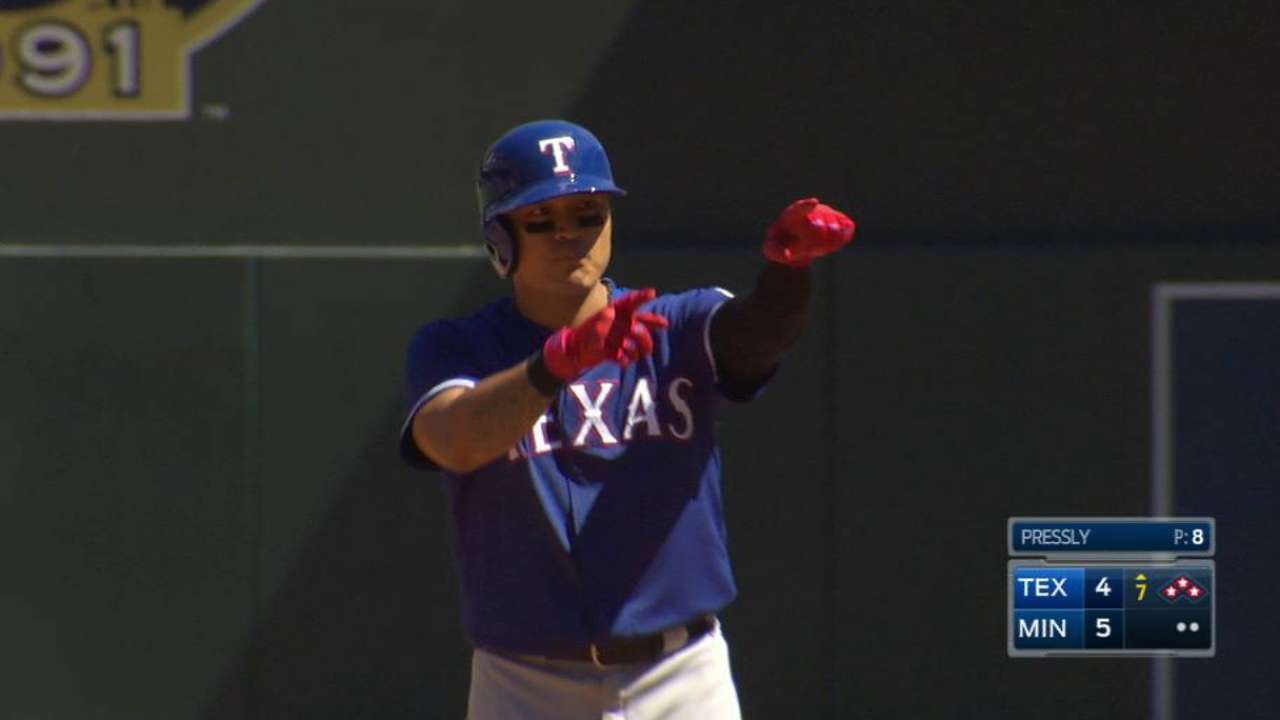 MINNEAPOLIS -- The Rangers have 25 come-from-behind wins this season and had another one heating up in the seventh inning on Sunday afternoon. They trailed by three runs going into the inning before loading the bases with two outs.
Shin-Soo Choo then ripped a double to left in what was the most interesting play of the afternoon in the Rangers' 5-4 loss to the Twins.
"We were still competing out there," Rangers manager Jeff Banister said. "Great effort by our guys. It's still early July. We've got to continue to play well. If we keep giving ourselves opportunities to win ballgames, we'll get our share."
The Rangers' rally started when Elvis Andrus reached on a two-out error by third baseman Miguel Sano and Jurickson Profar walked against Twins starter Kyle Gibson.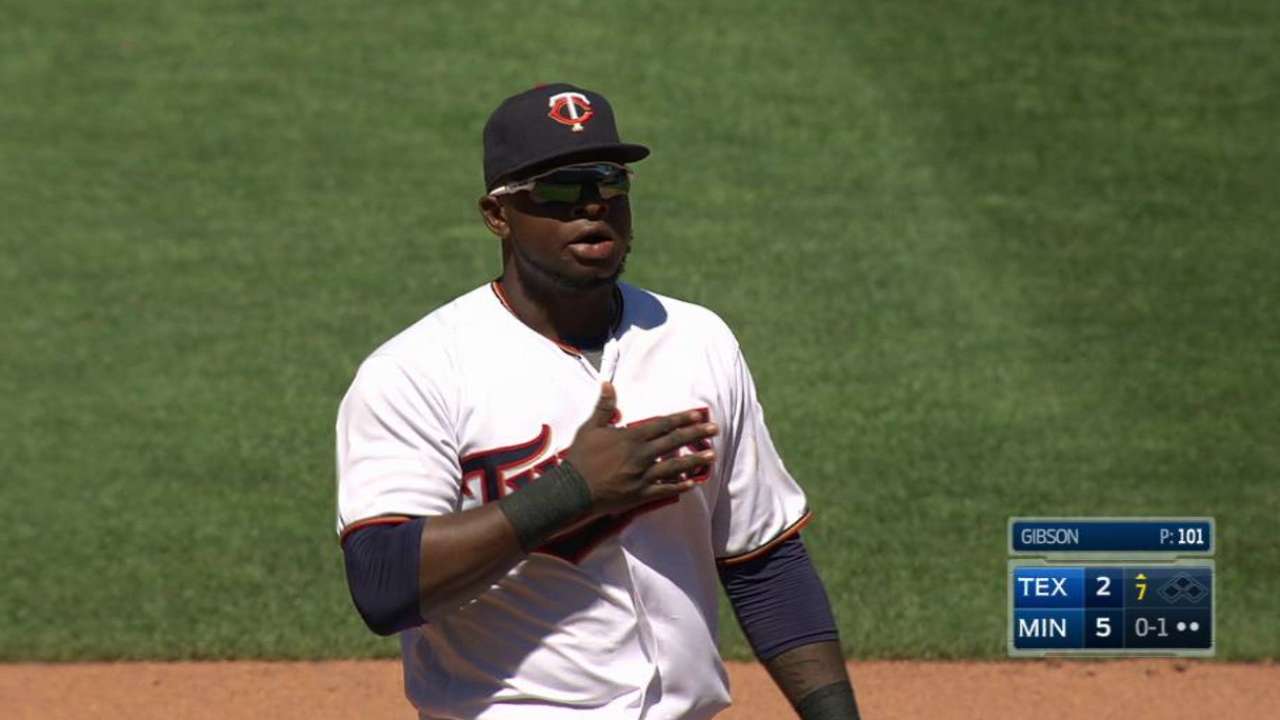 Twins manager Paul Molitor brought in right-handed reliever Ryan Pressly to face catcher Bobby Wilson and Banister countered with pinch-hitter Mitch Moreland, who drew a walk to load the bases. Robinson Chirinos pinch-ran for Moreland to remain in the game at catcher.
Banister had two faster options on the bench. One was Ryan Rua, but Banister did not want to commit his last position-player reserve in the seventh inning. The other was pitcher Nick Martinez, who was an infielder in college and has been used as a pinch-runner in the past. But he is scheduled to start on Monday against the Red Sox.
"If he blows out on the basepaths, what are we going to do tomorrow?" Banister said. "I know he is our best athlete on the pitching side, but I'm not going to put tomorrow's starter out there."
Choo followed with a double to left that sliced away from Eddie Rosario in left field and went to the wall. Rosario made a quick, strong throw back to the infield to shortstop Eduardo Nunez.
Third-base coach Spike Owen, knowing Ian Desmond was on deck, put the stop sign up for Chirinos.
"No chance," Owen said of sending Chirinos. "I've got one of my best hitters up. I know with two outs you're more aggressive, but where [Nunez] received the ball on the cut of the infield, it wasn't going to be a long relay. It wasn't worth the risk."
"It would have been a close play at the plate," Banister said. "We still had the middle of the order up, one of our hottest hitters who has been incredible in those situations."
Desmond almost delivered again. With a 2-2 count, he ripped a line drive down the right-field line that was foul by a couple of feet. The Rangers' center fielder then hit a sharp grounder at Sano, who fumbled the ball but recovered in time to get the out at first.
Banister ended up using Rua as a pinch-runner with two out in the ninth when Chirinos lined a double off of Twins closer Brandon Kintzler. But Choo grounded out hard, right at second baseman Brian Dozier, to end the game.
T.R. Sullivan has covered the Rangers since 1989, and for MLB.com since 2006. Follow him on Twitter @Sullivan_Ranger and listen to his podcast. This story was not subject to the approval of Major League Baseball or its clubs.