McCarthy triumphant in long-awaited return
Dodgers righty strikes out eight in five scoreless innings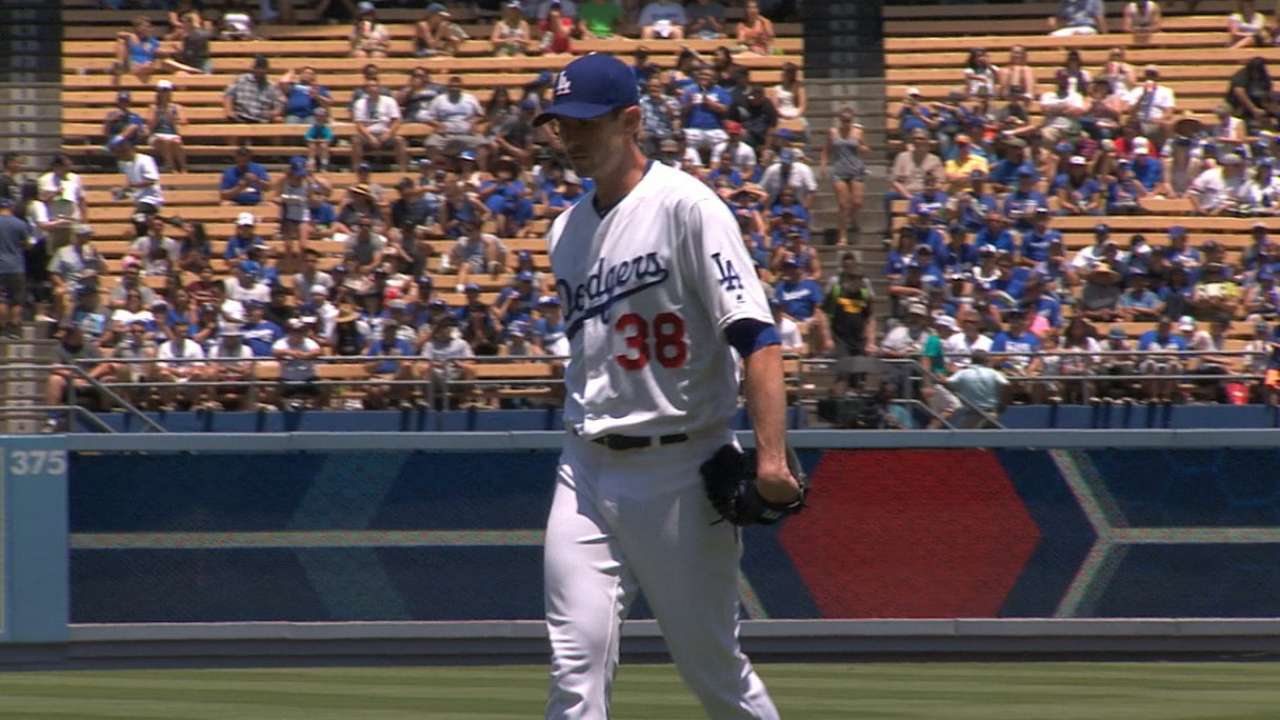 LOS ANGELES -- A 14-month journey culminated in five spectacular innings for Brandon McCarthy, who couldn't have been much better in his return from Tommy John surgery. The right-hander struck out eight and allowed just two hits in Sunday's 4-1 win over the Rockies.
The only real surprise to come out of McCarthy's start was how short it was, despite his effectiveness, since manager Dave Roberts said before the game McCarthy would be under no limitations. McCarthy was pulled after 72 pitches and had just struck out the side in the fifth. Roberts said after the game he didn't want to put out a hard number.
"We're still monitoring pitch count, making sure we're conservative with things," McCarthy said. "I haven't built up too far in my rehab, but got into a good place where it was two times through the lineup and my pitch count was manageable, so he said good job and that was enough."
McCarthy reached a high of 72 pitches in his rehab assignment during his last start with Class A Advanced Rancho Cucamonga. He brought the heat Sunday, hitting 95 mph late into his appearance.
"That's part of the coming back, we monitor everything and track things," McCarthy said. "If there was some velocity dip late in the games or something was happening that was worrying, I don't think they would have let me make this start."
The last time McCarthy had seen a Major League mound was April 25, 2015, which ended with a home run from Justin Upton.
From there, it was the long, difficult process of Tommy John rehab. While the prevalence of Tommy John surgery is one of the most heartbreaking aspects of pitching, there is at least a silver lining in the support network formed by past patients.
Left-hander Adam Liberatore underwent the surgery in college at Tennessee Tech and was one of several players to reach out to McCarthy after the surgery, sharing his experience and supporting the newest member of the network as he went through rehab.
"He stayed pretty upbeat. Any time I talked to him, he was always in good spirits," Liberatore said. "Being patient is probably the hardest thing and knowing it's all going good, but that doesn't mean you're ready. Just accepting the process and dealing with it the best you can."
Though this was his first time dealing with Tommy John surgery, McCarthy is no stranger to dealing with injuries in his career. It's a problem that McCarthy said, with admitted cynicism, had given him experience with starts returning from injury.
McCarthy showed a level of success Sunday that is almost definitely not sustainable, but that he blew the doors off the Rockies out of the gate is nothing but encouraging. The right-hander lost more than a season of his career last April and he returned looking better than ever to his manager.
"It was great. This is as good as I've seen him in years past," Roberts said. "The fastball had life late, threw the breaking ball when he needed to, and mixed in a few changeups. Got eight punchouts in five innings. Really excited for him."
Jack Baer is a reporter for MLB.com based in Los Angeles. This story was not subject to the approval of Major League Baseball or its clubs.