Versatility is Ladendorf's calling card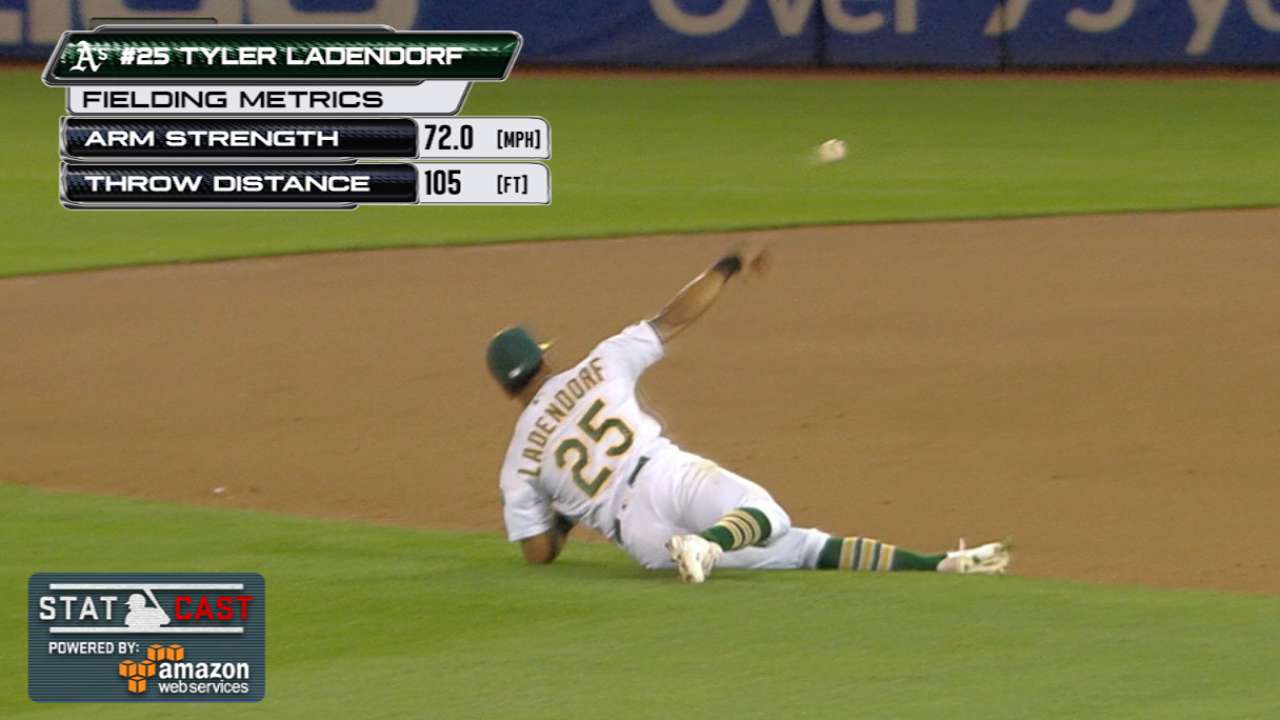 OAKLAND -- At this point, Tyler Ladendorf is used to moving around.
The A's recalled Ladendorf for his third stint in the Majors on Friday and started him Sunday against the Pirates at second base. It's his seventh start of the season at second, but he's also appeared at third base, right field and even as an emergency relief pitcher.
Ladendorf's aware his value is his versatility.
A natural middle infielder, the positional carousel started in 2012 while playing for Double-A Midland when the A's asked Ladendorf if he was open to trying a new position because he was superseded by higher-ranking prospects at second base and shortstop. Ladendorf began working in the outfield and said he quickly earned the reputation as a defensive outfielder, where he's spent most of his time this season with Triple-A Nashville.
"It was one of those things where I was just doing whatever I can to get on the field," Ladendorf said. "I feel like it's one of those things where if they see you chase a ball down out there, all of a sudden you can play out there," he added with a laugh.
The 28-year-old was finally rewarded in 2015, making his Major League debut April 9. He appeared in nine games last year and has already played 27 with the A's this year.
"I think it's getting an opportunity when he's here," manager Bob Melvin said. "I think a lot of times because of versatility he's on the bench. If something happens in the course of the game you can plug him in somewhere."
Ladendorf's found it easier to find a rhythm this season. Gone is the trepidation that existed last season as he tried to establish a routine in unfamiliar surroundings. He's settled into a groove, which includes participating in daily infield drills with A's coach Ron Washington and shortstop Marcus Semien.
Those daily sessions have long been a staple for Washington, who started them when he was an A's assistant working with the likes of Eric Chavez and Miguel Tejada, and a reason why Semien's made such strides at shortstop this year.
Ladendorf has watched intently.
"It's easier for me to go out there and do that work, Ladendorf said. "For a guy who's playing every day to still be out there at 1:30, 2 p.m every afternoon, it's why he's a big leaguer now. It's fun to watch."
Ladendorf said he's still most comfortable at second base or shortstop, but can play elsewhere. He's hitting just .080, admitting, "I know obviously I haven't done the best with the bat. My defense has been my strong point."
Mark Chiarelli is a reporter for MLB.com based in the Bay Area. This story was not subject to the approval of Major League Baseball or its clubs.