Solarte goes 4-for-4, nearly cycles vs. Yanks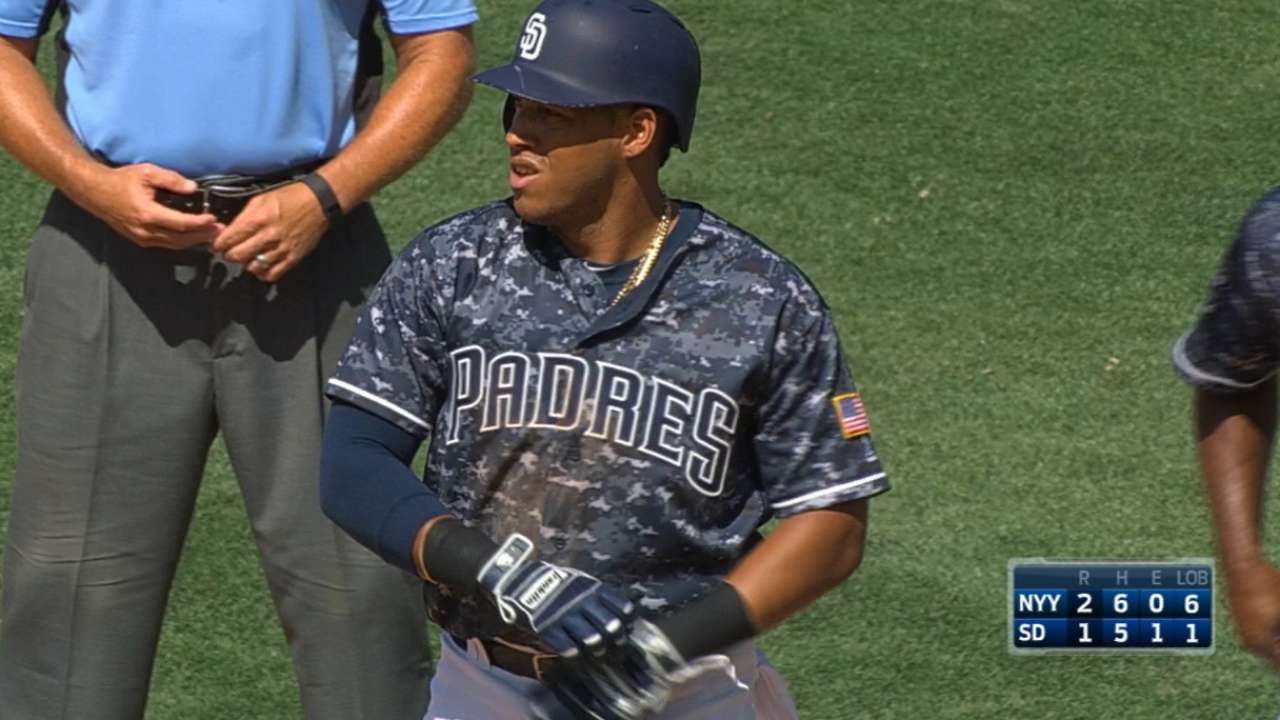 SAN DIEGO -- Yangervis Solarte continued to beat up on his former team on Sunday afternoon, going 4-for-4 and coming within a triple of recording the first cycle in the history of Petco Park as the Padres fell to the Yankees, 6-3.
The Padres acquired Solarte in the 2014 trade that sent Chase Headley to the Bronx. The 28-year-old has been an above-average offensive player in the ensuing two years, and is 6-for-10 against the Yankees.
"I view them like any other team," Solarte said after the game. "I think that's something that happens in baseball, you come across different teams, but you just have to treat it all the same.
"And so that's how I went about it."
Solarte has battled several injuries this season, including a strained right hamstring and right thumb contusion, but he is getting closer to 100 percent and his numbers have improved with his health.
Sunday's homer was his first since June 6 vs. the Braves, and the switch-hitting infielder has put up a .422 average (19-for-45) over his last 13 games.
"He's swung the bat incredibly well. The opposite-field home run was good to see. He almost did that yesterday," said Padres manager Andy Green. "It took a while for him to rebound from the swelling in the thumb from getting jammed. I think you saw from like a week, week-and-a-half stretch that his bat wasn't alive.
"His hands feel good again. His numbers are climbing. He looks good in the box."
Solarte said he's still "day to day" with his leg, but his thumb -- which was injured on June 11 in Colorado -- is feeling better, and that has led to competitive plate appearances.
"Feeling good physically allows me to go out there and have at-bats like I was having," he said. "That's really the most important result of the physical side being taken care of."
If Solarte can stay healthy, he is on pace to post the most impressive offensive season of his three-year career. After Sunday's perfect day at the plate, he is hitting .301/.387/.483 -- all career highs. In addition, Solarte is walking 11 percent of the time, which is the highest rate of his career. He walked six percent of the time in 2015 and 9.9 percent of the time in '14.
"He was second or third on the team in on-base percentage last year, so he still got on base," Green said. "I think it is a higher percentage walk rate than he typically has. It's always been an area of his game that was very respectable.
"Now it's moved into the 'very good' category. We'd like to keep it there."
Carlos Collazo is a reporter for MLB.com based in San Diego. Follow him on Twitter @CarlosACollazo. This story was not subject to the approval of Major League Baseball or its clubs.