Without best stuff, Kuhl keeps Bucs afloat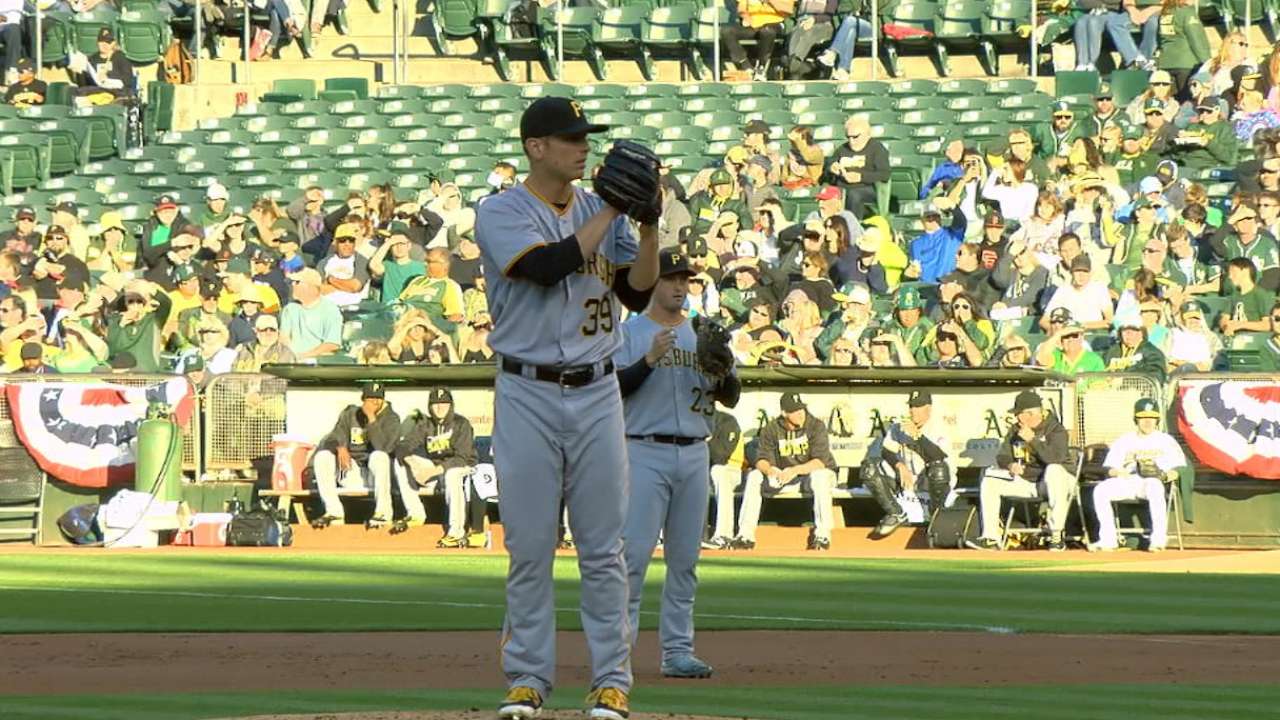 OAKLAND -- Chad Kuhl had already dealt with the typical rush of emotions that flood over a pitcher making his Major League debut -- much less one doing so on national television against Clayton Kershaw.
What did it feel like to show up at the Coliseum on Saturday for start No. 2?
"It wasn't my first time anymore," Kuhl said after throwing six innings of two-run ball against the A's in the Pirates' 4-2 win in 10 innings over the A's. "It was just another day at the yard."
The end results were encouraging for Kuhl. The rookie right-hander allowed seven hits without a walk and held a mostly left-handed Oakland lineup to two runs over six innings. He didn't factor in the decision.
But in his first 11 innings as a Major League pitcher, Kuhl hasn't been getting outs like he did in the Minors. Kuhl is known a ground-ball machine, using his sinker and slider and letting his defense go to work.
But of the 18 outs Kuhl recorded on Saturday, 11 came in the air. He retired 15 Dodgers hitters last Sunday, and 11 of those outs were in the air as well. And in a way, that's also an encouraging sign for Kuhl and the Pirates.
"When you have that many fly balls as a sinker-ball pitcher, you ain't making it to six innings with two runs," catcher Erik Kratz said. "That just shows you that he competed his face off."
"He freaking grinded through it. It was awesome. So I'd expect even better from him next time."
Why so many fly balls instead of grounders? Kuhl said his fastball simply has been up in the zone too often. But his competitive nature, praised often by general manager Neal Huntington, manager Clint Hurdle and Kratz, helped compensate for his mistakes Saturday night.
"Just let him keep pitching," Hurdle said. "That sinker's going to play. I believe it will play better. That's what he had tonight, and he was very competitive with it. He stayed aggressive and athletic on the mound."
Kuhl gave up two runs in the third inning on a sacrifice fly and Josh Reddick's single to left field, but the Pirates tied the game in the fourth. He narrowly escaped trouble in the fifth, stranding two runners in scoring position after Reddick's unusual ground-rule double.
"You're going to give up runs. You're going to give up hits," Kuhl said. "From that point on, you've got to do your best to put up zeroes."
Two starts into his career, Kuhl has seen that he can be effective even without his best stuff or his usual command down in the strike zone. What else has he learned?
"I would just say that who I am is going to be OK," Kuhl said. "Obviously have room to grow and get better, but my stuff plays and I'm only going to keep getting better from here."
Adam Berry has covered the Pirates for MLB.com since 2015. Follow him on Twitter at @adamdberry. This story was not subject to the approval of Major League Baseball or its clubs.