Farrell 'embarrassed' by Sox's performance
Pedroia notes standings, vows club will turn it around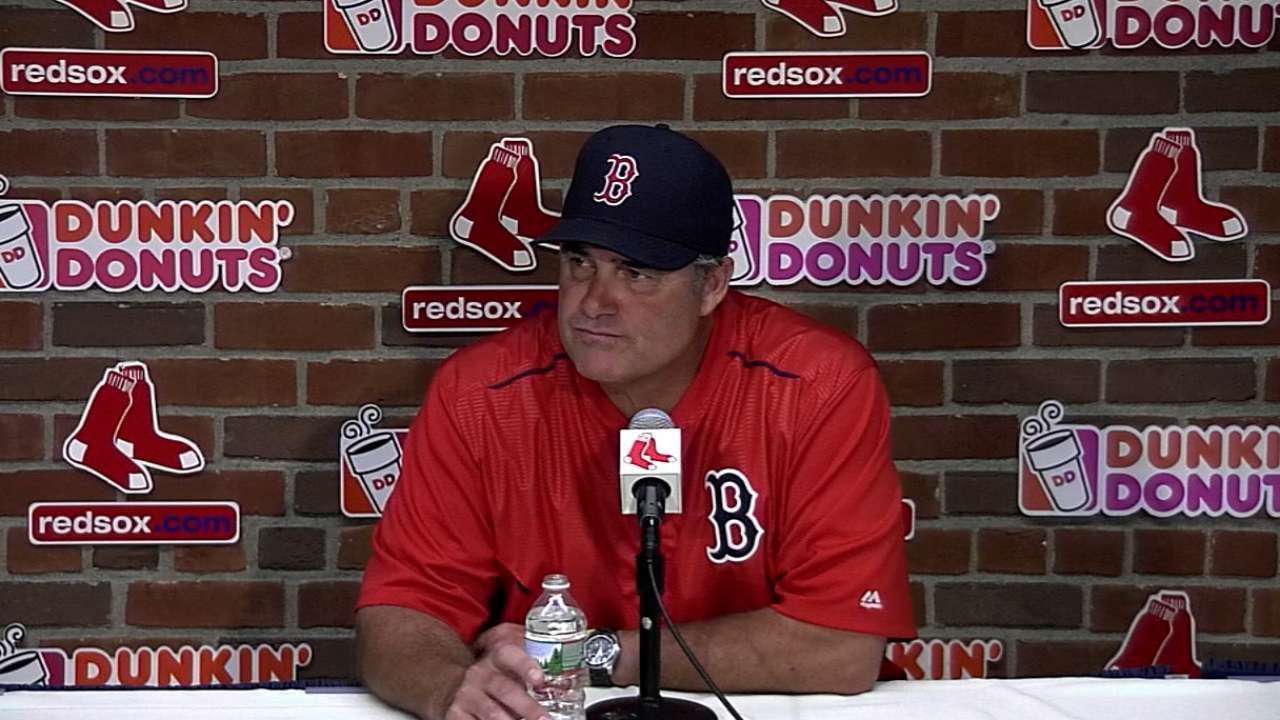 BOSTON -- Amid a funk that has been going on a while for the Red Sox, generally one area has hindered the club in a given game. Then there was Saturday's 21-2 loss to the Angels that left manager John Farrell in a state of complete exasperation.
"Too many extra outs," said Farrell. "Far too many extra-base hits. Honestly, we're embarrassed by tonight's ballgame. There's really no other way to put it. We got kicked around the ballpark tonight and we need to put this one behind us, come back with an opportunity to win the series [Sunday]."
The Red Sox were outpitched, outhit and outdefended. Overall, Farrell's team has lost eight of 12 and is 11-17 since June 1.
That said, the Red Sox are within striking distance of the Orioles in the American League East and leading the AL Wild Card standings. In other words, things could be worse.
"We're four games out of first place," said second baseman Dustin Pedroia. "Dig in. Show up to work [Sunday] and try to win. I'm not embarrassed to be a Boston Red Sox. By no means. We lost by 21 runs, or whatever the hell it was. So there will be better days."
The biggest problem, of course, is pitching. Clay Buchholz (3-9, 5.91) got hit around again, and Robbie Ross Jr. (one-third of an inning, five hits, six runs) and Pat Light (1 2/3 innings, five hits, six runs) also had rough outings.
Eduardo Rodriguez was optioned to Triple-A Pawtucket earlier this week. Joe Kelly is on the mend from a groin injury, and he'll return as a reliever after the All-Star break. Henry Owens and Roenis Elias, two lefties the Red Sox thought would provide depth, have been inconsistent at Triple-A.
Sunday, the Red Sox will turn to Sean O'Sullivan, a righty who has a career ERA of 6.03 in 69 career appearances.
"I thought going into Spring Training, you looked at the potential starters six through nine as being more ready to contribute," said Farrell. "We've had issues. That's an understatement. The fourth and fifth spots in the rotation have turned over. We've taken a look at I think six guys in those two slots. We're still searching for some kind of consistency, some kind of continuity, and that still is a pursuit."
President of baseball operations Dave Dombrowski will continue to look for external options, but it takes two teams to make a deal.
In the meantime, Farrell and pitching coach Carl Willis know they need to make repairs in short order.
"We've got guys," said Willis. "Eddie Rodriguez is in Triple-A and he's got specific things that he's working on. Some things to clean up within his delivery to get him back and get him in a position to be successful again.
"Similarly with Elias. When you talk about the whole picture of depth, I think that's probably more a question for Dave or [general manager] Mike [Hazen] as far as to give you names or where we're at. But we do have people there that are working on specific things that we feel like can give us depth and pitch effectively here in the big leagues."
The Red Sox would like to establish some type of momentum in this final week before the All-Star break.
"Absolutely we need to get out of it," Pedroia said. "We need to play better. But going into the year, we knew we were going to have a stretch like this. If everyone thought we were going to show up and win 140 games, that's not how baseball works. You're going to have bumps in the road. What makes your team is how you find a way to get out of it and limit the losing streaks or bad plays."
Ian Browne has covered the Red Sox for MLB.com since 2002. Follow him on Twitter @IanMBrowne and Facebook. This story was not subject to the approval of Major League Baseball or its clubs.