Recovering Pence progresses to batting practice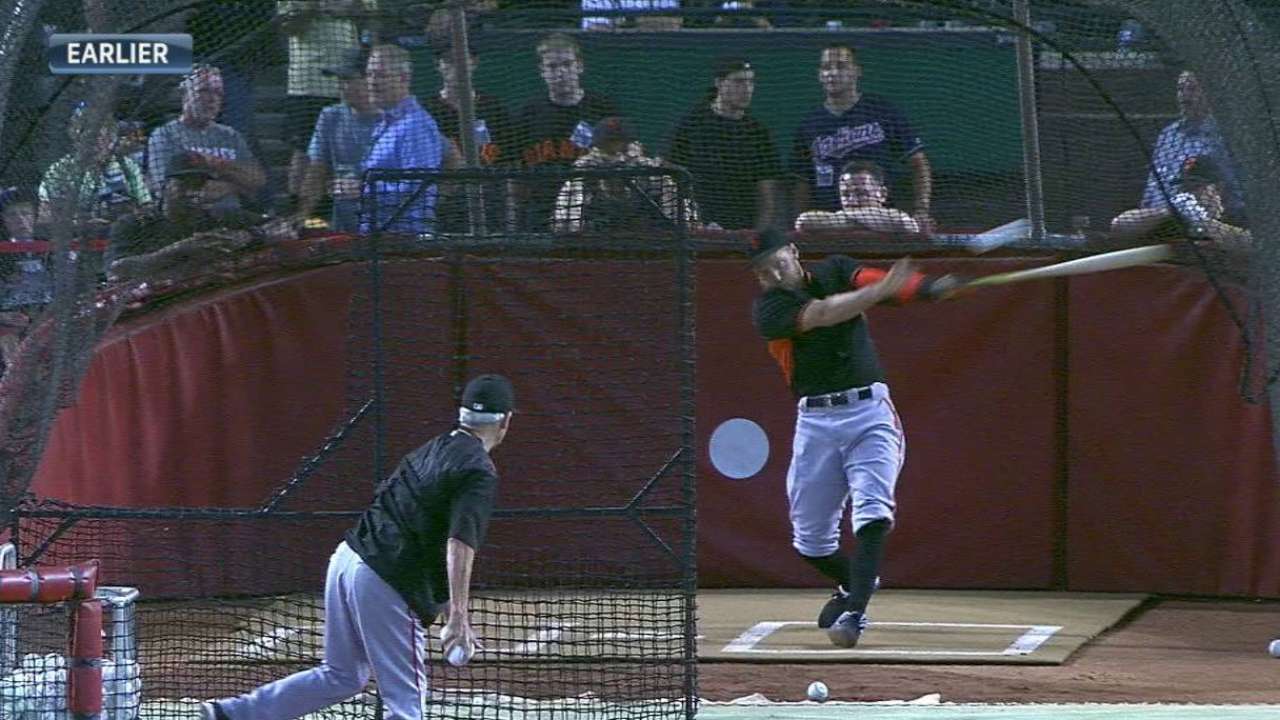 PHOENIX -- For the first time since undergoing surgery on his right hamstring, Hunter Pence was able to take turns in the Giants' pregame on-field batting-practice session.
"I'm not able to swing natural yet, but it's cool to see the progression, to get back out there on the field," Pence said. "It's exciting. I was pretty amped up to be out there again."
Pence underwent surgery June 9 to repair a torn right hamstring tendon. At that point, the recovery time was estimated at six to eight weeks.
Pence isn't sure if he's on or ahead of schedule, but said, "The plan is to do everything I can to be back on the field as quickly as possible. Trust the trainers, do everything we can think of."
In 50 games prior to the injury, Pence compiled a .298/.375/.486 slash line with seven homers and 36 RBIs. On Saturday, he took about 20 swings and hit three balls into the Chase Field seats.
"It doesn't feel capable yet," Pence said of the hamstring. "It's strong; it can handle [lifting] weights. But the explosive [movements], sprinting, driving off of it ... it's not ready yet.
"It's exciting, but I'm like, man, I can't wait until it lets me go all out. That's the patience I'll have to have. Going in there and swinging and blowing it out ... that's not going to help me. I'm anxious to get to where I can really swing. But it's awesome to be back on the field taking swings."
Said manager Bruce Bochy: "This is a great sign. He's on target."
More health concerns
• Outfielder Denard Span (neck stiffness/soreness) remained sidelined for the second consecutive game Saturday. Gregor Blanco was in Span's place in center field again, as Span received more treatment for the injury, which is isolated on the right side of his neck. Span said the injury occurred in an at-bat Thursday in Oakland.
"After that at-bat, I felt like I tweaked it," Span said. "I felt off a little bit [Friday], a little lethargic. It's still a little tight."
Span took batting practice Saturday and does not expect the injury to linger long enough for a disabled-list stint.
"I can't predict the future, but I doubt it," he said.
• Infielder Ramiro Pena (ankle) expects to be ready to play Sunday. He hit in the cage and did some running Saturday. ... Bochy said reliever Sergio Romo, who has been on the DL since April 15 due to a right flexor strain, could be activated as soon as Monday. ... Matt Cain (right hamstring strain) was scheduled to throw about 45 pitches in a Rookie-level Arizona League game Saturday. He is set to make another rehab start before rejoining the Giants rotation after the All-Star break.
Tony DeMarco is a contributor to MLB.com and covered the Giants on Saturday. This story was not subject to the approval of Major League Baseball or its clubs.