Pirates feel pieces are in play for a big push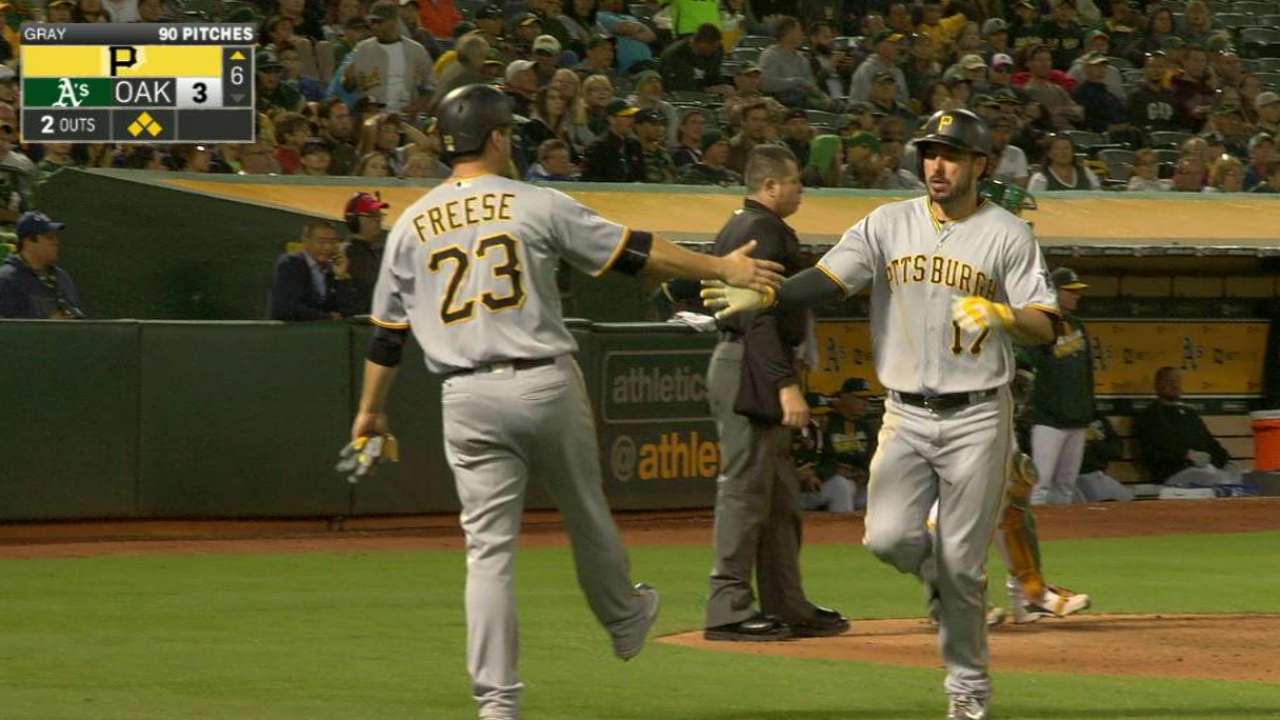 OAKLAND -- For the first time in manager Clint Hurdle's tenure, the Pirates will enter the second half of the season with a losing record. Hurdle doesn't expect that to last much longer.
The Pirates wrapped up their first sub-.500 first half (40-41) since 2010, the year before Hurdle took over, with a 4-2 win over the A's in 10 innings on Saturday night. The Bucs started that 2010 season 29-52 and ended it 57-105.
Their worst first half since then came in 2014, when they went 41-40 and rode a second-half surge to their second of three straight National League Wild Card Game appearances. With a mirror-image record this summer, could a similar finish be in store?
"We're right in the middle of it. The division is separated a little bit, but you've got to get in. There's an opportunity to get in," infielder David Freese said. "I can go back to 2011 [with the Cardinals], we were 10 1/2 back on Sept. 1. ... Crazy things happen. We're going to keep fighting, see if we can close the gap."
Hurdle was at the helm in Colorado in 2007, when the Rockies began 39-42 and finished in the World Series.
"It's been done, and we have the opportunity to do it," Hurdle said. "That's kind of the way we look at it."
What else can the Pirates take from their first 81 games?
"We are where we are. We've fought and we've scratched and we've clawed," Hurdle said. "It was two good months of baseball then one month that was complicated. Lessons learned all three months."
If the Pirates are going to reach the postseason for the fourth straight year, they'll need more out of their rotation. A healthy Gerrit Cole will improve the entire staff, as would a more effective Francisco Liriano.
The Pirates also may lean on their young arms -- Jameson Taillon, Chad Kuhl, who started Saturday against the A's, and perhaps prospect Tyler Glasnow, who struck out eight and walked one over six innings for Triple-A Indianapolis on Saturday -- along with left-handers Jeff Locke and Jonathon Niese.
Already, their bullpen is rounding back into form. Juan Nicasio, A.J. Schugel and Arquimedes Caminero have helped solidify the middle-relief group in front of back-end relievers Neftali Feliz, Tony Watson and Mark Melancon.
"What was the movie, Major League, where the old, grizzled manager said, 'They're starting to come together,'" Hurdle said, smiling. "We're very optimistic that we're 'starting to come together.'"
Their bats went quiet in June but came back to life in Friday night's win over the A's. The bottom of the order carried the load, an encouraging performance they hope to see more of over the next three months.
"That's what makes our team us: It can be anybody," second baseman Josh Harrison said Friday night. "That's what we've got to get back to."
The Pirates endured a tough schedule, light on off-days but heavy on opposing aces and potential playoff teams. They'll draw the Cardinals and Cubs before the All-Star break and the Nationals right after it. But then their schedule lightens up, with 34 of their last 70 games coming against the rebuilding Brewers, Reds and Phillies.
The Pirates' first half didn't live up to their expectations or their recent history. But it hasn't changed what they expect of themselves from here on out.
"We haven't lowered the bar because of anything," Hurdle said. "The men are hungry. They like to play. They definitely want to finish in a much better place than where we are right now."
Adam Berry has covered the Pirates for MLB.com since 2015. Follow him on Twitter at @adamdberry. This story was not subject to the approval of Major League Baseball or its clubs.