Myers wins NL Player of the Month Award
Led league in five offensive categories in June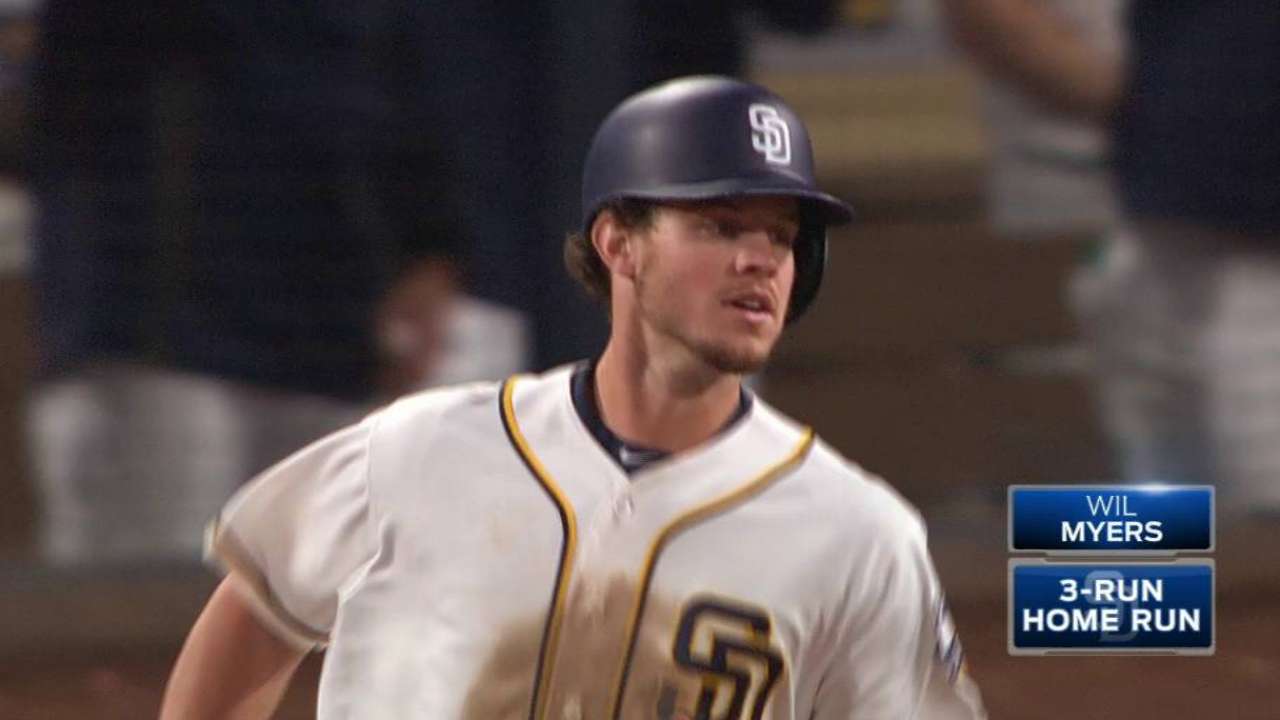 Bill Center, longtime sportswriter for U-T San Diego, is an employee of the Padres.
Padres first baseman Wil Myers joined some elite company Saturday morning when he was named the National League's Player of the Month for June.
Myers, who opened July with a two-run homer Friday night, hit .327 (32-for-98) in June with 10 doubles, 11 homers, 25 runs scored and 33 RBIs. For good measure, he drew 18 walks, stole six bases and didn't make an error.
Myers, who is the leading Padres candidate to make the National League All-Star team, led the Major Leagues in June in RBIs and extra-base hits (21). He topped the National League in total bases (75), homers (tied for first) and runs scored (tied for first) and was second in slugging percentage (.765).
He had a .431 on-base percentage in June for a 1.196 OPS for the month.
Myers set June Padres records for homers and extra-base hits while becoming only the third player in franchise history with 33 or more RBIs in a month.
This is the 13th time that a Padre has won the National League Player of the Month award and the first time since Chase Headley won back-to-back monthly honors in August and September of 2012.
Tony Gwynn was named the National League Player of the Month five times during his Hall of Fame career. Ken Caminiti and Headley each won the award twice. Other Padres winning the award were Dave Winfield, Terry Kennedy and Gary Sheffield.
Myers is hitting .340 (37-for-109) over his last 29 games with 11 doubles, 12 homers, 27 runs scored, 35 RBIs and 20 walks. Myers has 13 homers this season at Petco Park, where the single-season home run record is 15.
NOTES FROM THE SCOREBOOK
• 3B Yangervis Solarte reached base in all four plate appearances Friday night, going 2-for-2 with a double, two walks and two runs scored. Solarte has a seven-game hitting streak working. He is 11-for-25 (.440) during the streak with three doubles, four walks, five runs scored and two RBIs. He has a .483 on-base percentage during the hitting streak.
• C Derek Norris was 1-for-3 with a two-run double Friday night. He has hit safely in 16 of his last 22 games, hitting .275 (22-for-80) with five homers, 14 runs scored and 18 RBIs.
• LF Melvin Upton Jr. is hitting .344 (22-for-64) over his last 16 games with two doubles, five homers and 11 RBIs.
• The Padres have scored five or more runs in each of their last eight games at Petco Park, their longest such streak ever since they moved into their downtown home for the start of the 2004 season.