Beltran avoids DL but won't start this weekend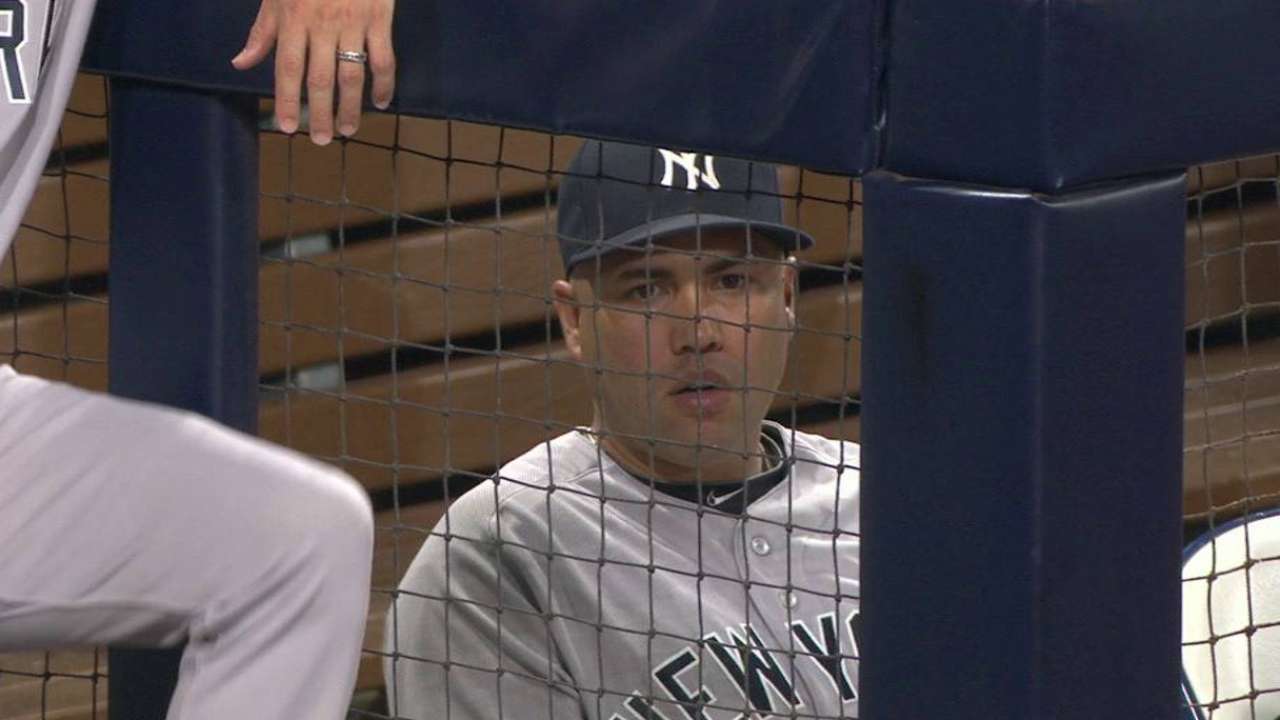 SAN DIEGO -- Carlos Beltran said he senses improvement with his tight right hamstring, but the Yankees outfielder is still experiencing enough discomfort that he is unlikely to appear in the lineup during this three-game Interleague series against the Padres at Petco Park.
The Yankees' leader in hits (78), doubles (15), homers (19), RBIs (53) and batting average (.298), Beltran is expected to be strictly limited to pinch-hitting duty through Sunday. Beltran belted a pinch-hit double as part of the Yanks' four-run, ninth-inning rally in Friday's 7-6 loss, jogging to second base on a ball hit into the left-center-field gap.
"I can't run," Beltran said before Friday's series opener. "You've got to go from first to third. Right now the way I feel, I can't do that. I've got to make sure that when I do that, I don't think about it."
Beltran felt his hamstring grab while running to first base on Tuesday against the Rangers at Yankee Stadium, and said on Friday that he would not feel ready to serve as the designated hitter if that option was available in the National League park.
He also was called upon to pinch-hit in Thursday's 2-1 victory over Texas, drawing a seventh-inning walk before yielding to a pinch-runner.
"I said he would pinch-hit; I just don't think we can play him in the outfield," Girardi said after Friday's game. "I pinch-hit him the other day, too. It's just I worry about him in the outfield."
Beltran said that he tried running on a treadmill at Yankee Stadium on Thursday, reporting that it felt "OK." As such, returning to the outfield before Monday's series opener against the White Sox in Chicago appears extremely unlikely.
"I need to make sure when I'm in, I'm in, you know what I'm saying?" Beltran said. "I just don't want to try to push it and make it worse. I just want to make sure that I'm back in the lineup and playing right field and doing whatever Joe wants to do."
The injury leaves Girardi short-handed by two players for the weekend; Alex Rodriguez is also on the bench, relegated to pinch-hitting duty because there is no designated hitter used at NL parks.
"It's not what you want, but the other guys have to step up," Girardi said.
Worth noting
• Aaron Judge, the Yankees' No. 2 prospect according to MLB Pipeline, was named the International League's Player of the Month for June on Friday. Judge hit .343 (35-for-102) and led the IL with nine homers, 30 runs and a .477 on-base percentage. He also finished among the league's top three with 25 RBIs, 16 extra-base hits, 70 total bases, 21 walks and a .686 slugging percentage.
Bryan Hoch has covered the Yankees for MLB.com since 2007. Follow him on Twitter @bryanhoch, on Facebook and read his MLBlog, Bombers Beat. This story was not subject to the approval of Major League Baseball or its clubs.