Reds reach deal with Cuban infielder Rodriguez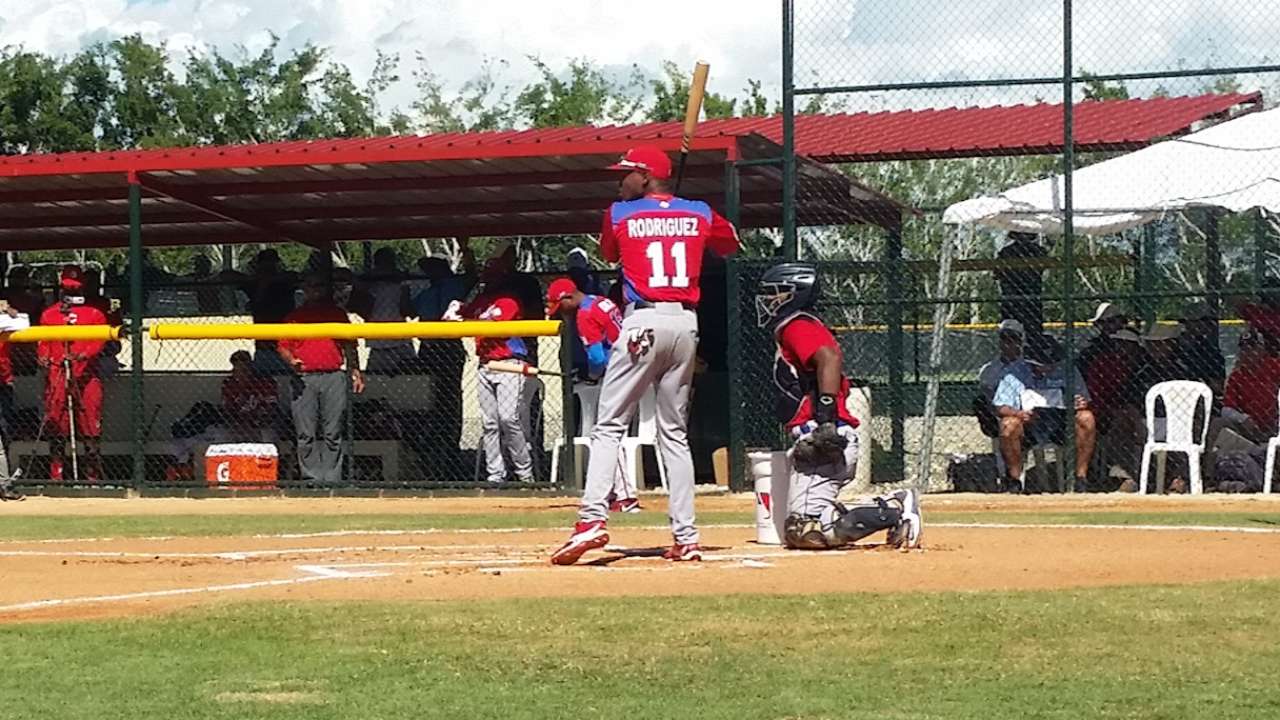 CHICAGO -- The Reds have finally got their man, and they made it official on Monday afternoon.
The club reached a $7 million Minor League deal with infielder Alfredo Rodriguez, ranked No. 6 on MLB.com's Top 30 International Prospects list. The 22-year-old will start his career in the Dominican Summer League.
"I think for us, the most important thing was he plays a key position in shortstop, and we had the chance to acquire a more mature player," Reds general manager Dick Williams said. "Typically in the international market, you're looking at 16-year-olds, maybe 17-year-olds. This was a chance to get a [22]-year-old that has played against high-level professional competition in the Cuban leagues. That's what attracted us to him in particular."
• Complete list of all Top 30 international prospect signings
Reds pitcher Raisel Iglesias, who is from Cuba, is familiar with Rodriguez.
"I don't know him very well, personally, but I've seen how he plays," Iglesias told MLB.com via translator Julio Morillo. "He's a very good player, a good guy, and I feel happy that we've signed another Cuban guy for this organization."
The 2014-15 Serie Nacional Rookie of the Year in Cuba, Rodriguez is a glove-first prospect with good speed and excellent range. The shortstop has been described as a high-energy player who continues to make progress at the plate. He won a gold glove in Cuba, and he could develop into a basestealer.
#Reds finalize $7M deal with Alfredo Rodriguez, #6 on @MLB Top 30 Int'l list https://t.co/BTsVF5bAYy @MLBPipeline pic.twitter.com/jAyqiGjYva

— Jesse Sanchez (@JesseSanchezMLB) July 4, 2016
"When I saw him play, he had really good hands, a really good arm, and he could run," Iglesias said.
The Reds were willing to overpay for Rodriguez and pay more than the $4.25 million that top international prospect Kevin Maitan received from the Braves.
"We think his defensive skills are off the charts and his bat is getting better," Williams said. "These are the kinds of investments that we like to make. It's a supply-and-demand market and elite Cuban players don't come inexpensive, and this was the year we chose to be aggressive in the draft, trades and international market like we said all along."
Rodriguez was declared a free agent by Major League Baseball on Jan. 11 and at the time agreed to a $6 million deal with the Reds to sign during the 2015-16 period, according to multiple reports, though the club did not confirm at the time.
In accordance with the Collective Bargaining Agreement, each team is allotted a $700,000 base and a bonus pool with four slot values based on the team's record in 2015 for the international signing period, which started Saturday. Cincinnati's overall pool total for this year's signing period is $5,163,400, and the club appears headed toward the penalty for exceeding its bonus pools.
"We are prepared to go beyond our cap space and pay a penalty," Williams said. "We feel like the opportunity to acquire the talent we've got this year necessitated us doing it. You look around baseball, it's become a pretty common strategy. Teams seem to be doing it a lot."
Teams that exceed the pools by 0-5 percent have to pay a 100 percent tax. Teams that exceed the pools by 5-10 percent are not allowed to sign a player for more than $500,000 during the next signing period, and they have to pay a 100 percent tax on the pool overage. Teams that exceed the pools by 10-15 percent are not allowed to sign a player for more than $300,000 during the next signing period, and they have to pay a 100 percent tax on the pool overage.
"We could see spending a [large] percentage of our cap on players under $300,000. That's still a significant bonus, internationally," Williams said. "You also have the ability to trade cap space away for other items of value. We could always pursue that strategy."
In the most severe penalty, teams that exceed the pool by 15 percent or more are not allowed to sign a player for more than $300,000 during the next two signing periods. They must also pay a 100 percent tax on the pool overage.
Jesse Sanchez is a national reporter for MLB.com based in Phoenix. Follow him on Twitter @JesseSanchezMLB and Facebook.

Mark Sheldon has covered the Reds for MLB.com since 2006, and previously covered the Twins from 2001-05.
This story was not subject to the approval of Major League Baseball or its clubs.