Seattle pick Lewis wins Golden Spikes Award
Mercer OF first Southern Conference player to earn honor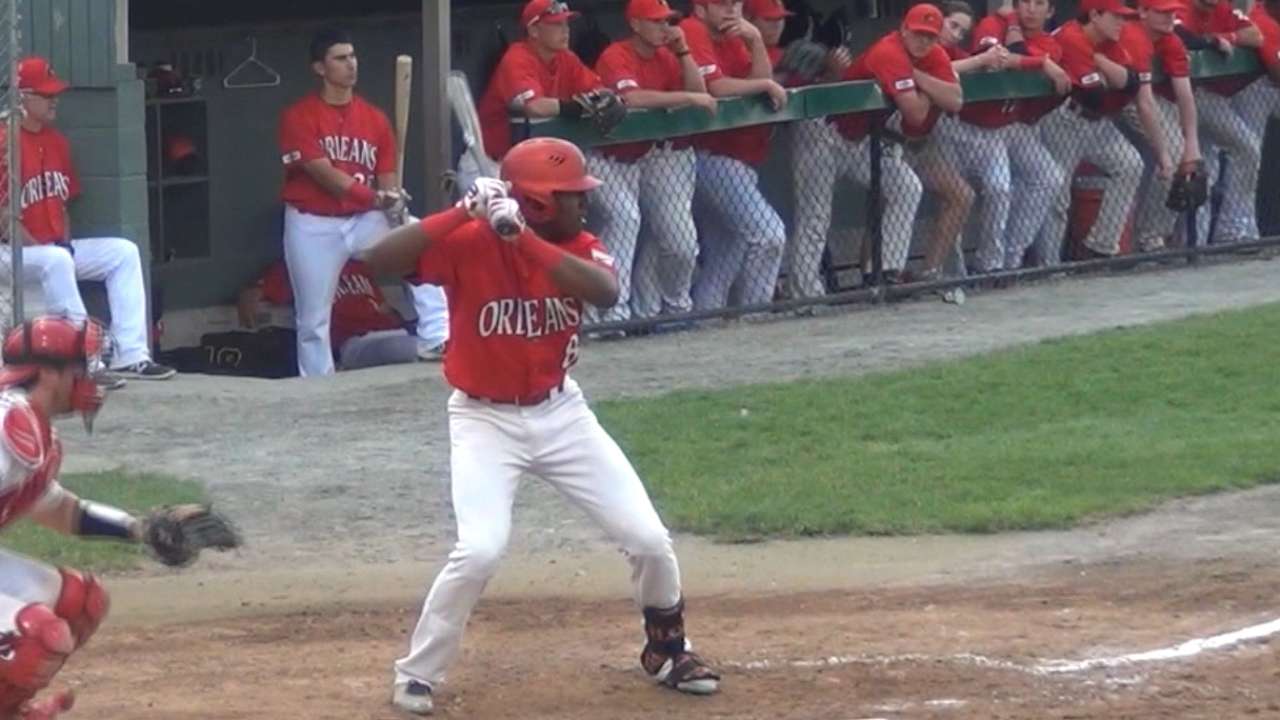 Mercer outfielder Kyle Lewis, who was taken 11th overall by the Mariners in this year's MLB Draft, won the 2016 Golden Spikes Award on Thursday. He is the first Southern Conference player to win the award.
"I really took pride in being the rock for our team this year," Lewis said. "I wanted to be the one to lead us."
The other finalists for this year's award included Clemson outfielder Seth Beer, Louisville outfielder Corey Ray and Florida right-hander Logan Shore.
"Kyle Lewis, Seth Beer, Corey Ray, and Logan Shore are four tremendous ambassadors of amateur baseball at the collegiate level," said Paul Seiler, executive director and chief operating officer of USA Baseball. "All four of these young men represent their universities and families with remarkable class, and we are honored to celebrate their accomplishments. Kyle's season stood out above three other well-deserving candidates, and we are delighted to present him with the Golden Spikes Award."
Lewis has taken home a number of awards this season, including the Southern Conference Player of the Year for the second straight year.
The outfielder hit .395 and belted 20 home runs on his way to being named to six All-America teams. The junior had a 48-game on-base streak and compiled 27 multi-hit performances.
Lewis is the eighth outfielder in Golden Spikes Award history to win the award and second in as many years after Arkansas' Andrew Benintendi won the award in 2015.
The Golden Spikes Award winner was selected after the list of finalists was sent to a voting body of more than 200 voters that included past winners, past USA Baseball National Team coaches and press officers, members of the media, select professional baseball personnel and current USA Baseball staff members.
Fans were also able to help choose a winner for the ninth straight year by voting at GoldenSpikesAward.com.
Notable past Golden Spikes Award winners
1980: Terry Francona - Arizona
1985: Will Clark - Mississippi State
1987: Jim Abbott - Michigan
1988: Robin Ventura - Oklahoma State
1994: Jason Varitek - Georgia Tech
2004: Jered Weaver - Long Beach State
2005: Alex Gordon - Nebraska
2006: Tim Lincecum - Washington
2007: David Price - Vanderbilt
2008: Buster Posey - Florida State
2009: Stephen Strasburg - San Diego State
2010: Bryce Harper - Southern Nevada
2013: Kris Bryant - San Diego
Quinn Roberts is a reporter for MLB.com. This story was not subject to the approval of Major League Baseball or its clubs.