MLB.com Columnist
Jon Paul Morosi
Ft. Bragg game honors heroes like Lt. Col. Dwyer
Marlins-Braves play first game on army base, Sunday at 8 pm ET on ESPN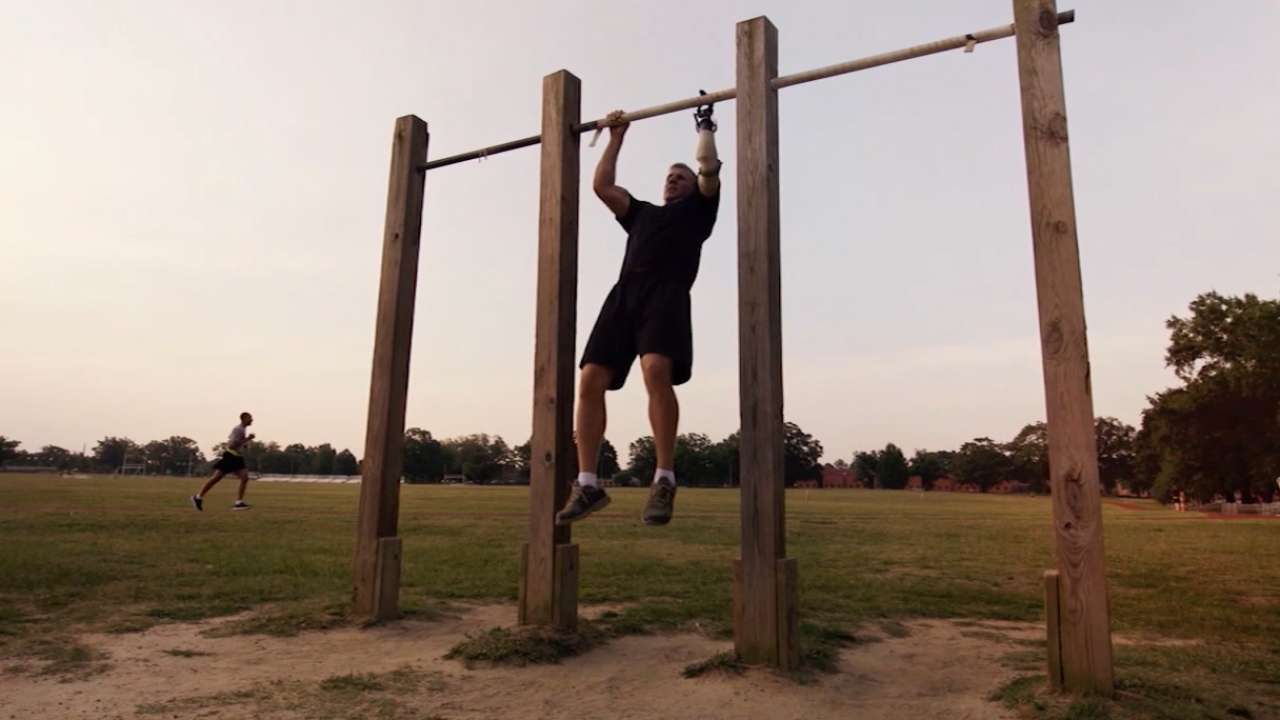 FORT BRAGG, N.C. -- We are inside the John F. Kennedy Special Warfare Center and School at Fort Bragg, our cameras are rolling, and I am sitting across from one of the most remarkable people I've met. Lt. Col. Kenneth Dwyer is wearing his U.S. Army dress uniform, adorned with weighty tabs and ribbon bars that would wither a less august piece of fabric. His wife, Jennie, and children Timothy and Julia are nearby.
Lt. Col. Dwyer has been awarded the Silver Star Medal for valor in combat, yet he's comfortable being addressed by his first name, and so that's what I do. He talks about his left hand and left eye, which he lost, and his life, which he cherishes.
•
Complete Fort Bragg Game coverage
•
Welcome Back Veterans
Sights & sounds
Fort Bragg Game video
Ken was a Special Forces officer in 2006, when a rocket-propelled grenade nearly killed him during a firefight in the Uruzgan Province of Afghanistan, and he is a Special Forces officer today. He's been deployed back to Afghanistan since sustaining the near-fatal injuries. He's maintained Airborne status, jumping out of airplanes while wearing a prosthetic left arm. And he's also made sure he can still play a game of catch with his son.
In many ways, Ken represents the best of the American military -- and the best of the American people. When Major League Baseball and the MLB Players Association decided the Atlanta Braves and Miami Marlins would play Sunday at a 12,500-seat stadium on Fort Bragg -- a game you can watch on ESPN at 8 p.m. ET -- they did so to honor service members like Lt. Col. Dwyer.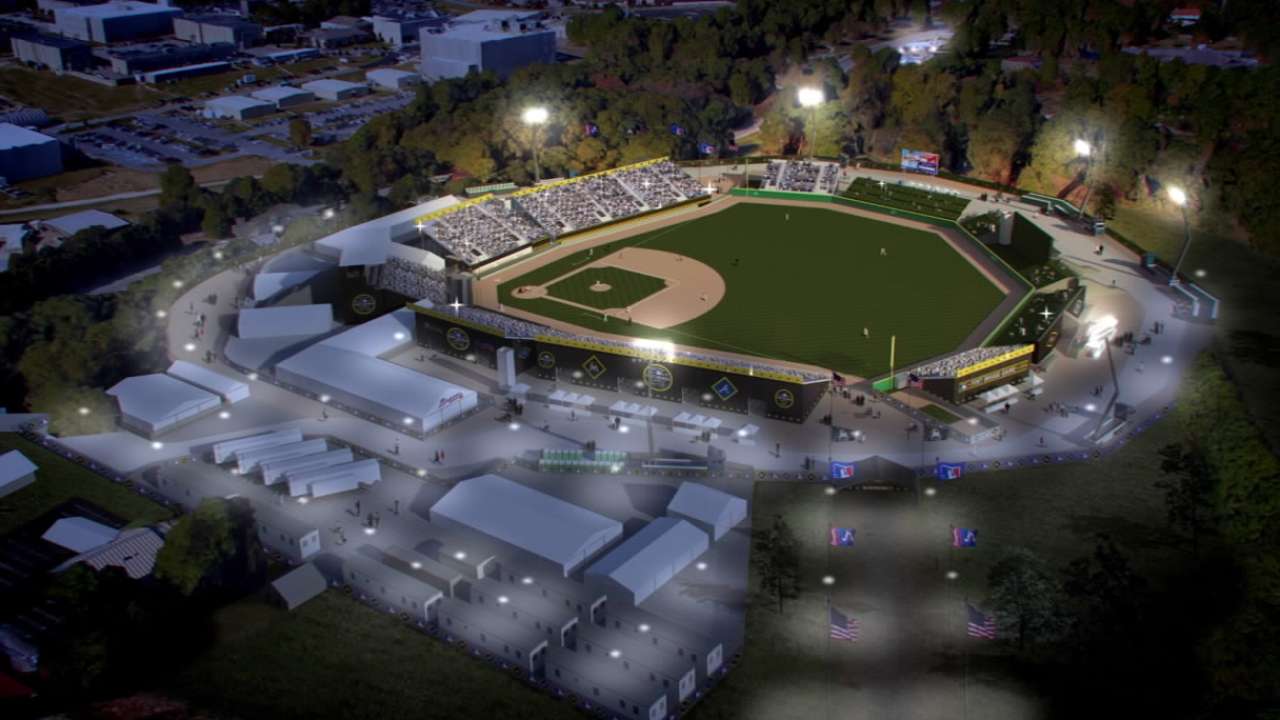 I've brought a book with me: "Imperfect," co-authored by Jim Abbott and Tim Brown. At one point, I pick it up and read a favorite passage aloud, in which longtime scout Don Welke recalls a report he wrote on Abbott before the 1985 Draft. Welke details and extols Abbott's attributes as a pitcher and athlete, only in the end adding the four words that had defined the teenager to many observers: "Has no right hand."
Ken smiles and nods.
"What it makes me think about is a question that somebody asked me several months ago, that I was not prepared to answer at the time," he begins. "What they asked me was, 'What has been the hardest part of your recovery process?' I didn't have a good answer at the time.
"But after thinking about it, I'll tell you that the hardest part of the process has been overcoming the limitations that other people place on me. Just like Jim Abbott -- doing the physical tasks, he could do ... but people had this preconceived notion of what he might be able to do.
"That was the most difficult part -- changing the preconceived notions that people had, the limitations they gave to me: 'This person is going to be limited because of his physical inventory of parts.'"
His physical inventory of parts. That's how Lt. Col. Kenneth Dwyer describes what others would term a disability. He doesn't like to use that word, preferring instead to frame his day by all that remains possible.
"I've seen a lot of guys who are wounded," says the Army medic whom Ken credits with saving his life. "Sometimes when someone hits a point where you're going through so much pain and your body just wants to quit, you can submit and just kind of fade off. Other guys, they keep themselves alive mentally. They tough it out. They don't quit. I personally credit Ken Dwyer for his survival. He held on. He easily could have said, 'I'm tired, I'm done,' and just gave in. He didn't do that."
Where did Ken find that courage?
"It's probably something he's had since he was a little boy," the medic tells me. "I don't think you can teach that kind of stuff."
Baseball? That can be taught.
Ken had started playing catch with Timothy prior to the 2006 Afghanistan deployment; those memories were fresh in the 3-year-old's mind when he visited Ken at Walter Reed Army Medical Center for the first time. Jennie vividly recalls her son climbing onto Ken's bed, kissing a massive wound on his right bicep, and saying, "All better now. Let's go play baseball."
"It was a life-changing moment for me," Ken says. "At that moment, all that mattered was being able to recover to the point that I could get out of the bed and move around and play with my son. Nothing else mattered at that point. That's what I used to build on."
And so he watched videos of Jim Abbott. He bought a glove for his right hand and cut out the back, to make for an easier transition. He spent countless afternoons and evenings with Timothy, teaching his son to throw while retraining his own depth perception and right arm, which was badly injured by shrapnel from the grenade.
"When you play catch after losing an eye, you're going to misjudge a whole lot of stuff," Ken tells me. "I took a lot of T-balls and baseballs to the face, trying to judge a ball coming in. Fortunately, he was only 3, 4, 5 years old and they weren't that bad. Pain is a powerful teacher. I eventually learned to adjust."
Near the end of our afternoon with the Dwyer family, Julia takes her turn in front of the camera. She is 9; Jennie was pregnant with her when an army officer called at two in the morning with news of what had happened on the other side of the world.
Ken stands off camera as Julia answers a few questions. He grins when she reveals that he likes to "gross out" her friends by yanking out his prosthetic eye.
A few moments later, Ken's voice takes on a slightly more serious tone. He has a question for his daughter, too.
"What's the most important thing I've taught you?" he asks.
She doesn't hesitate.
"To never give up," she says. "Always keep trying."
His best advice?
"If I mess something up," she continues, "he would say, 'You'll get better at it. Just try again.'"
Most every father tries to convey that concept. Lt. Col. Kenneth Dwyer lives it, with powerful and self-evident authenticity.
Timothy, by the way, is pretty good at playing catch. He is 12 and has an All-Star tournament coming up. Ken will be there.
Jon Paul Morosi is a columnist for MLB.com. This story was not subject to the approval of Major League Baseball or its clubs.