MLB.com Columnist
Jonathan Mayo
Inbox: Where should Cubs' Jimenez rank on Top 100?
Jonathan Mayo answers fans' questions about baseball's future stars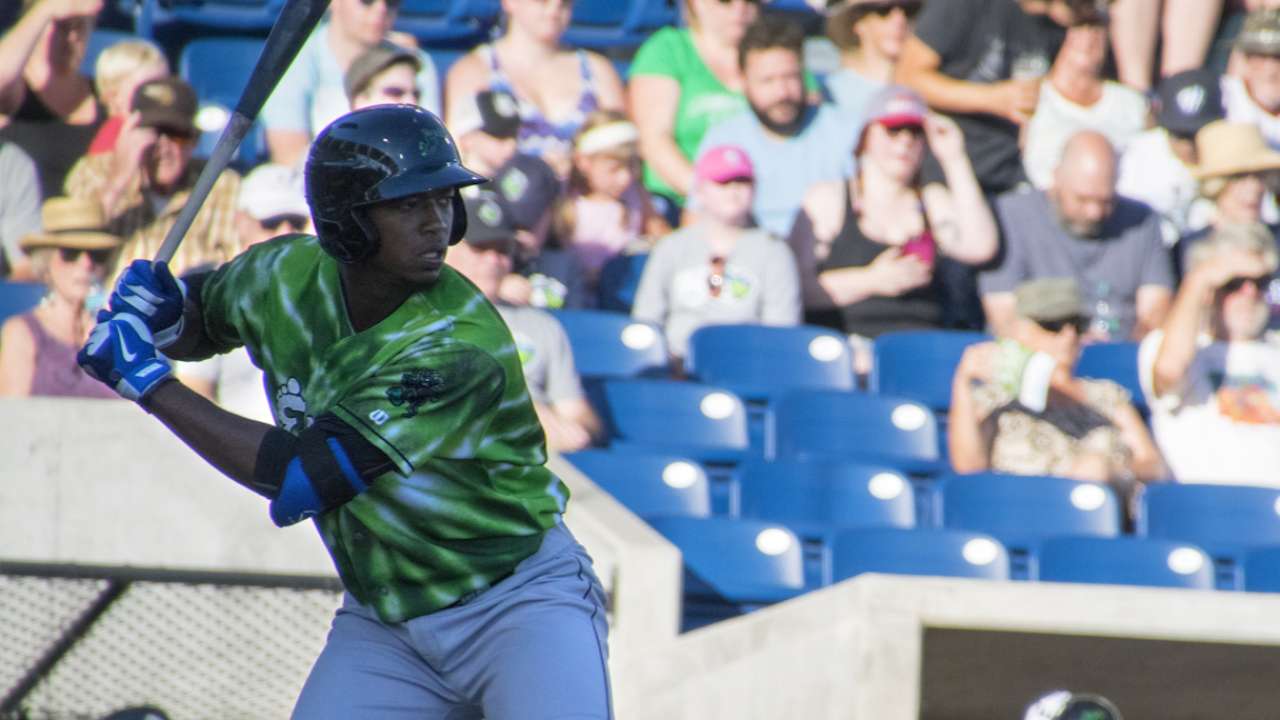 The Futures Game rosters are out, and that's always an exciting time for prospect fans. Not surprisingly, people had a lot to say about who was and who wasn't on the rosters.
Before diving into this week's questions for the Pipeline Inbox, a word about the process of choosing the rosters for the game (to be played on Sunday, July 10, at 7 p.m. ET/4 p.m. PT). There are so many variables that come into play, some of which are obvious, some not so much. The obvious ones are filling each position and having each organization represented, with the general rule of thumb being no more than two per organization (the host city often has three).
Less obvious variables that figure into all of this are that each team needs to approve the list of players considered for the game. Each organization has its own reasons, but sometimes players aren't on the list. Full disclosure: I am a part of the process in picking the rosters, as is Jim Callis. There also might be a desire to keep repeat performers to a minimum, which might lead to more upper-level than lower-level choices being made.
Just a little insight into what happens behind the curtain there. So what some might consider a "snub" may have some other things behind it, which is why I'm staying away from "How come Prospect X didn't make the roster?" questions. Now, let's get to some Futures-related questions, shall we?
@JonathanMayo @MLBPipeline where do you see Eloy Jimenez ranking in top 100? At 19, he is hitting .341 with 11 HRs.

— Dylan Thomas Farwell (@dylan_farwell) June 29, 2016
Even if your stat line is a tiny bit off (10 homers instead of 11), your point is certainly valid. There is no question Jimenez, part of the World Team outfield, is playing like a Top 100-type prospect. Currently, the teenager is ranked No. 10 on the Cubs' Top 30 list. I don't do the Cubs' list -- that's Jim's domain -- but I think it's safe to assume he'll move up on that list when we re-rank everything in late July.
This is certainly the Jimenez the Cubs hoped they were getting when they gave him $2.8 million to sign back in 2013. Patience can certainly be a virtue in terms of development, and Jimenez is enjoying a breakout in his first taste of full-season ball. He leads the Midwest League in RBIs and is tied for the lead in homers, while standing third in the batting race. I'm curious to see how he will perform in the second half as he plays a full season for the first time, but speaking only for myself, I see him as a Top 100 prospect now. Maybe at the back end, as I want to see how he continues to grow, but definitely with a big up arrow next to his name.
@JonathanMayo @MLBPipeline upside for Tyler O'Neil?

— Travis Olson (@olsontw) June 29, 2016
I think the answer to that question is different now than it was maybe a year ago. O'Neill has always had considerable raw power. He finished tied for second in the Minors with 32 homers in 2015 while playing in the Class A Advanced California League at age 20 (he turned 21 in June). I think most took that with a grain of salt, given how hitter friendly the Cal League is. O'Neill also struck out in more than 30 percent of his plate appearances while walking just 6.5 percent of the time. There was a desire to see how all that would translate with the big jump to Double-A.
So far, so good. The power has carried over. O'Neill's 13 homers are second in the Southern League, and the World Team outfielder's 59 RBIs are tied for tops in the circuit. The most encouraging numbers, however, are those walk and strikeout rates. His walk rate is up to 8.7 percent so far this year and he's cut his strikeouts down to 22.7 percent. That's a big reason why O'Neill is fourth in the Southern League with his .309 average. I don't necessarily see him hitting for a high average when he gets to the big leagues, but I now have more confidence in his ability to make enough contact to be a run-producing corner outfielder once he arrives. Like Jimenez, there might be a place for O'Neill in the Top 100 when we re-rank.
@JonathanMayo @MLBPipeline #Astros Joe Musgrove or David Paulino ... which has longer MLB future; which has higher peak value?

— Diane Firstman (@dianagram) June 29, 2016
One made the Futures Game (Musgrove), one didn't (Paulino). Currently, they are ranked right next to each other on the Astros' Top 30, with Paulino at six and Musgrove at seven. Both are at the tail end of the Top 100 … for now.
There is little question that Paulino has a higher upside, just based on his pure stuff. Both his fastball and curve grade out as 60s on the 20-80 scouting scale, and his changeup has made strides. He's 6-foot-7 and he's still learning how to pitch. Paulino has come back from Tommy John surgery extremely well, and as he's added strength to that frame, he's been more and more impressive. At the same time, there's a limited track record because of injuries, and he's still being developed and pushed cautiously, and understandably so.
Musgrove, on the other hand, has solid stuff, and perhaps the best command in all of Minor League Baseball (a 70 on that 20-80 scale). He started slowly as well, missing considerable time with injuries. Musgrove's arm was fine last year, though he spent time on the DL with a groin injury. He walked eight in 100 2/3 innings, to give you an idea of his control.
Here's how I think it boils down. Paulino has the higher ceiling -- he has the chance to be a front-line starter if it all gets there.
Jonathan Mayo is a reporter for MLBPipeline.com. Follow him on Twitter @JonathanMayo and Facebook, and listen to him on the weekly Pipeline Podcast. This story was not subject to the approval of Major League Baseball or its clubs.