'Rookie' Guerra continues to thrill Crew
Milwaukee's 31-year-old starter dominant against Dodgers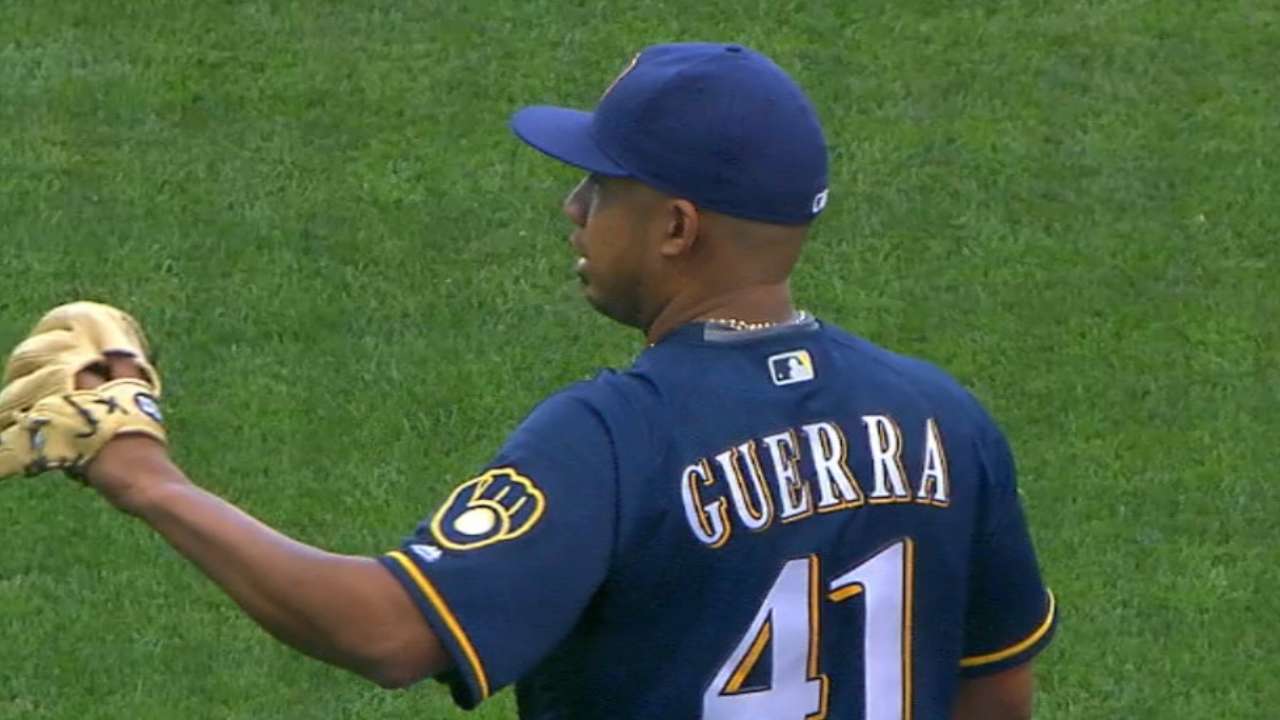 MILWAUKEE -- "I don't think you guys have asked me enough about Junior Guerra, actually," Brewers manager Craig Counsell chided during his Wednesday afternoon gaggle. He spoke with the hint of a smile, but Counsell was serious.
"He has been one of the great stories for us this year," Counsell said, meeting reporters a full five hours before Guerra and reliever Michael Blazek finished a combined two-hitter, with Guerra working the first eight innings of Milwaukee's 7-0 win over the Dodgers. "I think his experience -- it's not big league experience -- but his experience as a pitcher, and his travels, they manifest themselves on the mound."
So, let's take the manager's advice and talk about Guerra, the 31-year-old Brewers rookie.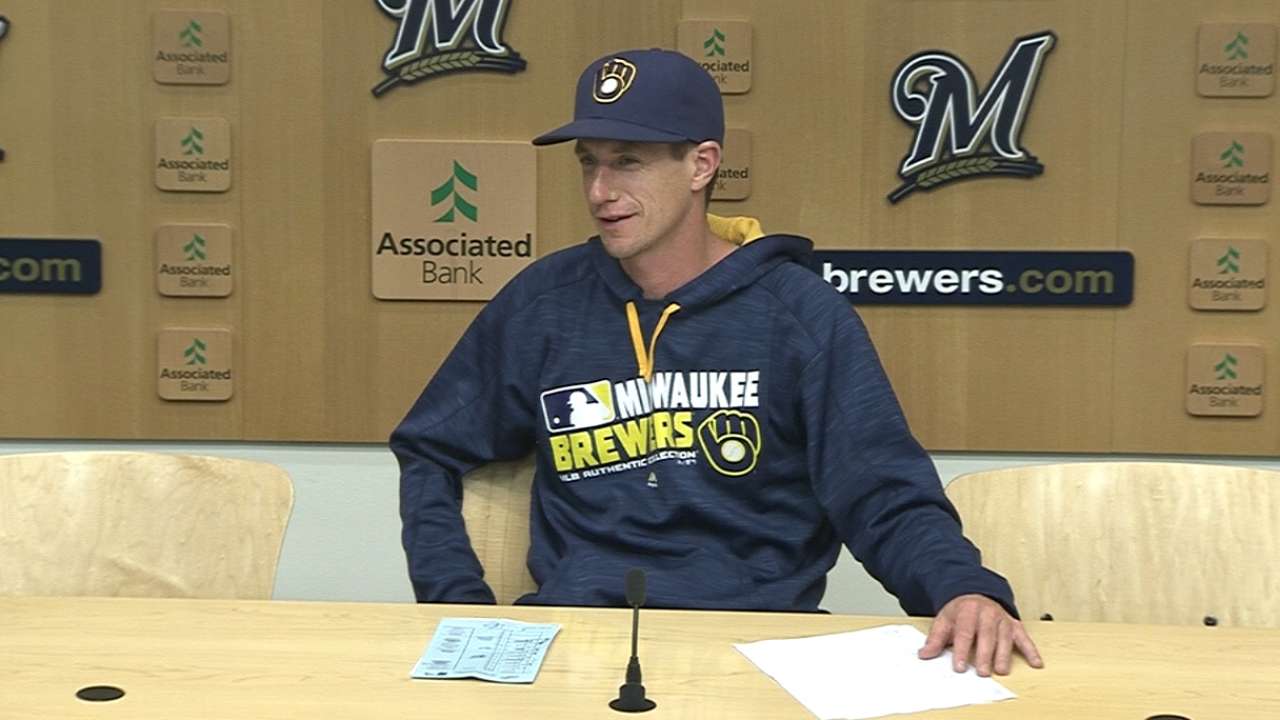 A former outfielder and catcher who converted to pitching in 2007, Guerra was out of affiliated baseball from 2009, when he was suspended for PEDs as a Mets Minor Leaguer, until 2015, when he resurfaced with the White Sox as a reliever. Along the way, he pitched everywhere from Kansas to Venezuela to Italy, picking up a splitter along the way from fellow Venezuelan Jean Machi. It took Guerra five years to master the pitch.
The Brewers claimed Guerra off waivers from the White Sox on Oct. 7. He was new GM David Stearns' first acquisition, three days after Stearns took office. Even Guerra did not expect to make this kind of impact; the Brewers are 9-2 in his starts since a promotion from Triple-A Colorado Springs, and Guerra's ERA is 3.25. He has seven quality starts.
"You never thought about it," Guerra said. "You just have to thank God that he gave you this opportunity of having a good first year. You just have to keep working hard because nothing is guaranteed."
About three dozen Major Leaguers have thrown a splitter this season, in part because the pitch is believed to put excess strain on the arm. Entering Wednesday, Guerra threw it the ninth-most frequently, according to Statcast™, with an exceptionally low average spin rate of 1,032 revolutions per minute. Only Mike Pelfrey's splitter spun more slowly, which is a good trait for a pitch that is supposed to dive.
Entering Wednesday, Guerra's was the hardest splitter in the Majors to hit, with a .140 average against.
"It helps a lot with my fastball and slider," Guerra said.
"[Catcher Jonathan Lucroy] was actually telling me some of his splits were cutting today," said Ryan Braun. "As a hitter, you know how difficult that is. We all watch some type of scouting report, you watch video, but when you have a pitch that's completely unpredictable, it's almost like a knuckleball."
Against the Dodgers, Guerra overwhelmingly threw fastballs (75 of 109 pitches). After Corey Seager's one-out double in the first inning, no Dodger reached second base. Guerra surrendered the first of his two walks in that inning, and he never had more than one runner aboard the rest of the night.
He surrendered two hits in his eight innings and posted a "game score" -- a measure developed by Bill James to measure the quality of starts -- of 87, making it the Brewers' best outing of the season, and the 10th-best start by a Brewers pitcher in the Miller Park era (since 2001).
Can Guerra recall a better professional start at any stop of his career?
"No, I can't think of one," he said.
"That's our best start of the year, and certainly his best game of the year," Counsell said. "Again, as the game went on, he seemed to get better and better."
Adam McCalvy has covered the Brewers for MLB.com since 2001. Follow him on Twitter @AdamMcCalvy, like him on Facebook and listen to his podcast. This story was not subject to the approval of Major League Baseball or its clubs.