MLB.com Columnist
Mike Petriello
Rangers creating own luck on way to AL's best record
Texas' 'clutch' score is highest in Major Leagues in 2016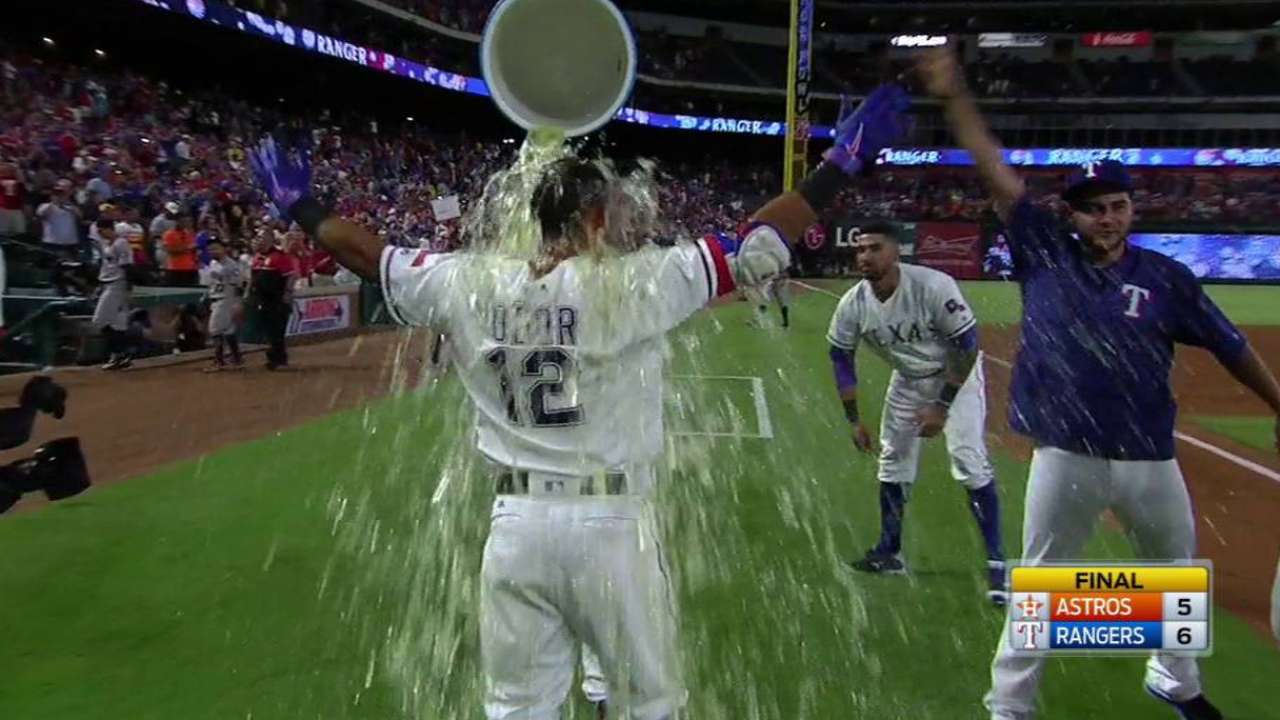 After taking the first two games of their series with the Yankees, the Texas Rangers have 51 wins, the most in the Major Leagues. They have a 10-game lead over Houston in the American League West, even though the Astros have been red hot. The Rangers are off to the best start in team history, and the FanGraphs postseason probabilities give them a nearly 94 percent chance of making the playoffs, the highest in the AL, making those of us who picked them before the season look good.
Clearly, a team that's experienced so much success must be full of talent, and certainly the Rangers are. Yet few individual performers are really standing out -- it's difficult to make the case for more than two Rangers on the All-Star team -- and the squad as a whole doesn't rank highly in most categories. This isn't like the Cubs, who have dominated in just about every facet of the game. So, that's the question of the day: How has this team managed to be so prosperous?
It's not really because of elite offense. Though the Rangers rank sixth overall in runs per game (4.9, tied with Cleveland and Seattle), both OPS+ and wRC+ agree that they're about five percentage points below average overall, ranking in the No. 17-19 range of offenses. While Ian Desmond has been a smashing success, the quintet of Prince Fielder, Mitch Moreland, Elvis Andrus, Rougned Odor and Adrian Beltre has combined to hit just .258/.311/.420, which is roughly the equivalent of what Hernan Perez is giving the Brewers -- performance 13 points below average. Meanwhile, Josh Hamilton never made it onto the field, Delino DeShields lost his job, and Shin-Soo Choo and Robinson Chirinos missed most of the first half of the season with injuries.
It's not because of elite pitching, either, though the fact that the Rangers are tied for eighth in runs per game allowed is admirable given the injuries to Yu Darvish, Colby Lewis, Keone Kela and Derek Holland. Cole Hamels has been both great (2.60 ERA, his second-best mark) and frustrating (allowing more walks and home runs than ever), while Martin Perez has the second-lowest strikeout rate of the 89 pitchers with at least 80 innings pitched. The bullpen, expected to be a strength entering the season, has the highest ERA in the AL at 4.69, and overall, Texas' 17.5 percent strikeout rate is the lowest in baseball.
It might be because of good defense, because the Rangers rank first in Ultimate Zone Rating and fourth in Defensive Runs Saved, though it's difficult to rely on partial-season defensive stats. They at least pass the eye test, as Desmond's transition to center has gone well, and Beltre still provides elite fielding at third. They've also turned 101 double plays, by far the most in baseball.
So if it's not those things, what is it?
What it seems to be more than anything is sequencing or timing. While this sounds like it's going to get complicated and full of deep, dark math, it's really not. Consider two teams that each get four singles and nothing else over a nine-inning game. If one team scatters those singles throughout the game, they probably didn't score. If the other team gets nothing for eight innings but manages their four singles in a row in the ninth, they probably did score. It often seems like luck more than anything, since the overall production is the same, but it matters.
That's what Texas has done at an elite level, and it's how that otherwise below-average offense has managed to score an above-average amount of runs. There's a few different ways to show that in terms of numbers. One is "Cluster Luck," which shows how many additional runs a team scored (or prevented) than what would be expected, based just on sequencing. The Rangers rank second on offense at nearly 26 extra runs, and fourth on defense, preventing nearly 25 extra runs, and so the total runs saved of almost 51 (or about five wins) is more than double that of second-place San Diego. That's a big, huge, enormous deal.
Another is "Clutch," a stat -- that's right, you can measure clutch -- that shows how much better (or worse) a player (or team) does in important spots against how well they do in relatively neutral spots. By that measure, the Rangers' hitters are the most "clutch" team in the game, Desmond is the most clutch hitter in the game, and Texas' pitchers rank an above-average seventh.
We can make all of this a whole lot simpler, though. If we consider a "cluster" of hits to be simply a streak of three or more hitters reaching base, the Rangers have done that more than any other team in baseball outside the Red Sox:
Most streaks of three or more consecutive hits, 2016 (through Tuesday)
1. Red Sox -- 59
2. Rangers -- 55
3. Royals -- 51
4. Giants/Mariners/Rockies -- 49
That means something different for Boston than it does for Texas, because the Red Sox simply have an elite offense -- they lead baseball in runs per game, OPS+ and wRC+, meaning they have a lineup full of great hitters. The Rangers haven't shown those same elite offensive skills or piled up more hits than anyone, but they have managed to string those hits together better than any non-Boston team in baseball -- and consecutive hits in a row tend to turn into runs. That's how a middle-of-the-pack offensive performance turns into the sixth-best run-scoring team.
Now, the bad news for Texas is that sequencing of hits has been proven time and time again to not be a true "skill," and thus can't be counted upon to maintain all year long. That kind of cluster luck can go as easily as it came. The good news is, it almost doesn't matter right now, because nothing can undo the wins the Rangers have already banked, and because thanks to a healthy Choo, the versatility of Jurickson Profar and hot Junes from the entire lineup outside of Nomar Mazara, the overall performance is starting to equal the name value. So far in June, the Rangers have hit .279/.340/.459, their best month of the year. It's a talented lineup, boosted so far by some outstanding timing. It's put them in an extremely good place.
Mike Petriello is an analyst for MLB.com and the host of the Statcast podcast. He has previously written for ESPN Insider and FanGraphs. This story was not subject to the approval of Major League Baseball or its clubs.