MLB.com Columnist
Mike Bauman
On heels of Urias' 1st W, LA has decisions
MILWAUKEE -- Julio Urias earned his first Major League victory Tuesday night. At age 19, he is well ahead of anybody's schedule.
Urias and the Dodgers defeated the Brewers, 6-5, in the opener of a three-game series at Miller Park.
"It's beautiful, incredible, it's one of the best days of my life," Urias said through an interpreter.
Based on Urias' stuff and composure, the victories will continue to come his way. The salient question at this point has nothing to do with his ability, but with how the Dodgers, seriously short of starting pitchers, will use him from this point forward.
Asked if Urias would receive another start, Dodgers manager Dave Roberts replied: "We're still weighing the options, but as it stands right now, with the status of our starting pitching, it looks likely."
Making his seventh big league start, the left-hander worked six innings, giving up two earned runs. He walked six, but he gave up only two hits, struck out six, and never gave the impression that the game was getting away from him. The six innings represented his longest start, and his 100 pitches also were the most in his brief Major League career. He left with the Dodgers leading, 6-2.
"He made pitches when he needed to," Roberts said. "Obviously, the walks tonight are something he needs to get better at. But when he needed to make pitches, he did. The fastball had life, the breaking ball, he threw some really good changeups."
"I struggled with the fastball outside, but I was able to talk with the pitching coach (Rick Honeycutt) and the catcher (Yasmani Grandal) and things came out right," Urias said. "Obviously, the six walks were too many for any starter. But the good thing was that we could get the win."
While this was Urias' first victory, it was the fifth straight start in which he had pitched well or better. Eleven days ago, for instance, he shut out the Brewers for five innings in Los Angeles. He made a distinct impression on Brewers manager Craig Counsell.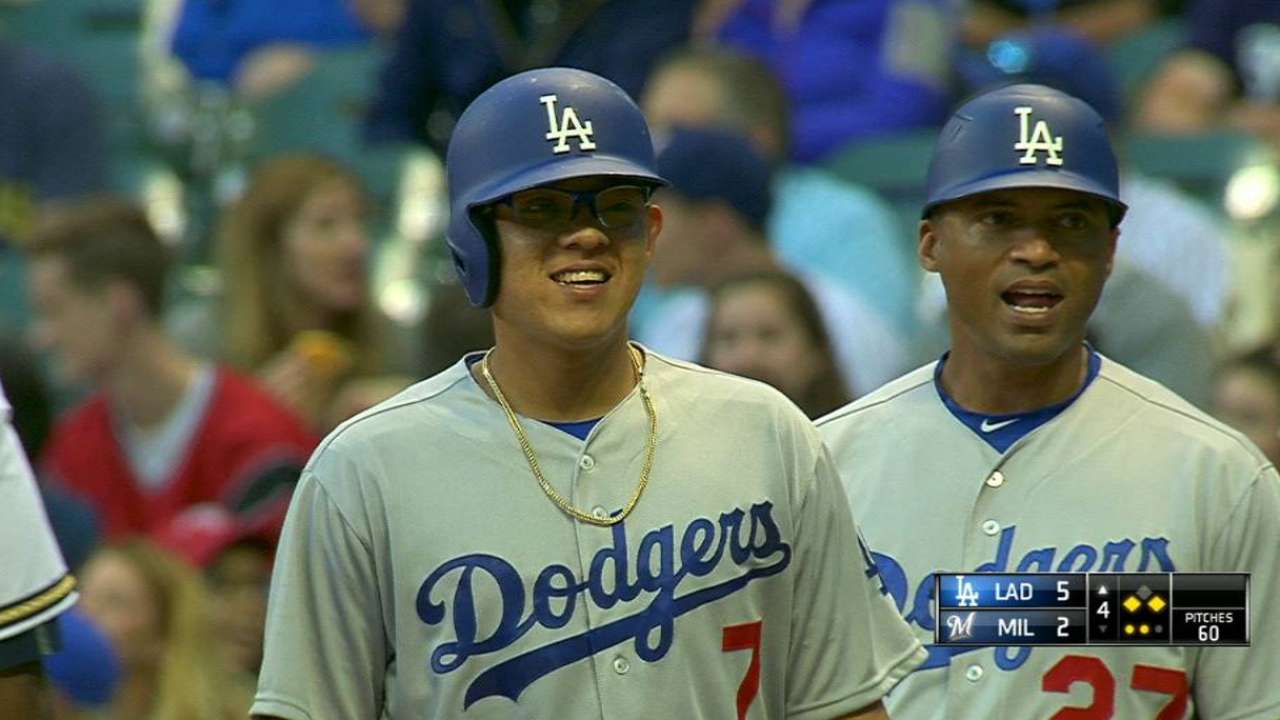 "At 19, he's just incredibly polished," Counsell said of Urias. "I think that's what sticks out. He's got good stuff, he's polished, he's athletic, he handles the game out there very well for someone who you think is very inexperienced. That was probably the most impressive part, just the way he fielded his position, the way he held runners. Very advanced, which is probably the thing you would expect him to be behind in. But he's very advanced for that stuff, for being a young pitcher.
"And he's got plus stuff, there's no denying that, either."
Evidence of advanced ability for Urias came immediately. He walked the Brewers leadoff hitter, shortstop Jonathan Villar, who leads the Majors in stolen bases. Urias made three straight pickoff throws to first and on the third one, Villar was called out.
A replay challenge overturned that call. Unperturbed, Urias made a fourth straight pickoff throw to first. This time the out call on Villar stuck.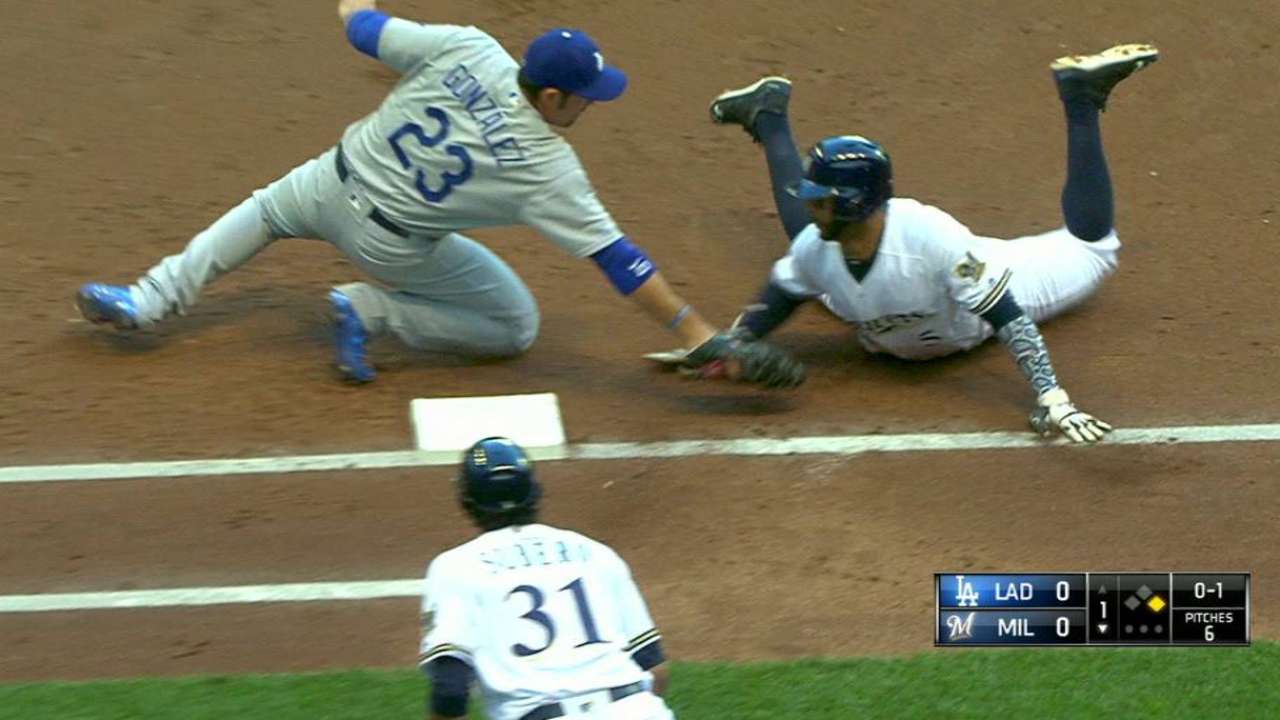 A sequence that ended the fourth inning against Brewers center fielder Keon Broxton was also indicative of what Urias brings to the mound. Urias had typically topped out at 93 mph on his fastball early in the game. On successive pitches to Broxton, Urias was clocked at 94, then 95, then 96. Broxton swung and missed at each pitch.
As a bonus, Urias delivered his first Major League hit, a run-scoring single up the middle in the fourth inning. "It was incredible today, I had it all," Urias said. "All I can do is thank God and thank everybody that was here."
As impressive as Urias can be, the Dodgers don't want to pile innings on a pitcher who won't be 20 until August, and whose season high for innings pitched in the Minor Leagues was 87 2/3 in 2014. But they have four starting pitchers on the disabled list. Two of them -- Brandon McCarthy and Hyun-Jin Ryu -- are on rehab assignments, but the timing of their return to the Dodgers is still uncertain.
And Roberts said Tuesday that ace of aces Clayton Kershaw would be returning to Los Angeles to consult with team doctors regarding pain in his lower back. Roberts said he remained "hopeful" that Kershaw would make his scheduled Friday start against the Rockies.
It is clear that Urias is headed toward a featured role in the Dodgers rotation, sooner or later. He is establishing his worth at a very early age. It is up to the Dodgers to figure out how best to maintain this unique talent over the long haul.
Mike Bauman is a national columnist for MLB.com. This story was not subject to the approval of Major League Baseball or its clubs.