MLB.com Columnist
Tracy Ringolsby
In familiar place, Blue Jays eye bullpen boost
Cecil, Morales to join lefty-less relief staff; Sanchez may change role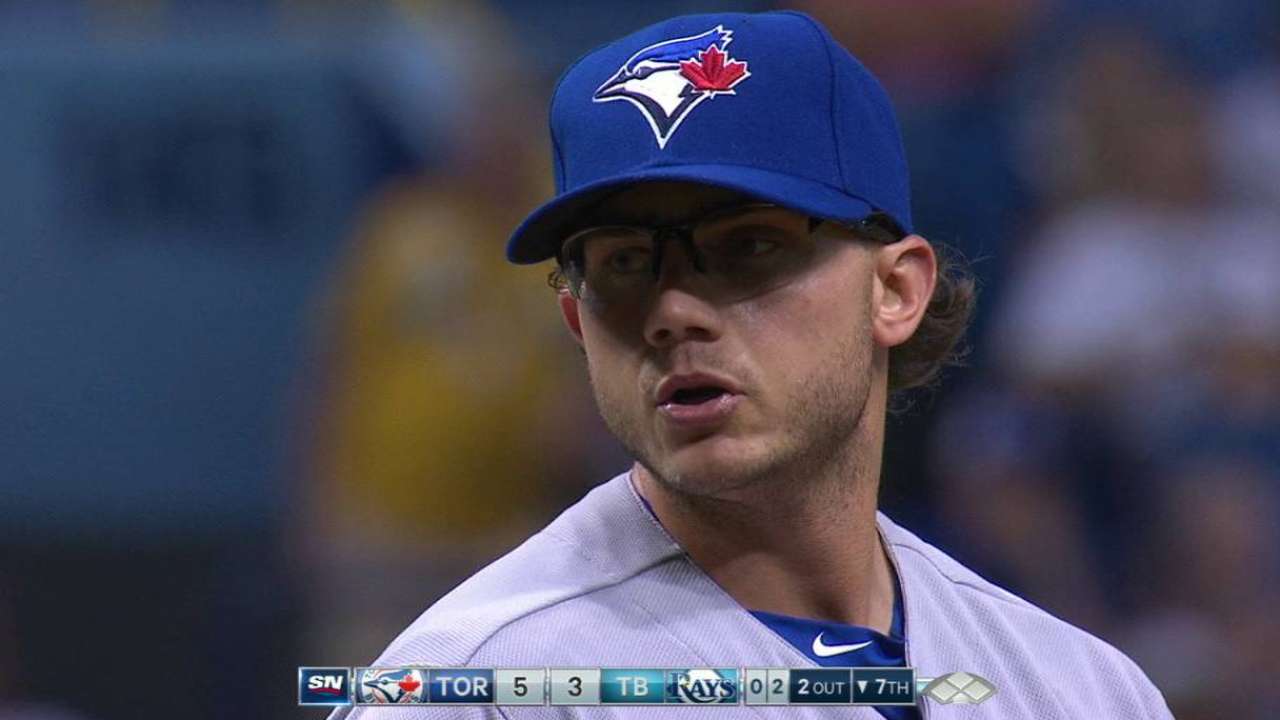 DENVER -- The Blue Jays believe there is relief in sight.
As the midway point in the season nears, Toronto is very much in position to make a run at a second consecutive postseason appearance -- even a second American League East title in a row. The Blue Jays' 41-37 record, in fact, prior to their rain-delayed game against the Rockies at Coors Field on Tuesday night, was the same as they had 78 games into last season.
Though they are in third place in the division, 5 1/2 games back of the first-place Orioles, they are just a game behind the Red Sox and a half-game behind the Royals in the battle for the two AL Wild Card spots.
And a beleaguered bullpen -- which currently doesn't have a left-hander -- has reinforcements on the way. Brett Cecil, the key lefty a year ago, is finishing up a rehab assignment and is expected to join the Blue Jays in Toronto for the opening contest of a four-game visit by the AL Central-leading Indians. At some point during the weekend, lefty Franklin Morales should be activated as well.
They may not cure all that ails the Blue Jays, but they will be a welcome addition for a team that this year figures to look for answers to questions from within, rather than repeating the Trade Deadline extravaganza of last season. In the final week of July, they swung deals for lefty David Price, shortstop Troy Tulowitzki, reliever Mark Lowe and outfielder Ben Revere.
Tulowitzki is the only one of the four who remains, and a revamped front office has given indications that the farm system depth is not there to follow a similar path next month.
Even with Cecil returning to the form of a year ago, and the addition of Morales, who was with the Royals last season, the Blue Jays know they need a reliable right-hander to go with closer Roberto Osuna, though they did acquire 39-year-old veteran Jason Grilli from the Braves four weeks ago.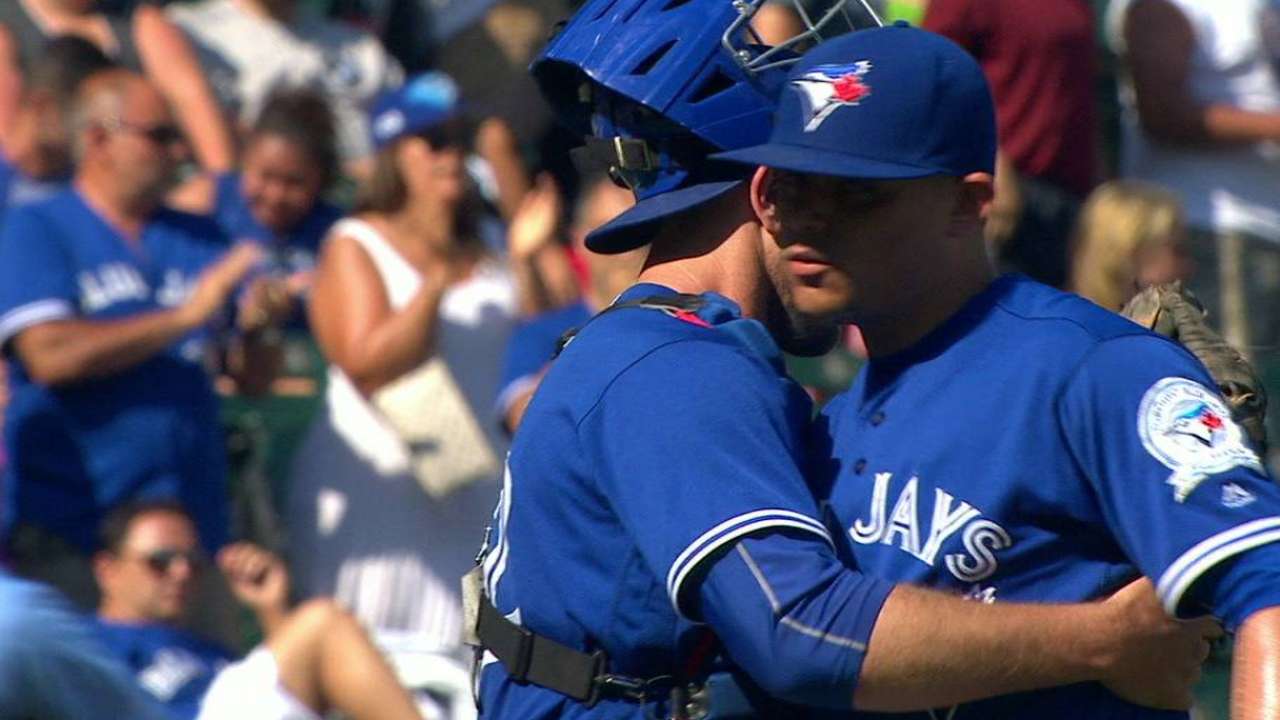 "A lot of teams would love to have Roberto Osuna at the back of their bullpen," said general manager Ross Atkins, a part of the Cleveland contingent that assumed control of the Blue Jays in the offseason. "That is a stabilizer."
That, however, could come in a roundabout way if the Blue Jays were to decide that Drew Hutchison, last year's Opening Day starter, has fixed his consistency issues and is ready to rejoin the rotation. He is 6-3 with a 2.78 ERA at Triple-A Buffalo. That would allow Aaron Sanchez to move back into the bullpen, where he was a key factor in last year's postseason run.
That is if the Blue Jays decide to control Sanchez's innings, which could be difficult in light of his 7-1 record and 3.33 ERA over 15 starts, nine of which Toronto has won. Sanchez has already pitched 97 1/3 innings, three shy of the most the 23-year-old right-hander has worked in a seven-year professional career.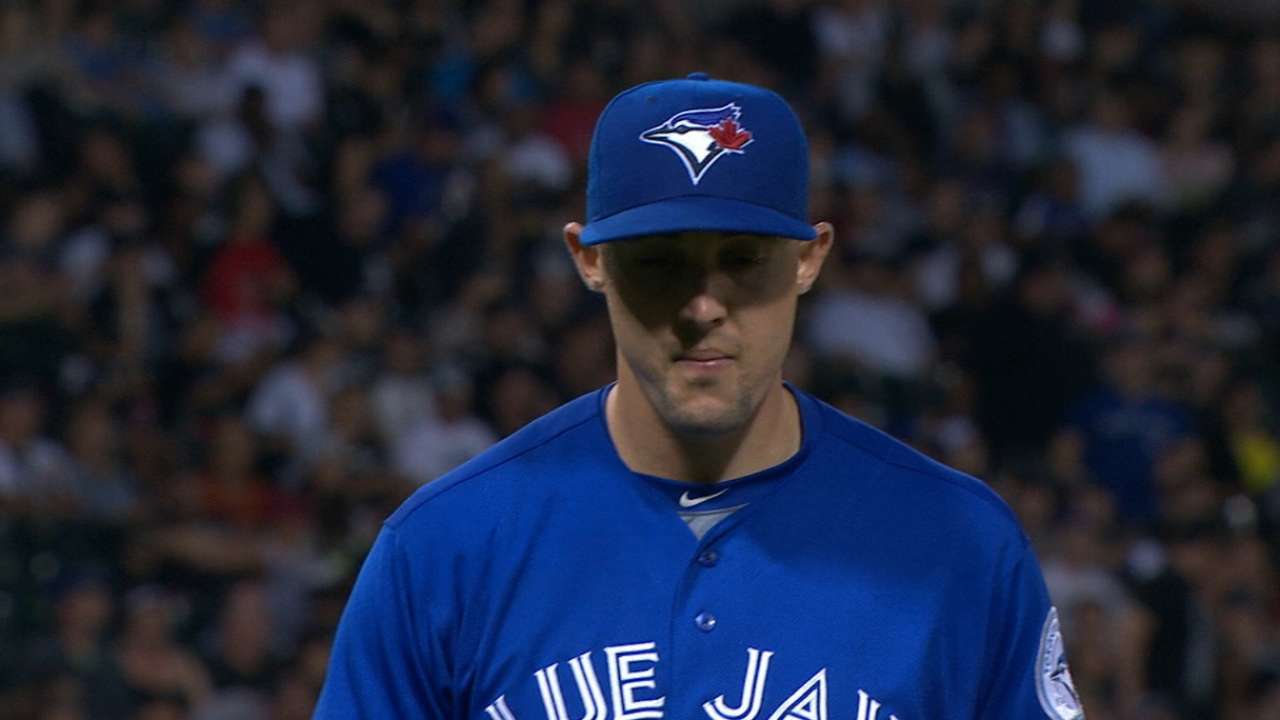 "One thing, we have to balance and stay flexible with health and workload," said Atkins. "He is getting strong. I think the workload people talk about provides information to use, but I think we are more into how you get to that workload. Is the stuff better or less? What is the recovery time like?"
In other words, the stats provide a base line, but not necessarily a bottom line in terms of decision making.
The number, though, that has grabbed the attention of the Blue Jays and their followers is the workload the entire rotation -- not just Sanchez -- has been asked to carry.
Toronto went into Tuesday with a rotation that has worked a Major League-leading 494 innings, an average of 6 1/3 a game. The bullpen, meanwhile, ranks 29th in baseball with 202 2/3 innings, just ahead of the Cubs, who have called on their relievers for 202 innings.
The 4.35 bullpen ERA ranks 21st in the big leagues and the 64.5 percent save ratio ranks ahead of only the Angels (60 percent), Mariners (54.5 percent) and Twins (50 percent) in the AL.
"I don't think our team is where it is today, good or bad, because of one aspect," said Atkins.
However, the Blue Jays' bullpen has become more of a focal point than any other, and answers to questions about a possible boost to the staff may be upcoming.
Tracy Ringolsby is a columnist for MLB.com. This story was not subject to the approval of Major League Baseball or its clubs.